Cloudinary Features
Easy migration and administration with Full API
Easy migration and administration with Full API
Overview
Integrating Cloudinary with your web application is easy. Cloudinary's automated tools will allow you to migrate all your existing web resources to the cloud. Integrate Cloudinary with your web development framework using powerful resource management APIs, wrapped in simple-to-use client-side libraries.
When all is said and done, you can open Cloudinary's online management console and browse through all your Web resources, view usage analytics, and manage your account.
Ruby on Rails integration

Using Cloudinary is easy. We support the usage of standard HTTP-based APIs that integrate with any Web development framework and programming language or even directly from your HTML and Javascript code.
For popular web development frameworks, such as Ruby-on-Rails, the process is even more straight-forward.
We provide an open-source GEM package for Ruby:
Easy-to-use wrappers for Cloudinary's HTTP APIs.
'View' helpers for seamlessly integrating images, transformed images and sprites in your views.
Automatic management of resource versions.
A migration tool for easily uploading all your existing resources to the cloud.
Easy upload management process while integrating with CarrierWave.
Supports Ruby 1.8.7 and 1.9.2. Supports Rails 3.0.x and 2.3.x.
For example, if you uploaded an image named 'sample.jpg' and you would like to include a 120x50 resized version of it in a PNG format, you simply add this line to your view:
See our documentation of Ruby On Rails integration for more details.
Online Management Console
Cloudinary provides an online management console for managing your Cloudinary account and all your web resources:
Secure login.
Browse through all uploaded resources and their derived transformations.
View graphical usage statistics of bandwidth used, number of user download requests, number of resources and more.
Manually create and name custom image transformations.
Manage tags assigned to images for easy dynamic sprite generation.
Get all required access identifiers and get instructions for common actions.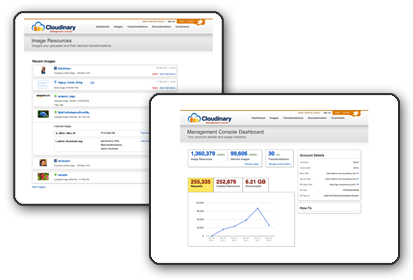 Management API
We provide a secure API for common Cloudinary actions:
Uploading resources to the cloud.
Transforming images to your desired dimensions and formats.
Managing tag assignments to resources.
Generating sprites of multiple images.
Downloading resources.
Coming soon - full RESTful API for managing all your uploaded resources, tags, and transformations. Currently available via the online management console.
See Account and API setup for more details.
Migration tools
New web applications can start using Cloudinary right away. Existing services can also easily migrate to Cloudinary:
Easy API for uploading all your resources to Cloudinary.
Multi-threaded process for performing multiple uploads simultaneously for completing the migration faster.
The ability to eagerly create required transformations for all uploaded images.
Persistent state management so you can pause and continue the migration process whenever required.
Error handling and retry mechanism.
The migration tool is currently available for Ruby on Rails.
We offer immediate access to all your uploaded resources. If, for whatever reason, you choose to stop using Cloudinary, you can easily migrate out.