With Adobe Photoshop Lightroom, you have sliders and presets that let you create photos that look just the way you want. And with Cloudinary's add-on, you can leverage Lightroom's powerful and streamlined tools and deploy them at scale on your assets.
You can apply Lightroom transformations across hundreds of thousands of assets for your website, mobile app and other projects with ease.
This video is brought to you by Cloudinary's video player - embed your own!
This tutorial presents the following topics. Click a timestamp to jump to that part of the video.
| | |
| --- | --- |
| 0:59 | Apply the e_lightroom transformation into the URL of any Cloudinary image, directly before its Public ID. Add each of the Lightroom editing controls you want to use. |
| | |
| --- | --- |
| 3:33 | With our official WordPress plugin, you can globally apply the Lightroom transformations with your favorite Cloudinary transformations, either across all of your site's assets, or strictly for images associated with pages and posts with specific categories and tags. |
---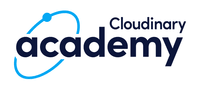 Check out Cloudinary Academy for free self-paced Cloudinary courses on a variety of developer or DAM topics, or register for formal instructor-led courses, either virtual or on-site.