If you are a Master Admin or Admin user for your Cloudinary account, it may be your responsibility to manage account users and settings, and to monitor account usage.
This includes adding users, updating user configurations and roles, defining Media Library user groups, and viewing or setting overall account preferences, and viewing usage statistics, graphs, and other reports.
Important
Every user who accesses the Media Library requires a separate seat license.
There are many types of users who are a part of any Digital Asset Management workflow. When you define users in Cloudinary, you assign a role to each one. These roles control the areas of the Cloudinary console that a user can access or modify.
A large majority of your creative team will probably work primarily in the Media Library. Thus, when you assign a user to the Media Library user role, you can define another level of permissions within the Media Library by assigning Media Library users to one or more user groups.
Within the Media Library, users can share folders and collections with selected user groups at varying levels of access permissions, from full management control to view-only access.
If you plan to create users with the Media Library user role, then it's recommended to first create all the user groups you expect to work with. For example, if you have different teams working on different product lines, you may want to ensure that only users from a particular product line can access folders related to those products or you may want to create a variety of dynamic collections to make it easy for relevant groups to find and view assets relevant to their tasks.
User groups can be assigned one of several access permission levels for each of the folders in your Media Library, and can separately be given varying permissions to work with each of the available collections. Consider the way you expect to sort your assets in folders and collections, and the different types of users who may be accessing those folders and collections, to determine the groups you will need. For full details, see Folders and Collections.
A user can belong to more than one group. In that case, if the permissions between two groups conflict, then the higher level (less strict) permission will be applied. For collections the same is true between groups as well as when permissions conflict between a group they belong to and permissions they have been individually assigned for a particular collection.
You create and edit user groups in the Users tab of the console settings. You can also see the number of members in each group.
Tip
It's recommended to create all required user groups and then set up folder and collection sharing for these user groups before creating new Media Library users and assigning them to groups.
Keep in mind that if you do create a new Media Library user and assign them to a new group before any folders or collectios have been shared with their group, that user will get an email notification about their new account and may log into Cloudinary before they have permission to view any content. In this case, the Media Library will appear completely empty for them.
You create and edit account users in the Users tab of the console settings. For each user, you can set:
First and Last name: The user sees their name below your cloud name when they log into the console.
E-mail: After creating a new user, that user will receive an email to this address to confirm their account. This email address is also used for logging in to Cloudinary.
Role: Controls which areas the user can access and which operations they can perform in those areas. For details, see Role-based permissions below.
Sub-account access: If your account includes one or more sub-accounts, you can define which sub-accounts each user can access. Users with the Master admin role always get full control in all sub-accounts. Therefore, this option is displayed only when you select a role other than master admin. By default, users are given access (at the same role level) to all sub-accounts. Clear the check box to select which sub-accounts (if any) the user should have access to.
User Groups: User groups are relevant only for users with the Media Library user role, so this option is displayed only when a Media Library user is selected. This section displays all User Groups that have already been defined. For details, see Group configuration.
User Permissions: User permissions are relevant only for users with the Media Library user role, so this option is displayed only when a Media Library user is selected. This section includes permissions for creating and sharing collections. Without these permissions, a Media Library user can still view or contribute to collections shared with them, but without these permissions selected, they cannot create or share collections, even if they are assigned Owner level permissions for a collection.
Each user in your Cloudinary account is assigned a role. This role controls the operations a user can perform on your account and the areas of the Cloudinary console that they can view or change.
Master admin: Full access to all elements of the Cloudinary console, including user and account management, billing details and purchase/upgrade options, and full permissions to use all Cloudinary functionality.

Admin: Same as a master admin, except that they do not have access to account management, billing details and purchase/upgrade options.

Technical Admin: Same as an Admin, except they do not have access to the List of users area of the User Settings.

Billing: Can access only billing-related areas of the Cloudinary management console, including the Billing tab (for paid accounts), usage reports, and purchase/upgrade options.

Reports: Can access only reporting details in the Cloudinary console, including those in the Dashboard and in the Reports tabs.

Media Library admin: Full read-write access to all areas of the Cloudinary console that are related to asset management.

Media Library user: Can access only the Media Library area of the console. The specific read, write, and other access permissions that a user has within the Media Library are controlled by the user groups that the user belongs to and the folders that are shared with those user groups.
Notes
If you do not add a Media Library user to any groups, or if no folders are shared with those groups, the user will not see any content in the Media Library.
The Media Library user role replaces the now obsolete 'Contributor' and 'Viewer' roles. For users who were assigned these roles, Cloudinary has made the following adjustments to ensure that the access permissions these users previously had remained unchanged:



Users in either of these roles have been automatically migrated to the Media Library user role.
Viewer and Contributor user groups were automatically created for your account and these users were added to the relevant group.

The Home folder has been shared with these two user groups at the corresponding level (Can view or Can contribute). For more details, see Folder sharing and permissions.
In addition to defining users and user groups, your account settings include a number of preferences that influence how your media is uploaded, stored, and delivered. These settings can affect both DAM users and developers.
The following sections describe only those settings that are specifically relevant to Digital Asset Management activities. Each organization should review all options and determine the settings that best answer your organization's needs.
The Upload tab of the console settings includes options that impact the default behavior applied to media when you upload it to your account. Those you may want to pay special attention to include:
Automatic backup: Determines whether every uploaded file is securely backed up, including support for multiple revisions. When enabled, the backups increase your account's storage usage.
Use file name in Media Library: Controls how Cloudinary assigns public ID values to each file uploaded via the Media Library. The public ID is the name that Cloudinary uses to reference the asset. The ID does not include a file extension (except for raw type) and must be unique within a particular asset type: image, video/audio, or other (raw).
When this option is set to Yes, the public ID is automatically named according to the filename (without file extension for images and video/audio). If you upload another file with the same name and asset type (even if it has a different file extension), you will be asked if you want to overwrite the existing media asset.

When this option is set to No, the public ID uses a combination of the filename and a random suffix, such that every uploaded file gets a unique ID, and thus will not replace existing assets.
Media Library upload presets: Upload Presets are a predefined set of upload preferences. Upload presets can be defined in the Upload page of the console Settings or by a developer via the Admin API. For more fine control over the way all assets are uploaded via the Media Library, a user with an Admin role can define signed upload presets for your account and then assign signed presets to act as the defaults for image, video, and raw uploads within the Media Library.
The relevant default preset will then be applied to every asset of that type that is uploaded via the Media Library UI from that point forward, unless a different signed preset is manually selected via the Media Library Upload Widget.
For more details on upload presets, see Upload presets.
The Users tab of the console settings includes your personal user profile details. If you are an account administrator, this tab also includes settings that impact all account users as well as the option to add or modify individual users and permissions.
SAML login: This option enables the Cloudinary account administrator to activate SSO login. This can enable users in your organization to login using the same authentication system that you use for other SSO-supported applications. Contact your account administrator for details.
List of users: Enables viewing and managing all account users, including adding users, removing users, changing their roles, and more. This list is visible only to users with a Master admin or Admin role.
There are a few locations in the Cloudinary console where you can view statistics, graphs, and other important information about your account usage:
Dashboard: Just below the account details in your Dashboard, you can view a variety of summary details and trend graphs covering your overall account usage in terms of transformations, total assets, used storage, and used bandwidth. This page also shows all add-ons you've registered to, and your current plan and usage on each.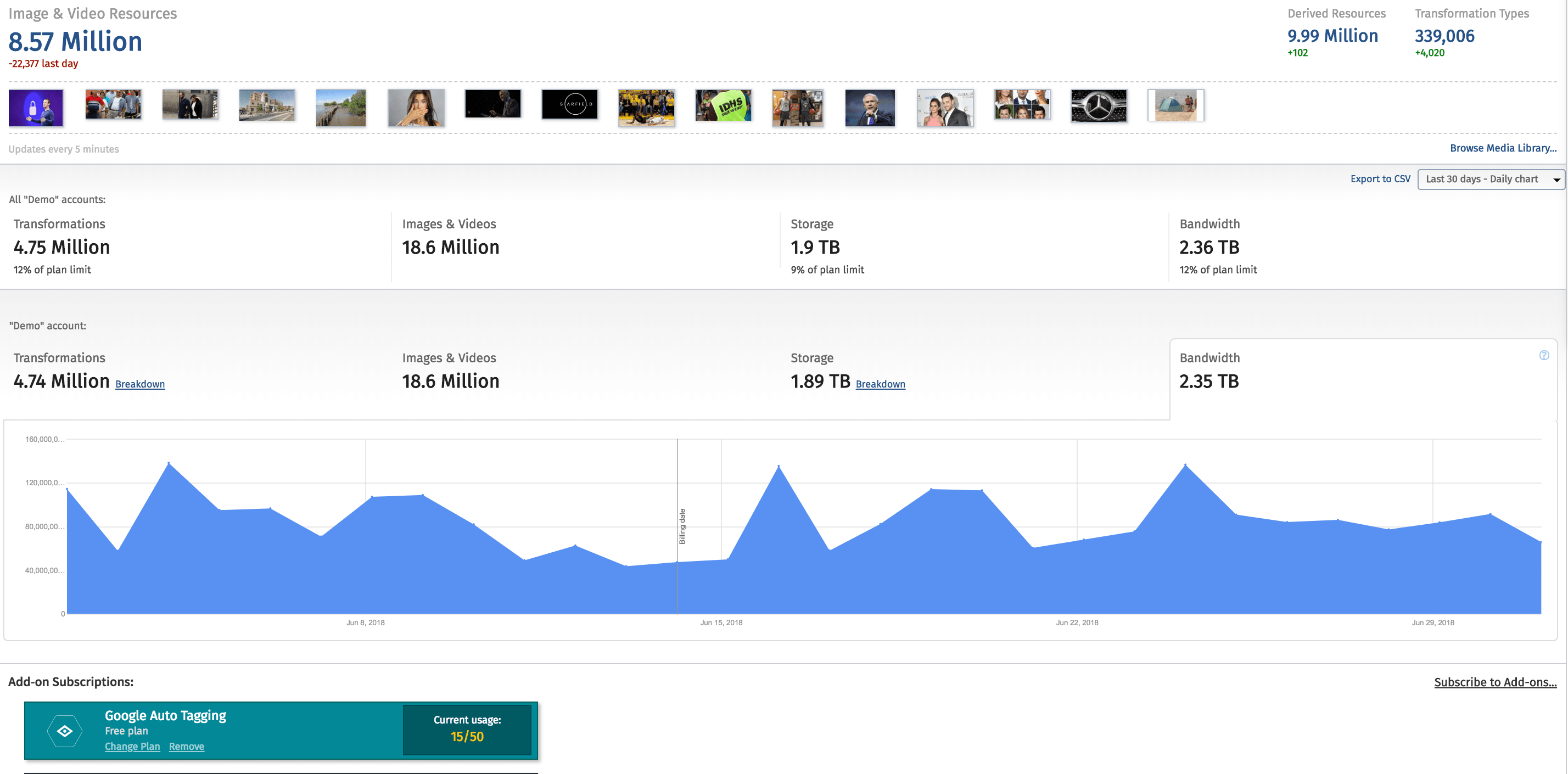 On the right side of the Dashboard page, you can also view your current plan and limits or upgrade to a new plan.
Reports: The Reports page has a large variety of usage details that can help you to analyze how your users are interacting with your published assets. The image below shows selected elements of the report: