Last updated: Nov-21-2023
In this short tutorial, you'll see how to take a video you've produced and upload it to your Media Library. Additionally, you'll see how to apply basic transformations for aesthetic and web optimization purposes.
This video is brought to you by Cloudinary's video player - embed your own!
This tutorial presents the following topics. Click a timestamp to jump to that part of the video.
| | |
| --- | --- |
|   1:16 | Now that the file is in your Media Library, you can make transformations to it for optimization, right from the transformation editor. To do so, select the Edit icon on the file in the Media Library. |
| | |
| --- | --- |
|   1:33 | One of the more commonly useful transformations to apply is through the video_codec parameter and setting it to auto. This allows Cloudinary to normalize the file and optimize the video for the web, including its audio settings. |
| | |
| --- | --- |
|   2:03 | As an example, you can overlay a logo and place it in the southeast corner of the video. |
| | |
| --- | --- |
|   2:55 | Aesthetic transformations can be done in conjunction with optimization transformations, chaining together endless opportunities for file customization. |
---
Media Library Upload
Drag & drop or select from remote sources to upload
Transformation Basics
Learn the basics of a transformation URL
Advanced Search
Use advanced search to find assets by date range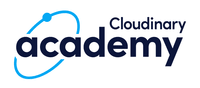 Check out the Cloudinary Academy for free self-paced Cloudinary courses on a variety of developer or DAM topics, or register for formal instructor-led courses, either virtual or on-site.