Whether your web application delivers static images, supports user-uploaded images, or you display profile pictures from social networks, you probably need to adjust them to fit the graphic design of your website or mobile application. Cloudinary's dynamic URL transformations enable you to achieve those goals programmatically without the need for graphic designers and tools.
Here are just a few examples of things you can accomplish on-the-fly by combining Cloudinary transformations in the image delivery URL. Click each image to see the URL parameters applied in each case:
Cloudinary allows you to easily transform your images on-the-fly to any required format, style and dimension, and apply effects and other visual enhancements. You can also optimize your images to deliver them with minimal file size alongside high visual quality for an improved user experience and minimal bandwidth. You can do all of this by implementing dynamic image transformation and delivery URLs. All transformed images are created on-demand (lazily) and delivered to your users through a fast CDN with optimized caching.
For example, you can:
The following dynamic URL with on-the-fly image transformation crops an image to a 400x400 circular thumbnail while automatically focusing on the face, and then scales down the result to a width of 200 pixels. Below you can see the original image (scaled down) and the dynamically created face detection based thumbnail.
Accessing your Cloudinary media assets is done using simple delivery HTTP or HTTPS URLs, which are then delivered to users via a worldwide fast CDN. The URL contains the public ID of the requested asset plus any optional transformation parameters. The public ID is the unique identifier of the asset and is either specified when uploading the asset to your Cloudinary account, or automatically assigned by Cloudinary (see Upload images for more details on the various options for specifying the public ID).
Cloudinary's SDKs take care of the transformation URL building for you, and simplify the integration even further. They allow you to continue working in your preferred developer framework and provide helper methods to simplify building image tags and image transformation URLs.
The default Cloudinary asset delivery URL has the following structure:
Where:
cloud_name - The name of your Cloudinary account, a unique public identifier for URL building and API access.

Note: Paid customers on the Advanced plan or higher can request to use a private CDN or CNAME to customize the domain name used for your delivery URLs.

asset_type - (optional) The type of asset to deliver. Default: image. Valid values: image, raw, or video.

The image type includes still image and photo formats, animated images, PDFs, layered files, such as TIFF and PSD, and others.
The video type includes video and audio files.
The raw type includes any file uploaded to Cloudinary that does not fit in one of the above categories. In general, transformations cannot be performed on raw assets, but they can be delivered as-is for download purposes, or in some cases, they may be used in conjunction with your image or video transformations.

delivery_type - (optional) The storage or delivery type. Default: upload. For details on all possible types, see Delivery types.
transformations (optional) One or more comma-separated transformation parameters in a single URL component, or a set of chained transformations in multiple URL components (separated by slashes). When the transformation URL is first accessed, the derived media file is created on-the-fly and delivered to your user. The derived file is also cached on the CDN and is immediately available to all subsequent users requesting the same asset.
version - (optional) You can add the version to your delivery URL to bypass the cached version on the CDN and force delivery of the latest resource (in the case that a resource has been overwritten with a newer file). For simplicity, the version component is generally not included in the example URLs on this page. For details, see Asset versions.
public_id - The unique identifier of the resource, including the folder structure if relevant.
extension - (optional) The file extension of the requested delivery format for the resource. Default: The originally uploaded format or the format determined by f_auto, when used.
Therefore, in the most general case of delivering an image that has been uploaded to your Cloudinary account, the delivery URL is given as:
https://res.cloudinary.com/<cloud_name>/image/upload/<public_id>.<extension>
For example, displaying the image with a public ID of sample uploaded to Cloudinary's demo account in jpg format: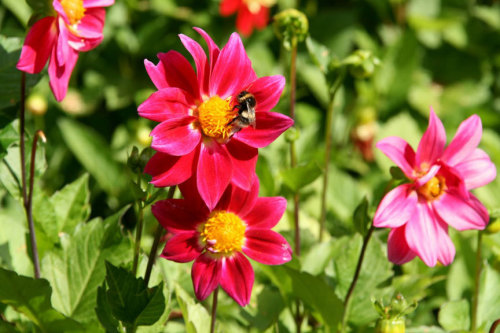 Any transformation instructions can be added before the public ID in the delivery URL. When the URL is first accessed, the derived asset is created on-the-fly and delivered to your user. The derived asset is also cached on the CDN and is immediately available to all subsequent users requesting the same asset.
The following shows an example of delivering an image with transformation parameters, where the image with a public ID of sample is cropped to a width of 300 pixels and a height of 200 pixels, and delivered in JPEG format: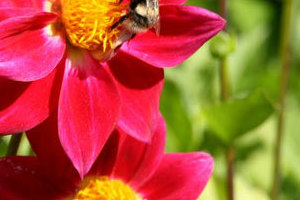 You can also use shortcut URLs when specifically delivering image files using the default upload type. With Cloudinary's Root Path URL feature, the resource type and type parameters can be omitted from the URL (they automatically default to the values 'image' and 'upload' respectively). For example, the Root Path shortcut delivery URL for the cropped image above is:
https://res.cloudinary.com/demo/c_crop,h_200,w_300/sample.jpg
The following video provides a quick demonstration of how dynamic transformation URLs work.
The delivery type element of the URL provides an indication about the way the asset will be delivered, although in most cases, the delivery type value is determined at the time that the asset is stored in your account.
The following delivery type values are supported:
Delivery type
Description
Learn more
upload
The default delivery type for uploaded assets. In most cases, this delivery type indicates that the asset is publicly available. However, there are options you can use to restrict access to assets with an upload delivery type. This includes strict transformations and access mode settings)
Upload API
private
The URL for the original asset can be accessed only with a signed URL. Transformed versions of the asset are publicly available (unless strict transformations are also defined).
Uploading private assets
authenticated
Both original and transformed versions of the asset can be accessed only with a signed URL or an authentication token.
Uploading authenticated assets Delivering authenticated assets
fetch
Enables transforming and delivering remote images on-the-fly.
Fetch remote images
facebook
twitter
twitter_name
gravatar
Fetches a profile picture from Facebook, Twitter, or other specified social delivery type based on a specified ID or name.
Social media profile pictures
youtube
hulu
vimeo
animoto
worldstarhiphop
dailymotion
Delivers a thumbnail image generated from the specified video from a public video site.
Fetching thumbnails of public videos
multi
Enables you to deliver a single animated image (GIF, PNG or WebP) from all image assets that have been assigned a specified tag.
Multi method Creating animated images
text
Enables you to generate an image in your account from a specified textual string along with style parameters for use as an image overlay.
Text method
asset
Relevant only for the Ruby on Rails SDK. Delivers files that were uploaded using the sync_static command.
Static files
list
Generates a list of resources with a specified tag.
Note: This isn't a delivery type in the classic sense, in that it doesn't relate to an individual asset. However, to use this feature, you specify list in the delivery type element of the URL.
Client-side asset lists
There are two types of transformation parameters:
Action parameters: Parameters that perform a specific transformation on the asset.
Qualifier parameters: Parameters that do not perform an action on their own, but rather alter the default behavior or otherwise adjust the outcome of the corresponding action parameter.
It's best practice to include only one action parameter per URL component.

If you want to apply multiple actions in a single transformation URL, apply them in separate chained components, where each action is performed on the result of the previous one.
In contrast, qualifier parameters must be included in the component with the action parameter they qualify.
Most qualifiers are optional, meaning the related action parameter can be used independently, but you can add optional qualifiers to modify the default behavior.
In some cases, an action parameter requires one or more qualifiers to fully define the transformation behavior.
There are a few parameters that can be used independently as action parameters, but can also be used in other scenarios as a qualifier for another action.
For example, the transformation below includes a crop action, a rounding action, and 2 effect actions. The qualifier transformations included in each action define additional adjustments on the transformation action's behavior:
Transformation flags alter default transformation behavior. In some cases, they alter the default behavior of the transformation URL as a whole. In other cases, they alter the behavior of one or more specific transformation parameters that must be used together in the same URL component.
In general, tens of flags are available that can alter delivery and format, cropping and positioning, metadata and color profiles, and overlays, PDFs, and text behaviors.
For example:
fl_attachment alters the normal behavior of the overall transformation. Instead of delivering an image or video in a web page, it causes the transformed media file to download as an attachment. This flag can be used independently.

fl_relative modifies the way overlay resize parameters are evaluated. This flag can only be used in conjunction with the overlay (l_publicid) parameter.

fl_layer_apply tells Cloudinary to apply all chained transformations, until a transformation component that includes this flag, on the last added overlay or underlay instead of applying them on the base image (it closes the layer, similar to a closing bracket).
For details on all available transformation flags, see the flag section of the Transformation Reference.
Cloudinary supports delivering media assets using HTTPS URLs. The process for creating HTTPS delivery URLs is identical to creating HTTP URLs, with only the URL protocol changing. When using one of Cloudinary's framework SDKs, you can generate HTTPS URLs by setting the secure parameter to true, either globally (e.g., in the CLOUDINARY_URL environment variable) or locally in each call. For example, delivering the sample image with HTTPS: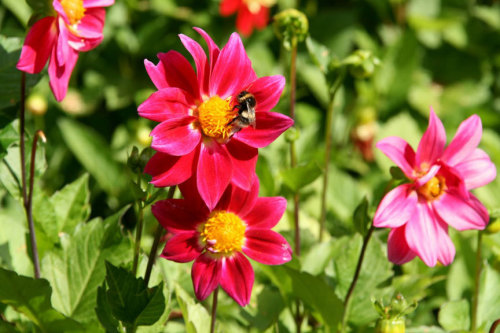 For more information on using HTTPS to deliver your media assets, see the article on Why isn't everyone using HTTPS and how to do it with Cloudinary.
Some transformations with multiple options offer two alternative syntaxes for defining the option values:
Verbose, unordered: Each option of the transformation (whether required or optional) is specified in the verbose format name_value and each option is separated by a colon (:).

The options can be specified in any order, and you only need to include those that you want (or are required) to define.

For example, the progressbar effect supports the type, color, and width parameters, but you can specify them in a different order: e_progressbar:width_5:type_frame:color_FF0000.

You can also choose to specify only the options for which you don't want to use default values and default values will be applied for the others. For example: e_progressbar:width_5 will generate a progressbar with a width of 5 pixels, while applying the default values for type and frame.

Non-verbose, ordered: Transformation options are specified only by values, and must be entered in the pre-defined option order for that transformation. All values from the syntax to the left of the value you want to supply must also be entered.

For example, if you only need to change the default behavior of the second option, you must still specify the value to use for the first option: e_progressbar:bar:FF0000 applies the bar (default) type and a custom color, along with the default width of 10 pixels.
Transformations that support both verbose and non-verbose URL syntax are indicated as such in the Transformation Reference. SDKs always output the verbose syntax.
A named transformation is a pre-defined set of transformation parameters that has been given a custom name for easy reference. Instead of applying each of the required transformations separately to an asset, you can apply a single named transformation to apply all the transformations defined for it. This makes it easy to:
Reuse transformations on multiple assets
Shorten complex transformation URLs
Hide the details of a transformation in your delivery URL.
Simplify the enabling/disabling of transformations in Strict Transformations mode.
You can set named transformations as transformation presets, which enables you to preview how assets from your Media Library will look with different named transformations applied.
Named transformations can include other named transformations, which allows you to define a chain of transformations to run on multiple assets more easily. To apply a named transformation to an asset, use the transformation parameter (t for URLs) with the name of an asset. For example t_instagram-auto-crop.
You can include user-defined variables in your named transformations, and then pass the value for the user-defined variable into the transformation from an external source. This enables creating a named transformation 'template' with a lot of flexibility. For example, you could define a complex named transformation that includes a text overlay as a named transformation, using a user-defined variable for the text string value. For a use-case example, see this Named transformation with a user-defined variable.
You can create a named transformations programmatically or using the Transformations UI in your Cloudinary console:
To create a named transformation programmatically, use the Transformations Admin API method. The following example defines a named transformation called small_profile_photo that uses automatic cropping to resize photos to the required size for a particular application's profile photos:
For more details and examples, see the Create Transformation method in the Admin API Reference.
To create a named transformation using the console, you have a few options:
Start with a cookbook recipe and refine it to your needs before saving it with your chosen name.
View a list of all your dynamic transformations (those you generated and delivered on-the-fly) and save one of those with your chosen name.
Create a new transformation from scratch using the transformation editor and save with your chosen name.
Once you've saved your named transformations, you can view a list of them on the Named Transformations page of the console. From here, you can edit, copy, enable/disable Strict Transformations or select to include a transformation as a preset in the Media Library Asset Management page.
Below are some examples of using the following named transformations that have been defined for the Cloudinary demo account:
jpg_with_quality_30: Convert the image to a JPEG with 30% quality.
crop_400x400: Crop the image to 400x400 with center gravity.
fit_100x150: Fit the image into a 100x150 rectangle.
To create a version of the sample image based on the fit_100x150 transformation:

To create a transformation that applies additional transformations to the jpg_with_quality_30 named transformation, such as fitting it to a 100 pixel width and a 50 pixel height:
You can also chain multiple named transformations. For example, to chain the three named transformations we defined above:
Chaining transformations can create long URLs, so instead you could define a named transformation that includes a chain of other transformations, including other named transformations. For example, the named transformation demo_combined has been defined for the Cloudinary demo account and is a composite of the three named transformations described above: jpg_with_quality_30, crop_400x400 and fit_100x150. It is now simple to specify the demo_combined named transformation instead:

Cloudinary supports powerful image transformations that are applied on the fly using dynamic URLs, and you can also combine multiple transformations together as part of a single delivery request, e.g., crop an image and then add a border. In certain cases you may want to perform additional transformations on the result of another transformation request. In order to do that, you can chain the transformations together.
In general, it's best practice to chain each transformation action in your URL as a separate component in the chain.
To support chained transformations, Cloudinary's transformation URLs allow you to include multiple transformation components, each separated by a slash (/), where each of the transformation components is executed on the result of the previous one. Cloudinary's SDKs can apply multiple transformation components by specifying the transformation parameter and setting it to an array of transformation maps.
Examples with the uploaded jpg image named flower:
Accessing uploaded images or their derived transformations is done using simple URLs that you can use as the 'src' of the 'img' tags in your HTML code or JavaScript functions. URLs for accessing resources contain the resource kind, the Public ID of the resource, and optional version and transformation parameters. You can also use Cloudinary's web framework SDKs to aid you in adding images to your web application and simplify the creation of transformation URLs and embedding HTML image tags. Cloudinary offers two main helper methods in this regard:
The Cloudinary URL helper method (e.g., cloudinary_url in Ruby on Rails) automatically generates the image source URL for use as the 'src' of the 'img' tags in your HTML code or JavaScript functions. For example, using the URL helper method to return the URL of the sample image, scaled to a width of 300 pixels and a height of 100 pixels:
The Cloudinary Image Tag helper method (e.g., cl_image_tag in Ruby on Rails) automatically generates an HTML image tag including the image source URL. For example, using the Image Tag helper method to create an HTML image tag for the sample image, scaled to a width of 300 pixels and a height of 100 pixels:
The Cloudinary Image Tag helper method allows you to not only specify any Cloudinary transformations parameters, but also to specify regular HTML image tag attributes (e.g., alt, title, width, height). For example, using the Image Tag helper method to create an HTML image tag for the sample image, with the 'alt' attribute set to "A sample photo" and the 'className' attribute set to "Samples":
For more information on these SDK helper methods, see the transformation documentation in the relevant SDK guide.
Images can be uploaded to Cloudinary in various formats (input formats), and you can easily convert these images to other formats for displaying in your web site or application (output formats). Examples of situations where you might want to change the delivered image format:
Delivering JPEGs for photos that you want to load quickly (or WebP if your users are on a Chrome browser or on a mobile app you control).
Delivering a GIF if the image contains a drawing with only a few colors.
Delivering a PNG (24 bit) for high quality illustrations with a transparent background.
Delivering an image where the original format is not supported for delivery by the browser. For example, you could deliver a Photoshop (.psd) image as a JPG.
You can convert and deliver images in a different format by specifying the requested format as the file extension of the delivery URL. When using an SDK to build the URL, you can either append the extension of the new format to the asset's public ID or use the format parameter.
For example, to display a GIF version of the uploaded sample JPEG file:
You can combine other image transformations with format conversion. Just make sure the format you use is supported for transformations, as per the table above. For example, to deliver a scaled down 150x100 GIF version of the sample image: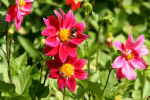 Another option for changing the format is to explicitly call the fetch_format parameter (f in URLs). This can be useful in situations where you cannot change the file extension, for example, when fetching remote images that already have a different file extension (format) as part of their URLs.
For example, to fetch a remote image from Wikimedia in PNG format, and deliver the image in JPG format (also scaled down to a width of 400 pixels):
You can take advantage of Cloudinary's automatic format selection (f_auto) transformation to automatically deliver images in the most optimized format that's supported by the requesting browser.
For example, if you deliver a JPEG image with f_auto, Cloudinary might generate and deliver the image as WebP, AVIF or JPEG-2000 depending on the browser and your account settings. The f_auto algorithm will similarly deliver the best format when the original asset is a PNG (with or without transparency), an animated GIF, etc.
For details, see Automatic format selection (f_auto) and Tips and considerations for using f_auto.
The table below summarizes the supported format types.
| Format | Extensions | Supported for Upload 1 | Supported for Transformations 2 |
| --- | --- | --- | --- |
| AI (Adobe Illustrator) | .ai | Yes | Yes |
| animated GIF | .gif | Yes | Yes |
| animated PNG | .png | Yes | Yes |
| animated WebP | .webp | Yes | Yes |
| AVIF | .avif | Yes | Yes 9 |
| BMP | .bmp | Yes | Yes |
| DjVu | .djvu | Yes | No |
| EPS (Encapsulated PostScript) | .ps, .ept, .eps, .eps3 | Yes | Yes |
| FBX (Filmbox) | .fbx 10 | Yes | Yes 6 |
| FLIF (Free Lossless Image Format) | .flif | Yes | Yes |
| GIF | .gif | Yes | Yes |
| GLB (Binary glTF) | .glb | Yes | Yes |
| glTF (GL Transmission Format) | .gltf | Yes | Yes 6 |
| HEIF | .heif, .heic | Yes | Yes |
| ICO | .ico | Yes | Yes |
| InDesign | .indd | Yes | Yes 3 |
| JPEG | .jpg, .jpe, .jpeg | Yes | Yes |
| JPEG 2000 | .jp2 4 | Yes | Yes |
| JPEG XR (JPEG eXtended Range) | .wdp, .jxr, .hdp | Yes | Yes |
| OBJ | .obj 10 | Yes | Yes 6 |
| PDF | .pdf | Yes | Yes |
| PLY | .ply | Yes | Yes |
| PNG | .png | Yes | Yes |
| PSD (PhotoShop Document) | .psd | Yes | Yes 5 |
| Raw image files | .arw, .cr2 | Yes | No |
| SVG | .svg | Yes | Yes |
| TARGA (Truevision TGA) | .tga | Yes | Yes |
| TIFF | .tif, .tiff | Yes | Yes |
| USDZ | .usdz | Yes 7 | No 8 |
| WebP | .webp | Yes | Yes |
This page walked you through the basics of how transformations work. The rest of the pages in this guide provide details, use cases and examples of the many different types of transformations you can apply to the images you deliver, including:
In addition to changing the appearance of your media assets by transforming them, you can also use Cloudinary URLs and a variety of parameters to control how they are delivered: