Last updated: Sep-12-2023
This video tutorial teaches you how to splice two videos together using the Cloudinary Node.js SDK.
This tutorial presents the following topics. Click a timestamp to jump to that part of the video.
| | |
| --- | --- |
|   0:27 | Start with both of your videos uploaded to Cloudinary. Then you can specify their public IDs in the code that creates the URL for the spliced videos. For example, to splice the samples/elephants video with the samples/sea-turtle video: |
| | |
See the full code example in GitHub.
| | |
| --- | --- |
|   1:51 | Open the resulting URL in a browser to see the sea-turtle video following straight on from the elephants video. |
| | |
---
Upload Videos in Node.js
Upload videos to Cloudinary using the Node.js SDK
Video Transformations
Build an e-commerce video showcasing products, in Node.js
Trim Videos in Node.js
Trim videos using the Node.js SDK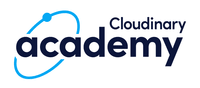 Check out the Cloudinary Academy for free self-paced Cloudinary courses on a variety of developer or DAM topics, or register for formal instructor-led courses, either virtual or on-site.