Last updated: Nov-21-2023
New to the Transformation Builder? Watch this tutorial for an overview of its capabilities and how you can use it to create and save transformations for use on multiple assets.
This video is brought to you by Cloudinary's video player - embed your own!
This tutorial presents the following topics. Click a timestamp to jump to that part of the video.
| | |
| --- | --- |
|   0:00 | Welcome to the Transformation Builder. Here, you can play with your videos and images, either by making alterations one step at a time, or by telling our AI chat interface how you want them to look. Your original assets will remain intact, you're just creating new variations. |
| | |
| --- | --- |
|   0:30 | Use the Quick Edit to tweak the result, known as a "transformation", and once you're happy, try out the same transformation on different assets, copy the delivery URL or your preferred code snippet, or save the transformation as a "named transformation" for easier reuse in the future. |
---
Transformation Basics
Learn the basics of a transformation URL
Named Transformations
Simplify & standardize complex delivery URLs
Named Transformations using TX Builder
Create re-usable transformations with the Transformation Builder UI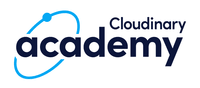 Check out the Cloudinary Academy for free self-paced Cloudinary courses on a variety of developer or DAM topics, or register for formal instructor-led courses, either virtual or on-site.