Last updated: Nov-14-2022
Cloudinary's Upload API allows you to quickly upload your images, videos and other media files to Cloudinary for immediate deliverability. Let's show you how to use this API in your development environment.
This video is brought to you by Cloudinary's video player - embed your own!
This tutorial presents the following topics. Click a timestamp to jump to that part of the video.
| | |
| --- | --- |
|   0:32 | Start writing a script that uses Cloudinary's Upload API to get the image into your Cloudinary product environment. Our example requires two different libraries - the Cloudinary Node.js SDK and dotenv, which allows your development environment to use your Cloudinary credentials and upload the assets in an authenticated way. |
| | |
| | |
| --- | --- |
|   1:41 | You should have gotten a successful JSON response with lots of data about the uploaded file, including its resolution, file size, format, and more. The file is also now an immediately deliverable asset from a secure, HTTPS URL. |
| | |
---
Generate Upload Signature
Generate a timestamp and signature for a signed upload
Get Started with the CLI
Set up the CLI and get familiar with some basic commands
Upload with the CLI
Apply background removal to images on upload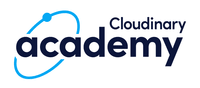 Check out the Cloudinary Academy for free self-paced Cloudinary courses on a variety of developer or DAM topics, or register for formal instructor-led courses, either virtual or on-site.