Last updated: Jan-27-2023
If you're like most of us, you've probably deleted assets, only to realize days or weeks later that you need them back. Thanks to Cloudinary's extensive backup system, it's easy to retrieve your deleted files inside of the Digital Asset Management (DAM) system.
This video is brought to you by Cloudinary's video player - embed your own!
This tutorial presents the following topics. Click a timestamp to jump to that part of the video.
| | |
| --- | --- |
|   0:15 | Review our tutorial on this process, especially if you have not already enabled backups or if you want to ensure you have correctly done so. |
|   0:33 | If you're trying to restore assets that you deleted before enabling backups, please contact our support team. We will work with you to determine your options. |
To restore an asset, you need to know its Public ID. If you don't already know the ID, you can use the Advanced Search feature of the Media Library to find it.
| | |
| --- | --- |
|   1:09 | Step 2: Navigate to the Media Library's Advanced Search bar, and select the Delivery Types filter. |
| | |
| --- | --- |
|   1:18 | Step 3: Scroll down the list until you find the Deleted asset option. At this point, any assets that have been deleted in this product environment will be displayed. |
| | |
| --- | --- |
|   1:31 | Step 4: Add additional criteria to find your specific asset, such as typing its Public ID into the Advanced Search text field. |
---
Enable Automatic Backup
Automatically back up your uploaded assets
Restore Asset Versions
List, preview and retrieve previous versions of an asset
Transformation Presets
Apply complex crops, optimizations and artistic details with one click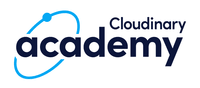 Check out the Cloudinary Academy for free self-paced Cloudinary courses on a variety of developer or DAM topics, or register for formal instructor-led courses, either virtual or on-site.