Last updated: Sep-26-2023
Cloudinary provides a set of tools that fosters collaboration on assets, both within your internal team as well as with external stakeholders.
Collaborate on assets by reading and replying to comments from other DAM users who have access to the asset. Use the @username notation to mention (tag) other users. When you mention a user, they receive an email with your comments and a quick link to view them on the Comments tab of the asset management drill-down page.
For Assets users
The
commenting
feature is a premium feature for our Assets product, and its availability depends on your account setup. If
commenting
is not yet enabled for your account and you'd like to enable it, please contact your Customer Support Manager.
Note
To add more users beyond your plan limit, ask your administrator to add user subscriptions.
To join a conversation about an asset, open the asset management drill-down page by either double-clicking the asset or selecting Open from the asset (3-dot) options menu and select the Comments tab.
There are several ways to share an asset with other members of your team and with external stakeholders. The following options are available from the Share pull-down button located at the top of the Manage page:
Publishing links: Share a link to the asset with stakeholders outside your organization.
Invite internal users to collaborate: Share a link to the selected asset's manage page with users who have access.
Copy URL: Access the asset's delivery URL. (This option is usually used by developers for rendering the asset in a website or app.)

If you want to share an asset with a stakeholder outside your product environment, you can publish your asset by generating a public link that will enable external parties to view it in a dedicated web page.
For Assets users
The
Publish a link to a single asset
feature is currently not at enterprise-grade level and is unavailable for Assets. However, if your Assets plan includes collections, you can share a link to a single asset or groups of assets using the
publish collections
feature.
To create a public link for the first time for the asset, click Publish and then click Create a Public Link to open the dialog box.
To copy or manage your public link, click Publish to open the dialog box.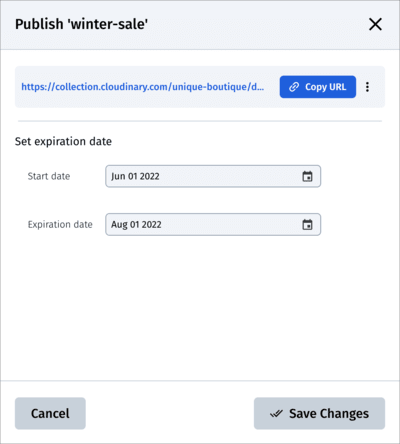 From the Publish dialog box, you can:
Publish your asset: Click Copy URL to quickly copy the link to your asset and share with your selected audience.

Control the availability dates: Set the Start and Expiration dates. Even after publishing the link, you can change the availability dates at any time.

Delete the link: select Delete link from the kebab (3 dots) icon to immediately disable the web page.
Note
Depending on the
settings
configured for your product environment, you might not be able to share PDF or ZIP files.