Last updated: Nov-29-2023
Watch this tutorial to learn how to handle metadata (structured, contextual, and embedded) and tags with the Cloudinary Assets DAM solution via the Media Library.
For Nexus users
While this video is primarily intended for Assets users, much of the content can also be applicable to Nexus.
This video is brought to you by Cloudinary's video player - embed your own!
This tutorial presents the following topics. Click a timestamp to jump to that part of the video.
  0:00

This is the first video in a two-part series that explores asset structure within the Media Library and how it can help you organize your Media Library content, making asset searches more efficient. This video focuses on metadata and tags. The next video covers folders.

Asset Structure goes beyond the conventional notion of shared folders, drives, or desktops. With Digital Asset Management (DAM), you have the flexibility to create an organized structure using metadata and tags, as well. Together, these elements form the foundation for effective asset storage, search, and reuse, keeping all users up to date and assuring administrators that the right content is being delivered to employees. Additionally, DAM enables secure file sharing and seamless integration with a broader tech stack.
  1:43

Metadata stores descriptive information about your asset, represented as fields and values. The three supported types of metadata are:

Structured metadata: primarily comprising labels and file names used for customized search purposes.
Contextual metadata: offers a more detailed description, including titles and captions.
Embedded metadata: data integrated directly into the asset, such as EXIF information. Teams also have the option to add this metadata themselves if needed, such as when the asset has undergone editing using various applications.
  2:34

You can enhance the searchability of your content through the Media Library. (Developers can also achieve this via the Metadata API.)

Using the UI, you can navigate to Structured Metadata in the Assets Product Navigation (accessible to administrators). Here, you'll discover a list of existing fields, each offering a unique way to search for assets based on their values.
| | |
| --- | --- |
|   3:36 | To illustrate, click Create a New Field and establish a multiple-selection list called Collections, to categorize fashion brands according to their season. After creation, you can prioritize this field's position within the list. Add List values such as SS22, SS23, AW22 and AW23 in the right-hand panel to create new search options. |
  4:35

Back in the Media Library, select Preferences from the Assets Product Navigation, and in the Advanced Search Filters section, add the newly crafted Collections field.

Upon returning to the Media Library and choosing the Assets view for filtering, you'll see your Collections field among the filters at the top. This provides a convenient way to filter assets based on their creation season, allowing you to efficiently assign and retrieve information for asset location.
  5:12

To access and edit asset metadata, double click the asset to open the asset management drill-down page, then select the Metadata tab. This tab allows you to view and modify your tags, structured metadata fields and contextual metadata fields by adding values as needed.

In the example shown, the tags were added automatically, structured metadata include Gender, Asset Type, Link to the asset, Season, Approval Status. This information is used to find and reuse assets stored within the platform.
| | |
| --- | --- |
|   6:18 | Contextual and embedded metadata play a significant role in asset management. Contextual metadata comprises titles and descriptions provided for assets, while embedded metadata includes data generated by creative agencies, third parties, or contained within the asset itself, such as EXIF data, resolution, camera information, and GPS location. All of these elements contribute to effective asset searching. |
| | |
| --- | --- |
|   6:57 | In the Metadata tab of the asset management drill-down page, you'll find fields for Title (caption) and Description (alt) under Contextual metadata, as well as fields for Embedded metadata, including DPI. If you're in search of specific DPI values, you can easily locate them in a search. |
| | |
| --- | --- |
|   8:33 | You can also utilize auto-tags, setting a minimum confidence level. Tags that don't meet this minimum confidence threshold won't be suggested. You can then run the add-on and add selected suggested tags or add them all. These tagging options can also be enforced upon upload using an upload preset, ensuring consistent tagging practices. For example, if you want to have auto-tagging applied to all uploads, you can configure an upload preset accordingly. |
---
Folder Sharing
Define sharing permissions for user groups
Asset structure - Folders
Utilize folders for efficient asset organization and searchability
Advanced Search
Use advanced search to find assets by date range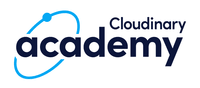 Check out the Cloudinary Academy for free self-paced Cloudinary courses on a variety of developer or DAM topics, or register for formal instructor-led courses, either virtual or on-site.