Cloudinary's digital asset management (DAM) solution enables you and your creative and marketing teams to collaborate throughout all steps of your digital asset management workflow. From uploading photographers' photos and videos, to tagging and sharing them, performing sophisticated searches to find just the right assets for a particular new design or campaign, and up to the point that final assets are selected and ready to be delivered in your website or app by your developers. Your developers then use Cloudinary's media management API to programmatically transform and deliver your media, automatically optimized for quick and responsive delivery to your customers.

The DAM user guide provides comprehensive explanations of all DAM features.
If you have a Cloudinary Master admin or Admin user role, it may be your responsibility to define the way the DAM will be used in your organization. The DAM administrator guide provides detailed information about a variety of DAM-related administration activities that you can perform.
We also invite you to check out our DAM video tutorials to learn more about getting started with Cloudinary DAM and the features it offers.
The Media Library provides you access to all your digital assets and is the main touch point into the Cloudinary DAM solution.
From this view you can: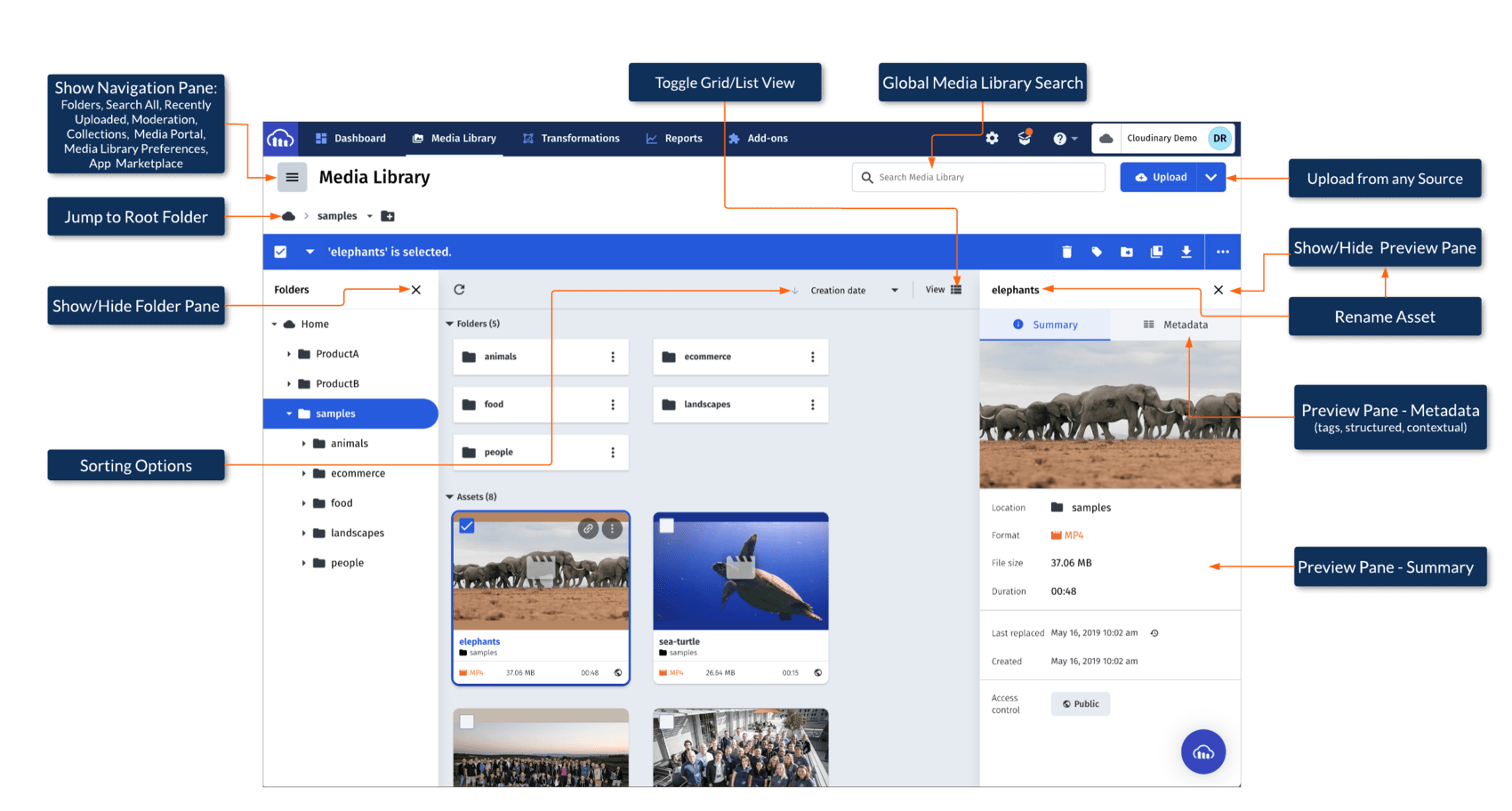 Note
Depending on your plan, you may be able to set your Media Library display language by clicking the cloud name button on the top right and then clicking
. The language you set applies for all sub-accounts you have access to.
For more information, see the DAM user guide.
The Cloudinary Media Library and other areas of the Console UI are designed to work with the latest web browsers. If you use an outdated browser, some DAM or Console features may not be available or may not work as expected. Additionally, using a modern browser can help keep your computer and data safer.
Therefore, we recommend that you use one of the following supported browsers:
Notes
Internet Explorer: To enable us to take advantage of modern web functionality and to provide the best user experience, the Cloudinary Media Library and other areas of the Console UI can no longer be used from the Internet Explorer web browser.
Safari: The Safari browser may not work well when accessing the Media Library from an external platform. Use one of the other recommended browsers listed above when working with Cloudinary via these platform integrations.
If you are an account user with one of the Admin roles, you can perform a variety of DAM-related administration activities, including:
For more information, see the DAM administrator guide.
Learn more about Cloudinary DAM features