Call us prejudice, but as a hardcore Linux guys, the name Microsoft always caused us to flinch a little. That was our initial reaction when we were approached by the Azure team. We have been integrating Cloudinary with many PaaS providers to make our platform as accessible as possible, and Azure actually made perfect sense. Still, we were a bit hesitant at first as we never considered Microsoft a leading player in the world of rapid web & mobile development.
As you may have figured out, we were very impressed by Microsoft's Windows Azure cloud platform and the great team behind it. The Windows Azure platform boasts powerful built-in support for modern development frameworks popular among both enterprises and small startup companies. You can deploy your web and mobile applications in Azure's class using PHP, Python & Django, Node.js, Java and of course .NET.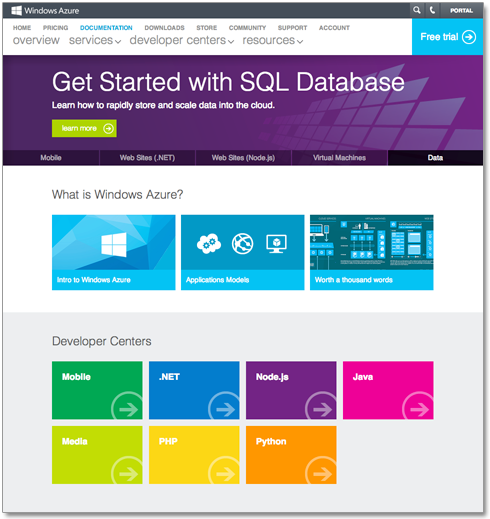 With this in mind – we are very excited to announce Cloudinary's add-on for the Windows Azure cloud platform.
Azure is a PaaS that offers cloud-based deployment and hosting for your web-based applications. Azure also offers virtual machines for running your apps, a hosted & managed SQL database, cloud-based storage and more. All of this is smoothly integrated with visual studio and can be managed via a powerful web interface.
Last but not least, the Windows Azure Store offers plenty of add-ons to enhance your applications.
Cloudinary's Azure add-on allows you to easily upload your web application images to the cloud. Your images are stored on a safe and highlighly available location with automatic backups and historical revisions.
Once on Cloudinary, you can transform and transform your images in the cloud to match your graphic design: resize, crop, alter shape, apply effects, add watermarks and more without installing any software on your side. All your images are automatically optimized and delivered to your website visitors through a fast, world-wide CDN with advanced content caching.
Cloudinary is easy to integrate with and offers open-source client integration libraries for your PHP, Python & Django, Node.js, Java and .NET applications.
You can register to your Cloudinary account from within the Azure portal using just a few clicks. Registration and integration is free and you can upgrade to a paid plan once your application gains traction and requires larger resource quotas.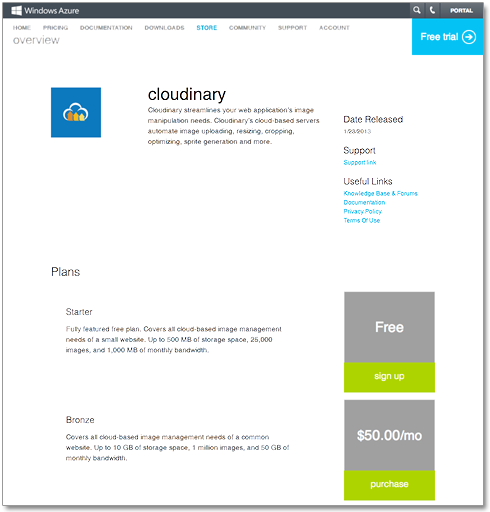 So whether you are a Microsoft fan or just looking for a great cloud service provider, you should take time to check out
Windows Azure
. Once there, if you need a cloud-based solution for image uploading, storage, transformation, optimization and delivery, make sure you add Cloudinary to your list of add-ons.