Watch this tutorial to learn how to use Zapier to upload images from Cloudinary to Shopify.
This video is brought to you by Cloudinary's video player - embed your own!
This tutorial presents the following topics. Click a timestamp to jump to that part of the video.
| | |
| --- | --- |
| 0:20 | Start by downloading the Zap. This is a JSON file. If you have a paid Zapier account, you can import the Zap through Settings > Data Management > Import My Zaps. Otherwise, you can create your own Zap and copy and paste the steps from the JSON file. |
| | |
| --- | --- |
| 1:01 | For the initial setup of the Zap, each of the steps need to be configured so that it can be turned on. |
| | |
| --- | --- |
| 1:24 | Copy the unique webhook from the Zap. Go to the Settings page in your Cloudinary account console, select the Upload tab and paste the webhook into the Notification URL field. All notifications from the media library UI are sent to the webhook. Copy a product ID from Shopify, and paste it as a tag and metadata (named productid) for an image in your media library that you want to associate with the product. Setting the toshopify tag triggers the Zap to upload the image to Shopify. Test the webhook in Zapier. |
| | |
| --- | --- |
| 3:24 | Find your account details on your console dashboard and copy them into the relevant fields in the Zap. Find the Shopify details in your Shopify account, under Apps > Manage private apps. |
| | |
| --- | --- |
| 4:46 | Click TEST & REVIEW for all the other steps. |
| | |
| --- | --- |
| 6:20 | Turn the Zap on and see the image uploaded from Cloudinary in Shopify. To upload more images, in your Media Library you can bulk select the ones you want for a particular product and set the metadata and tags as before. The Zap is triggered and the images are uploaded to Shopify. |
| | |
| --- | --- |
| 7:26 | You can view the progress of the Zap in Zapier, in Task History. You can use this feature to debug your Zap if it breaks. |
8:05

There are other pieces of metadata that you can set:

position: specifies the position of an image in Shopify's product gallery.
Description (alt): specifies the alt text for an image.

You can also set other tags in Cloudinary that are also shown in Shopify.
---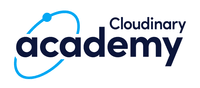 Check out Cloudinary Academy for free self-paced Cloudinary courses on a variety of developer or DAM topics, or register for formal instructor-led courses, either virtual or on-site.