As the old expression goes, "Don't limit your challenges, challenge your limits," so that's what we did.
In this instance, the challenge we set for ourselves was to build a simple, functional online store using composable technologies in time for a demo at the 2022 Contentstack ContentCon conference.
To assist in this formidable, some might say preposterous, challenge, we enlisted the aid of six marketers from four MACH Alliance companies, all with deep expertise in all things e-commerce technology related.
How'd we do? To find out, read on, or give a listen to the webinar "The Future is Composable: MACH Solutions for Ecommerce" to learn how a small team built a fully functioning store in under four weeks.
Before getting into the "how" we did it, let's address MACH. What is MACH and why does MACH matter?
MACH stands for:
Microservices-based
Application programming interfaces (API)-first
Cloud-native software-as-a-service (SaaS)
Headless
MACH technologies support a composable enterprise in which every component is scalable, easily replaceable and can be continuously improved through agile development to meet evolving business requirements.
The technology is backed by the MACH Alliance. This community advocates for open and best-of-breed technology ecosystems and helps enterprises understand, select, and move away from monolithic solutions.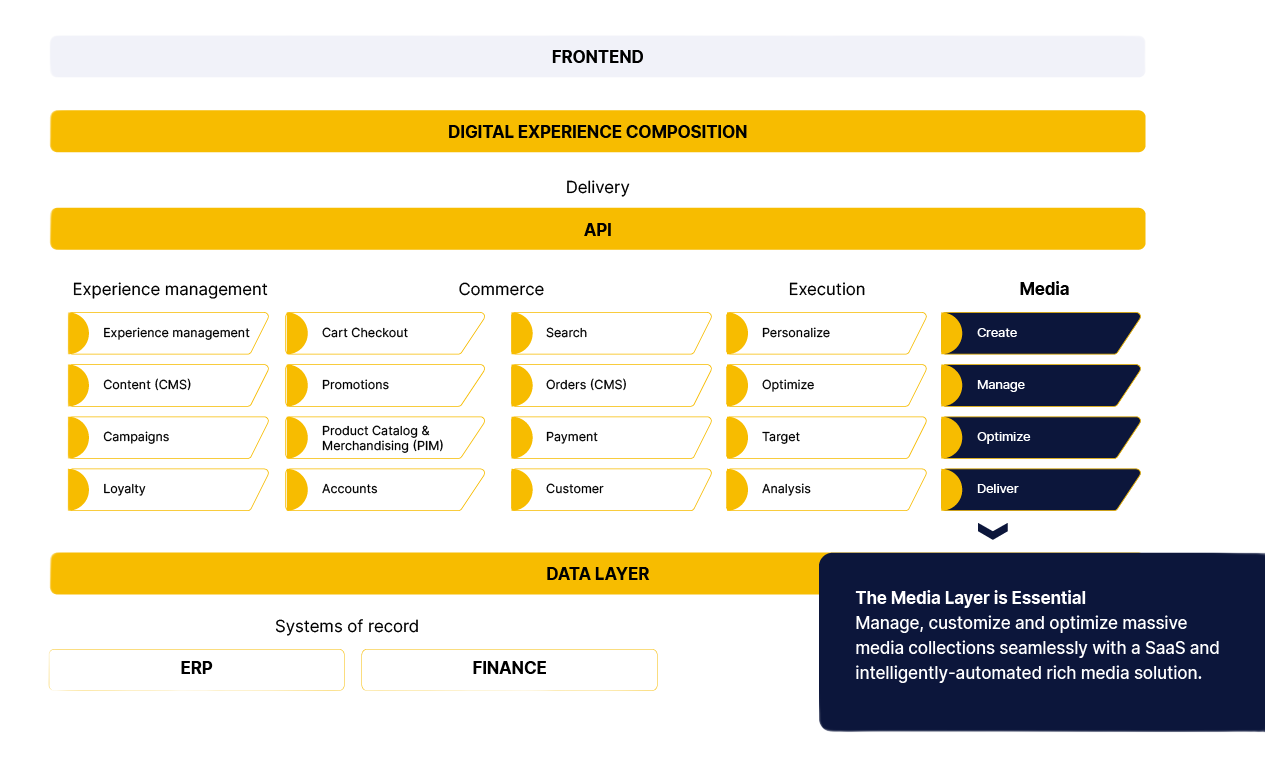 Our partners at Contentstack initially reached out to the team here at Cloudinary, along with MACH Alliance members, Algolia, Bigcommerce to ask if it were possible to build a fictitious online store in 30 days, or less. The goal of the challenge was to:
Demonstrate that MACH works and that going headless isn't as daunting as it sounds.
Build a better composable stack and pinpoint where any issues, problems, or hurdles a brand might encounter when trying to connect their microservices together.
Challenge on! In just 101 working hours our team of six technologists built a functioning, and stylish,swag store.
Here's how we set it up:
Content. Contentstack provided the store's central content hub and gave it a unified user experience across our brand's marketing technology stack.
Search. Algolia optimized how easy it was to give consumers seamless access to our product catalog via AI-powered search, discovery, and recommendations.
Commerce. BigCommerce gave us the headless commerce experience that allowed us to plug into other API-driven experiences.
Visual Media. Cloudinary brought in the automation and intelligence to programmatically resize and optimize images and videos to deliver flawless visual experiences to users no matter where they are and what device they're using.
The key takeaway, we determined, from this challenge was that composable architectures are simple to use and enable brands to accelerate time to market by streamlining processes.Other positive side effects include, reduction in costs, the ability to future-proof tech stacks, and an ability to foster deeper engagement with consumers. Had we been stuck using traditional, more monolithic solutions we never would have made our self-imposed deadline. In all likelihood, we'd still be working.
Click here to watch a replay of the event or get in touch with us if you have any questions. For more information MACH is here.