Images. Your web (or mobile) application is probably filled to the brim with images. You might be surprised at just how much impact these images have on your visitors. From their graphical appeal to their size and access times - these images determine your visitors browsing experience and ultimately their conversion to repeating visitors and paying clients.
Now, while your graphic designer has created a cool graphical concept, many of the images you need to embed inside it are not in your direct control. Social websites contain profile photos uploaded by their users. ECommerce solutions contain many product photos that can't be edited one at a time. Media outlets contain many photographs of different consistency.
Having a tool in your belt that offers automatic tweaks and retouches for all these images is quite handy. Here a couple of things you can do with Cloudinary that can really improve your website.

How to sharpen an image
How can you make your website "pop"? it's easy if you control the exact content across your web application - a great graphics design can make wonders. But what can we do to improve user uploaded images? 
Let's look look at the following image uploaded to Cloudinary:
The photo looks good. But just take a look at what a bit of sharpness can do to it. 
Here's the same example in Rails:
You can control the strength of the sharpen effect to match your taste. Here's a more intense sharpening of the same image by setting the sharpen level to 300. Quite a nice photographic effect.
Same example in PHP:
Sharpening is also useful in making text elements in thumbnails clearer. For example, the following screenshot was uploaded to Cloudinary. As you can see the small gray text snippets are not so clear here.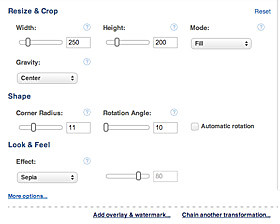 Same example in Django:
How to blur an image
Sample example in Rails:
Same example in Node.js:
Same example in .NET:

Summary
Automatic image sharpening and blurring can do wonders to a website. For static assets, you can do that manually using your favorite image manipulation software. With Cloudinary such effects can be automatically applied to millions of user-uploaded images with ease. And if you decide to spruce up the graphical effects in your site's images, you can simply modify the transformation parameters in your development framework of choice. All images will be regenerated on the fly using the updated effect and will be served to your users optimized through a fast CDN.