Last month, we had the pleasure of supporting Capitol Music Group's first ever hackathon, the first in a series of hackathons as part of its newly launched Capitol360 Innovation Center, established to bridge the gaps between music and tech and make music better for everyone. We are proud to be a founding technology partner and were honored to play a part in Capitol's first-ever 24-hour hack. And because so many of us are avid and longtime music fans we're also personally thrilled to have the opportunity to work with one of the most influential leaders in music to foster these new and meaningful connections.
One of the leaders behind Capitol360 is Director of Business Development, Ching-Ching Chen. Here she shares some thoughts on the Center, its mission and why bridging the gaps between music tech is so important for music, its creators and fans, and its future.
The interdependency between music and technology has never been more apparent, yet in many ways a disconnect continues to exist between the creative and tech communities. The Capitol360 Innovation Center was founded to bridge these two communities through its original programming and communal workspace offerings. Capitol Records, throughout its 75-year history has been a major center for incubation of new artists and content, but with the launch of Capitol360, it hopes to also support the incubation of new technology that will drive the music industry into the future.
Capitol360's focus in particular is improving the framework for music licensing, which at times has presented a challenge for many early stage music tech startups. To change this, Capitol360 and its parent company Universal Music Group (UMG) are making efforts to provide support to startups in early stages by granting access to licensed content without the more complicated process associated with long term commercial agreements.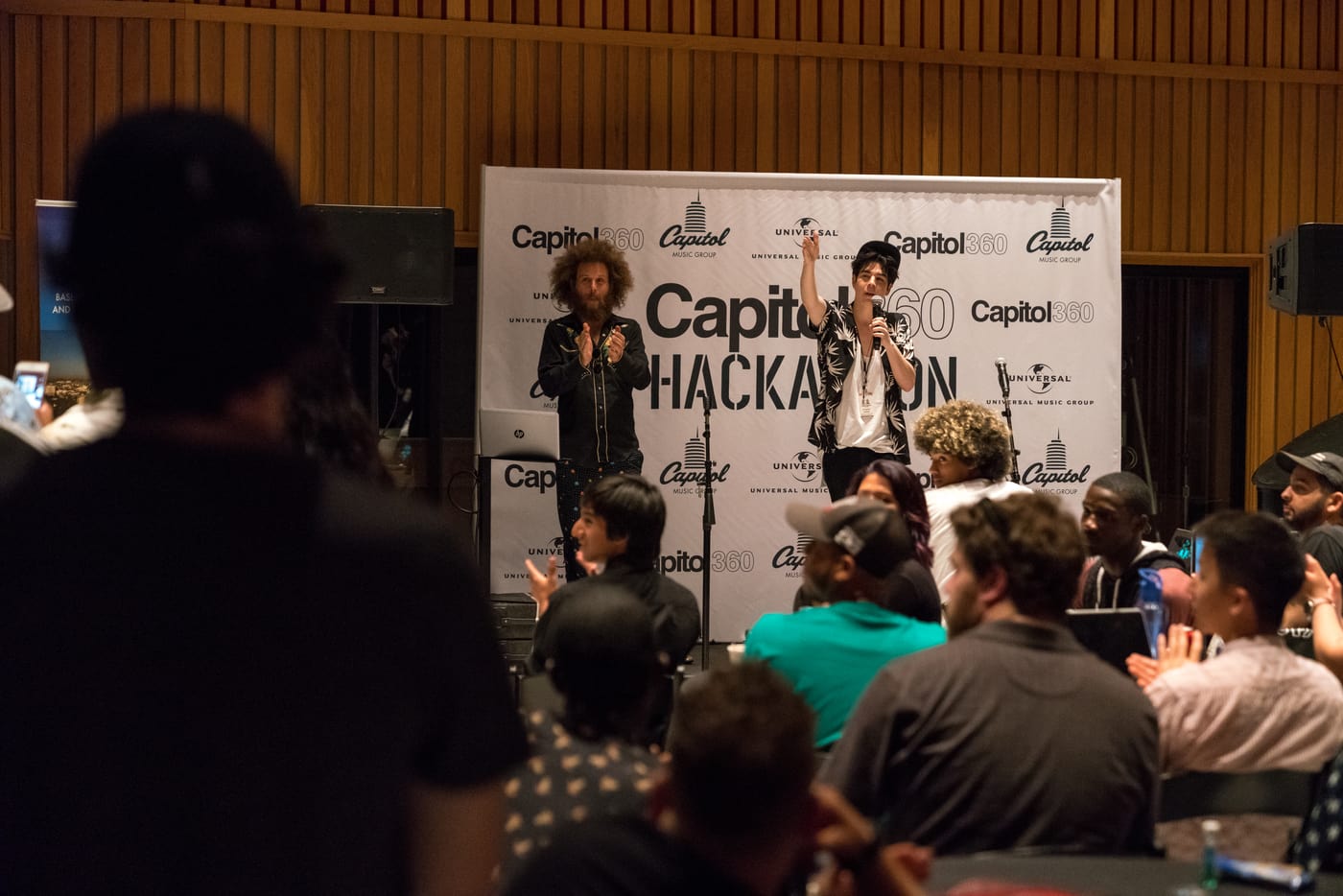 During the two-day event, competing software developers had access to a catalog of roughly 14,000 Universal Music Group and Universal Music Publishing Group audio streaming tracks in a sandbox inclusive of catalog legends and some of today's biggest superstars. Capitol Studios served as the gathering grounds for software developers and creators in a challenge to incubate new products, services, and content, with the goal to unite creatives and developers to unlock the value of a unified music industry.
By bringing this group of talented individuals together and providing access to UMG's catalog, never-before-seen original content and archival assets, office hours with Capitol artists, mentorship from veteran industry leaders and UMG's technology partners, Capitol Music Group hopes to take steps toward making the relationship between music and tech more mutually beneficial. Mentors and judges included Don Was (Blue Note/Capitol), Dion "No I.D." Wilson (ARTium/Capitol), Rishi Patel (Plus 8 Equity), Tuhin Roy (UMG), Lilly Kam (i.am+), Christine Cao (Paradigm Talent Agency) and Gerome Vanherf (LeanSquare). And of course, we're grateful for the support of our team of technology partners including Cloudinary, Consensys, 7digital, TiVo, Microsoft, Gener8tor, and LeanSquare.
The opportunity to take a building that has as much history as the Capitol Tower and expand its mission by providing a hub for creators and technologists to co-habit in one ecosystem is incredibly exciting. During the June 2-3 Hackathon, it was a special moment seeing some of our artists work directly with software developers to brainstorm new ideas for fan engagement tools and other music-related products and services. The prospect of forging a stronger relationship between music and technology is a responsibility that we take to heart, and it is our hope that Capitol360 can help bring new ideas that come out of the legendary Capitol Tower to life. We're just getting started.