Of late, we've seen an increasing number of Cloudinary customers on Shopify and Shopify Plus. Since we first wrote about using Cloudinary with Shopify a while ago, both Shopify and Cloudinary have evolved to better support customers through advancements in our platforms. This post highlights three important areas in which you can integrate Cloudinary's latest technology and tools with Shopify to accomplish the following tasks:
Better manage rich media assets for your products.
Create lightning-fast e-commerce stores along with a superior visual buying experience.
Page-load times, largely decided by the size of the images and videos on a page, influence conversion rates. Optimization is the science and art behind reducing file size and retaining quality to deliver a satisfactory experience to your customers. Even though Shopify optimizes the image format based on the viewer's browser (for example, WebP for Chrome), your results with Cloudinary are far better.
Why? Because Cloudinary uses advanced techniques to reduce image sizes while maintaining visual quality. For example, Cloudinary determines the encoding quality and image format according to the content of the source image. For details, see the related documentation.
We recently analyzed Cloudinary's image optimization for product images on Desmond and Dempsey, a Shopify Plus customer. Cloudinary could further reduce the size of that image by 30 percent. Picture the positive effect in case of multiple images on a page! Those of you who are curious can examine your Shopify site to pinpoint the potential benefits by using Cloudinary's website speed test.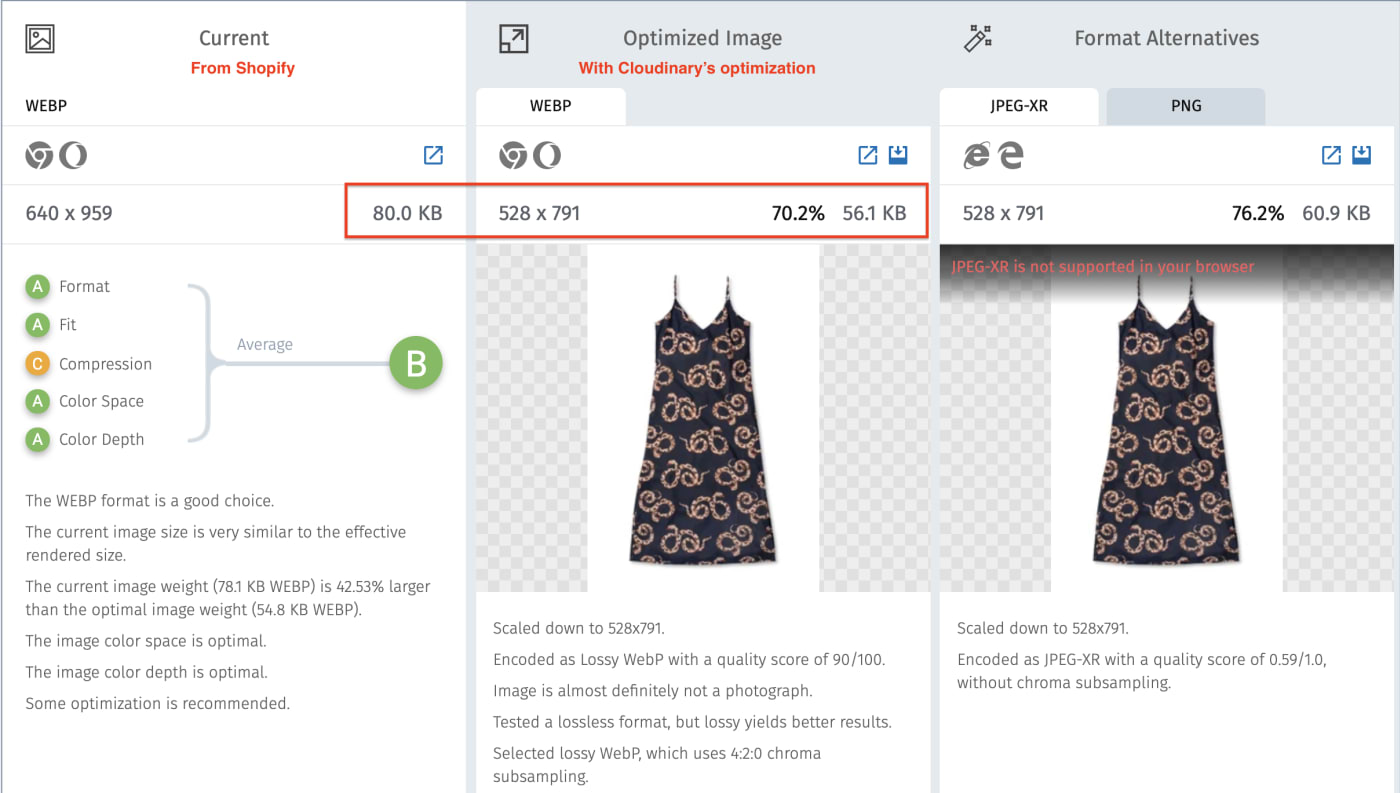 As for video, recent studies have shown that consumers are increasingly relying on online videos to browse around, learn about products, and make purchase decisions. Given that the online audience watches over 50 percent of videos on mobile devices, highly optimized product and marketing videos are paramount.
In a welcome move, Shopify recently announced support for product videos. Similar to images, Cloudinary can do a much more superior job optimizing them, delivering two salient differences:
Support for optimized formats for different browsers and operating systems
Content-aware encoding, which, through advanced algorithms, generates the smallest-sized videos based on their content with no visual-quality loss. See a comparison below of a video downloaded from Shopify's demo store on the left and the same video optimized by Cloudinary on the right. The optimization potential is immense!
Hence, unsurprisingly, many Shopify merchants are Cloudinary customers.
The Product Detail Page (PDP) is where the action is on e-commerce sites. On a PDP, customers expect to feel and experience all aspects of the product, which many brands highlight by means of videos, 360 views, 3D objects in a product gallery. Realistically showcasing products minimizes customer disappointment, hence reduced return rates and losses. However, PDPs must load fast and must be consistent for all products. Plus, the experience must vary according to customer taste and competition. Toward that end, Cloudinary created the Product Gallery, which enables brands, such as its customer Guess.com, to create stunning PDPs.
You can now do the same for your Shopify site. The benefits are many:
Support for videos, 360 views, and 3D objects
Responsive design, which works great on mobile devices
Fully customizable behavior, UI, and colors
All of Cloudinary's optimization features out of the box
For an example of the full experience, visit our Shopify demo site.
To learn how to integrate the Cloudinary Product Gallery into your Shopify site, see this post.
As your product catalog's size increases, so does the amount of media you must manage. For a Shopify Plus store with 2,000 products, if each product requires five images or videos for the gallery, you must manage 10,000 media assets at any given time. That's a tedious job if performed in the Shopify store-management UI.
Managing a multitude of media assets and their workflows (upload, review, attach media to products) requires a robust Digital Asset Management (DAM) system. Cloudinary DAM enables you to do the following with ease:
Use tags and meta data to associate images and videos in the DAM with your products in Shopify.
Generate alt tags for SEO for all your product imagery with Cloudinary's AI capabilities.
Quickly search and find images and videos by means of product IDs and AI generated tags.
See The Ultimate Digital Asset Management Guide, a Cloudinary publication, on how our DAM solution could be used in your media workflow.
We will be publishing an integration guide for Shopify, with step-by-step instructions for using Cloudinary images and videos in your store. You'll also get sample code for changing your shopify templates and a tutorial for using Zapier to integrate the Cloudinary DAM with Shopify. Stay tuned!
Cloudinary's Integration Guide for Shopify contains step-by-step instructions for using Cloudinary for delivering images and videos, for managing media workflow with Cloudinary DAM, and for leveraging the Product Gallery for your store. Also in that manual are links to code snippets and a tutorial on integration with Zapier.
Do send us your thoughts and suggestions below. We'd love to hear from you.
---
Have a look at these articles: