There's no doubt that captivating visual experiences are a key part of what makes digital commerce work. Log on to any e-commerce website, social media app, or mobile shopping platform and the relevance is clear: compelling images and immersive videos are what make us decide to buy products online.
Strong imagery is also what helps digital marketers reinforce brand messaging and entice their desired customers quickly. In fact, the average person coming to any digital experience decides in just 10 seconds if they want to continue!
But this need for compelling visuals brings its own set of issues: what to do about the overwhelming demand? Consider that there are 7.9 billion people on the planet…how can we possibly accommodate the necessary volume of rich media required to deliver captivating visual experiences to everyone, everywhere? The only answer is technology.
I recently presented my insights on how cloud-based digital asset management (DAM), and Media Experience Cloud (MXC) technology can bring us to the next generation of digital commerce at this year's eTail Connect conference in Fort Lauderdale. It was a great forum for exploring the tech advances that can help to automate the process of creating personalized, customized visual experiences at scale. 
The rise of Next-generation commerce (NGC) emphasizes the importance of e-commerce solutions that can be seamlessly integrated with other modern technologies. These NGC solutions are pre-built to integrate with platforms like Shopify, NetSuite, Looker, Slack, and Asana, enhancing the overall digital commerce experience.
Here are a few key takeaways from my presentation, which you can find here:
High-quality visuals are essential for e-commerce businesses to convey a sense of a product's real-life quality, material, size, and features. Most consumers today expect videos, full 360-degree product displays, and even 3D experiences to help translate that real-world effect on screen. Reducing the time and cost of bringing these hyper-immersive effects to life is paramount and is easily accomplished using cloud-based DAM and new MXC technology. It simplifies the process of creating, managing, and delivering engaging visual experiences. 
Additionally, the integration of augmented reality in e-commerce and the use of voice data for voice search are becoming increasingly significant. The trend of image-based shopping is also on the rise, with consumers leveraging more images for their shopping decisions. The idea of creating gamified shopping experiences and transitioning from digital shopping to virtual shopping in the metaverse further exemplifies the evolution of digital commerce.
In the presentation, I shared details on how Cloudinary customers Levi's, Reformation, Bulgari, and Brunello Cucinelli are accomplishing this.
Brands that can give consumers just the right amount of personal touch often convert browsers to shoppers. Whether it's an online visual experience that helps consumers determine the exact shade of makeup that flatters their skin tone or customization done via user-generated content (UGC), personalization helps deliver an authentic connection to the brand—and it is more likely to drive purchases.
Additionally, the integration of influencer data for niche selling is becoming a pivotal strategy for many brands, allowing them to target specific audiences more effectively.
Cloud-based MXC technology can help e-commerce businesses deliver personalization in a more agile way, giving them flexibility to increase the type and speed of their personalized offerings. These capabilities have been automated at scale using technologies that exist today.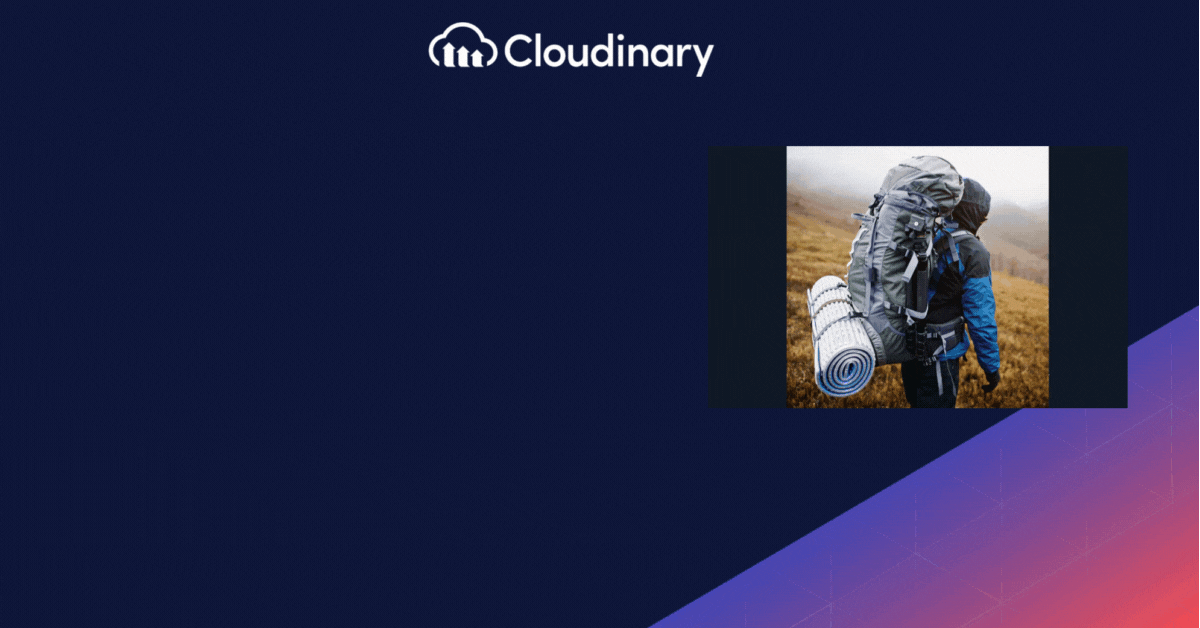 Artificial intelligence and machine learning are incredibly efficient and useful tools to drive automation and speed up the tasks that support superior digital visual experiences. At Cloudinary, we train our machine learning models on a very large data set so the media intelligence we glean is transferable to many different domains with broad use cases.
Here are some of the ways AI- and machine learning-driven intelligence deliver for our customers:
Automated Video Crop & Optimization: Ensure videos perform well for any device or browser without manual work
Smart Cropping: Save time and improve experience quality across all channels with content-aware cropping
Smart Tagging: Tag assets accurately for more efficient experience creation with intelligence, purpose-trained tech for imagery and video
AI-Based Transcription: Quickly and easily transcribe videos without the heavy lift
Delivering the right message to the right audience on all channels — web, mobile, and social — has long been the holy grail of marketing. In today's quest, the biggest player is visual media. Cloud-based Media Experience and DAM technology is helping e-commerce companies create and deliver the type of engaging visual experiences consumers expect.
I hope this timely topic caught your eye. You can learn more about digital asset management on Cloudinary's blog here.