If you make a copy of a copy of a copy, the quality will deteriorate with every 'generation'. This problem is called 'generation loss'. It is not difficult to understand why this happens with actual copier machines. Scanning and printing are not perfect, being based on noisy sensors and physical paper and ink, and the resulting noise will tend to accumulate.
Digital images should theoretically not have this problem: a file can be copied over and over again, and it will still be bit-for-bit identical to the original.
However, lossy image formats like JPEG can behave like photocopiers. If you simply copy a JPEG file, nothing changes, but if you open a JPEG file in an image editor and then save it, you will get a different JPEG file. The same happens each time an image is uploaded to, say, Facebook or Twitter: the image is re-encoded automatically (in the case of these two social networks, with a relatively low quality setting, to save on storage and bandwidth). Some information is lost in the process, and compression artifacts will start to accumulate. If you do this often enough, eventually the image will degrade significantly.
In this article we'll take a deeper look at the generation loss of JPEG and other lossy image formats. We'll explain what causes it, and how it can be avoided.
This is what happens if you re-encode a JPEG image many times:
JPEG has a 'quality' setting that allows you to make a trade-off between compression and visual quality. Lower quality settings will give you smaller files, at the price of discarding more image information. Higher quality settings result in larger files, but more information is retained so the resulting image is closer to the original.
So if you just save the JPEG at a high enough quality setting, there won't be a problem, right?
Sadly, no. Obviously, information that is already lost cannot be magically recovered. So if you take a JPEG image that was saved with a quality of, say, 70, then re-saving it with a quality of 90 will, of course, not make the image look any better. But here's the problem: it will even be worse. Every additional JPEG encoding will introduce additional loss, even if it is done at a higher quality setting than the original JPEG.
To understand why JPEG works this way, we have to dig a little deeper into how JPEG actually works. The JPEG format uses several mechanisms to reduce the file size of an image, some of which don't accumulate while others do.
First of all, JPEG uses a color space transformation. Digital images are typically represented as pixels containing three separate 8-bit RGB values (red, green, blue). That is how computer screens display their pixels: each of the three color channels can have 256 different levels of intensity, resulting in 16.7 million possible colors (256*256*256) if you consider all the different combinations of red, green and blue.
These three RGB color channels are statistically correlated in most images: for example, in a grayscale image, the three channels are completely identical. So if image compression is the goal, RGB is not the best representation. Instead, JPEG uses the YCbCr color space. The Y channel is called 'luma' (the intensity of the light, i.e. the grayscale image), the two other channels, Cb and Cr, are called 'chroma' (the color components).
Besides decorrelating the pixel information, this color transformation has another advantage: the human eye is more sensitive to luma than it is to chroma, so in lossy compression, you can get away with more loss in the chroma channels than in the luma channel.
This color space transformation itself already introduces some loss, due to rounding errors and limited precision. If you transform an image containing all 16.7 million different colors from RGB to YCbCr and back, and then count the number of different colors, you'll end up with only about 4 million different colors. Most of the loss is in the red and blue channels.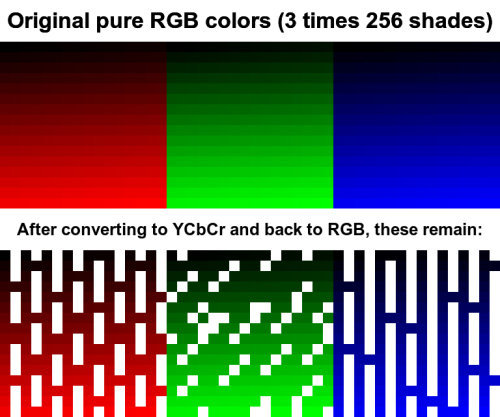 The YCbCr color transform by itself does not result in generation loss. It's a relatively small, one-time loss in color precision, but it does not accumulate. JPEG does something else too though: it does so-called 'chroma subsampling', often referred to with the somewhat cryptic notation 4:2:0 (chroma subsampling is optional, but typically done by default). This means that only the Y channel is encoded at full resolution; for the two chroma channels Cb and Cr, the image resolution is cut in half both horizontally and vertically. In that way, instead of having chroma channels that take up two thirds of the information, they are reduced to one third of the total.
Chroma subsampling does contribute to generation loss and can lead to so-called `color bleeding' or 'color drifting'. Effectively, the chroma channels become increasingly blurry with each iteration of subsampling/upsampling. For example, this is what happens if you take an image and save it with a JPEG quality of 100 with 4:2:0 chroma subsampling:
Original: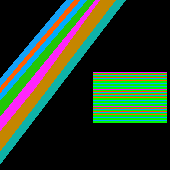 After 1 encoding: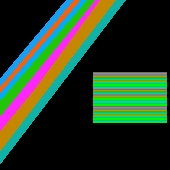 After 100 encodings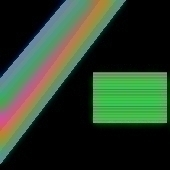 After 1,000 encodings: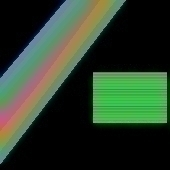 This is one of the factors that can lead to generation loss. But we haven't discussed the real loss introduced by JPEG yet...
The details of how JPEG compression actually works – the Discrete Cosine Transform (DCT) in 8x8 blocks – are a bit tricky to understand (if you're interested: the Wikipedia article on JPEG is a good starting point). But the thing that is relevant for generation loss can be understood without needing to dig that deep. The core of JPEG compression is quantization, which is a very simple yet effective mechanism.
How does it work? Suppose you want to compress some sequence of numbers – it doesn't really matter whether these numbers represent pixel values, DCT coefficients or something else. The amount of space you need to encode these numbers depends on how large the numbers are: for smaller numbers, less bits are needed.
So how can you make those numbers smaller? The answer is simple: just divide them by some number (this number is called a 'quantization constant') in the encoder, and then multiply it again by that same number in the decoder. The larger this quantization constant, the smaller the encoded values will become, but also the more lossy the whole operation becomes, since we're rounding everything to integers here (otherwise the numbers wouldn't really become smaller).
For example, suppose you want to encode the following sequence of numbers:
| | | | | | | |
| --- | --- | --- | --- | --- | --- | --- |
| Original: | 50 | 100 | 150 | 200 | 250 | 300 |