From the realms of Azeroth to the earthly realm of Twitter, Blizzard Entertainment has unleashed a dynamic opportunity for World of Warcraft players to share created characters, stats, and their custom story with the world.
Blizzard Entertainment partnered with Cloudinary to transform imagery and personalized creative content from the World of Warcraft universe directly to Twitter — shattering previous engagement metrics for Blizzard and the World of Warcraft team.
This effort — the first-ever user-generated content (UGC) marketing campaign for the game undertaken by the Blizzard team — has been a massive hit, leading to #WarcraftStory to trend no. 1 globally and no. 1 in the U.S. for a full eight hours on Twitter.
The campaign kicked off November 3, ahead of the November 28 release of the game's Dragonflight season expansion. Beyond creating some Dragonflight buzz, the goal of the effort was to drive engagement among current players, new prospects, and to re-engage those players who had not played lately.
The result? The UGC campaign scored World of Warcraft's "highest day of brand conversation" of all time across all languages with more than 392,000 mentions. This is more than double the brand's previous highest day of brand conversation four years ago.
The second day of the campaign registered the second highest number of conversation metrics of all time for World of Warcraft.
Here's how Cloudinary played a pivotal role in bringing this execution to life.
For nearly two decades, World of Warcraft has been an expansive, online gaming world with more than 140 million subscribers, opening Blizzard, Twitter, and Cloudinary to an active fanbase hungry to engage.
In the first week of the launch, the hashtag #WarcraftStory was shared more than 619,000 times across several social channels including Instagram, TikTok, Reddit, Twitch, and YouTube. Cloudinary's role in powering personalized player stories over Twitter has so far resulted in more than 293,000 custom stories for players across the world.
To share their character, players tweet at Blizzard's World of Warcraft Twitter handle the following: "Tweet the following to get your #WarcraftStory ✍ Your Character's Name ✍ Realm ✍ Region (US, EU, TW or KR) ✍ #WarcraftStory ✍." The reply triggers an automatic response that includes a visual snapshot of their character and highlights the player's key gaming statistics, like the number of raid bosses a player defeated or even how many "warm embraces" a player had with friends. Blizzard includes a vivid, customized story about how that character has been performing in the game, highlighting successes along with a word or two about their less-than-glorious moments delivered in a good-natured, slightly snarky tone.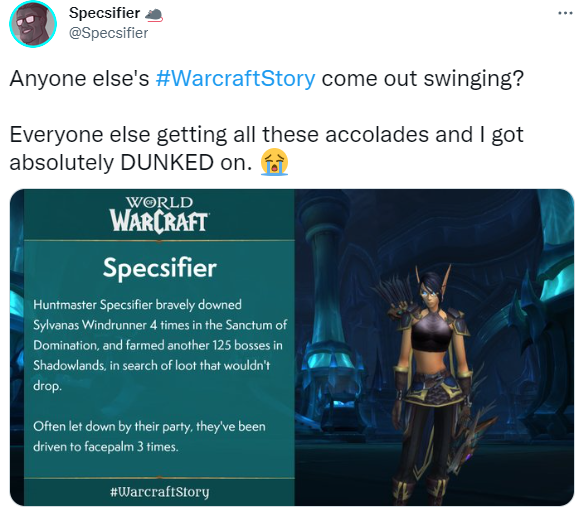 The tweets fuel a cycle of engagement between the user and Blizzard: Tweet at Blizzard each day (driving engagement for the company), receive content each time (a custom World of Warcraft story and stats), and tweet again any interesting findings from the story.
By sharing the personalized character and story, Blizzard can showcase the many personalization features within the World of Warcraft game which encourages players to share their characters. For instance, players pick a character style, select equipment, gear, and endless add-on features for that persona, decide if they want to play in battle mode or role play, and in which realm or region they want to play in.
To bring this ambitious, global project to life, Blizzard needed a technology partner that could uphold the look and integrity of the World of Warcraft visuals while delivering visual content on a massive scale. They turned to Cloudinary's transformation engine to bring the content to Twitter.
Cloudinary's engine has the capability to transform customized and automated content for every WoW user. The transformation engine itself is agile, allowing Blizzard to bring their logic to the engine and execute with more confidence and control.
"To engage on such a grand and personal level like we are doing with this Twitter campaign, the execution needs to be flawless and reflective of the World of Warcraft quality that our players have come to expect," said Christian Booth, Digital Marketing Manager at Blizzard Entertainment. "Cloudinary is backing that promise and we are connecting with our players like never before, keeping them coming back for more content and engagement."
Cloudinary's customization capabilities enable brands, retailers, and businesses to drive 1-to-1 engagement with their customers. Beyond gamers, online shoppers can instantly view apparel and home goods, for example, in various colors, custom shapes, monogrammed items, and more.
The World of Warcraft execution is another example of how Cloudinary delivers personalized imagery, auto-generated and on-demand, at scale no matter how complex.
After Twitter monitors for keyword combinations, Twitter then sends an API call to the World of Warcraft API, which then sends return information to Cloudinary to automatically compile data into the Blizzard-created graphics. After that, Cloudinary delivers this to Twitter via the automatically triggered response from the Blizzard Twitter page.
Cloudinary's expertise in transforming visual content seamlessly enabled Blizzard to deliver its high-quality graphics and characters over the Twitter platform, along with custom fonts and content.
Cloudinary's capabilities power visual transformation on an epic scale (a capacity to execute 10X the 120 million users available for World of Warcraft) — all dynamically.
"We absolutely could not have done this campaign without the Cloudinary team," said Christian Booth, Blizzard Entertainment. "It was a fantastic program, and we are already having conversations about taking this to the next level."
To find out how Cloudinary can take your UGC campaigns to the next level, read this guidebook. Or to register for a demo, go here or contact us directly.