Transforming images with Cloudinary is simple, right? You find the ones you want and add them to your URL, building them up and trying them out until they're perfect. You can then save the transformations that you created as named transformations for reuse. That final step sounds straightforward, but up until now has been a little tricky. With Cloudinary's slick and new UI, creating and managing transformations through the Management Console just got even simpler. That UI now includes—
An embedded cookbook full of filterable transformation recipes that you can tweak to fit your needs.
Brand-new transformation-management pages, which separate out your named transformations from the dynamic ones.
Advanced filtering on your named transformations, with which you can easily find the images that are enabled for strict transformations or that are media presets.
The fresh new look, simpler UI, and improved functionality make managing your transformations and presets a breeze. Do check it out on the transformations page in the Cloudinary Console and get started.
With the new transformations experience, the first page you'll land on is our embedded cookbook. For those who are new to Cloudinary, you'll find here a wide range of ready-baked recipes for various use cases. It's a snap to adopt one of those recipes as a basis for your own transformation and save the new one for future use.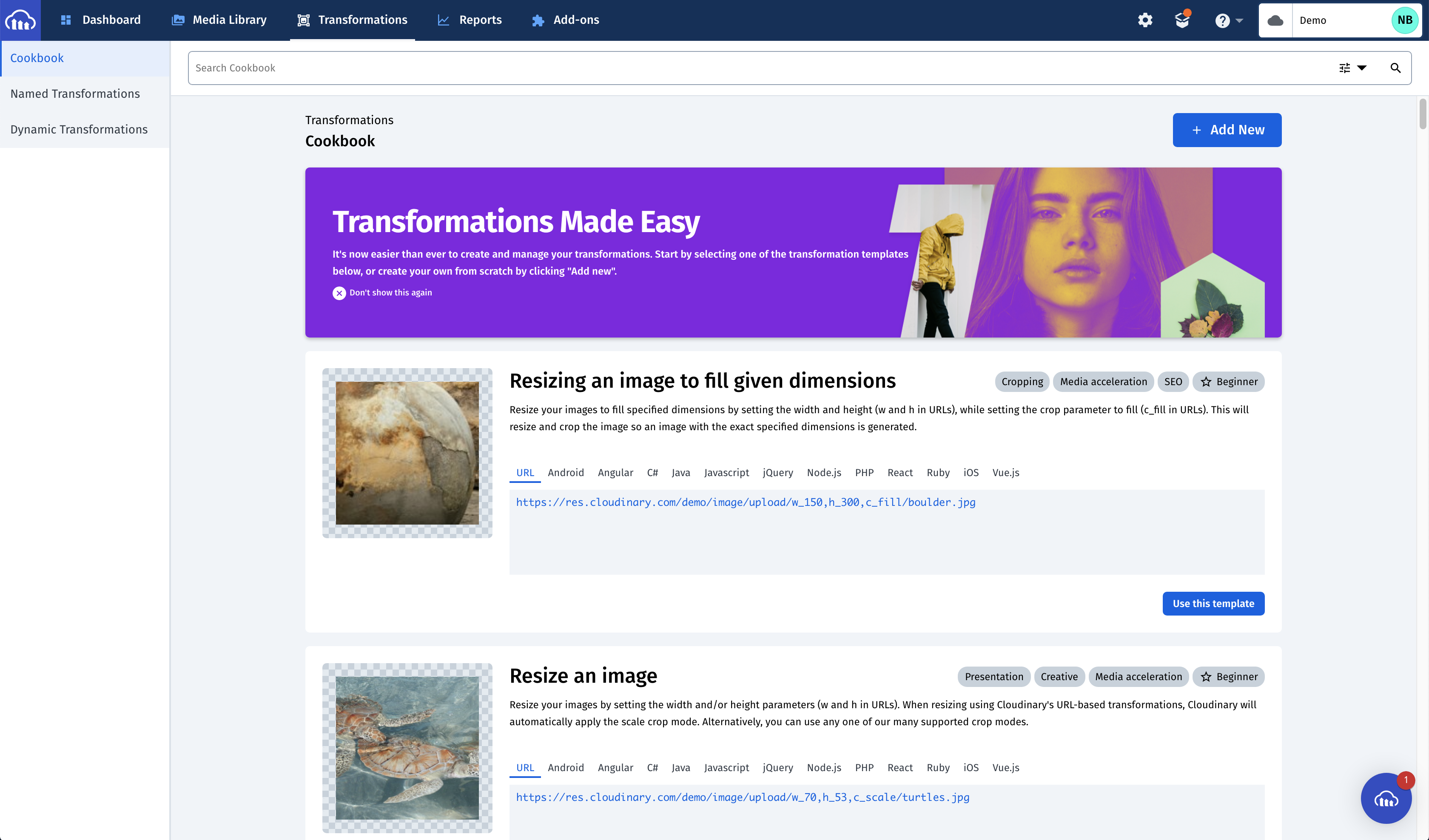 If you know your use case well or want to experiment with more complex transformations, try out the brand-new filter near the top-right corner of the screen. Two different filter types are available: one for you to select a level of complexity and the other for category-based searching. The screenshot below shows a display of only the advanced recipes that focus on e-commerce.
Not only is the cookbook a great starting point for developers, but also the new UI with improved filtering makes it much easier to to start experimenting. The new embedded cookbook is on the cookbook page in the Management Console.
As a developer using the Cloudinary platform, you likely own a number of transformations you've built up and want to save for reuse. Named transformations have been around for a while, but finding and saving them from your previous transformations was a bit troublesome before. Not any more. We've split up the lists of dynamic and named transformations to make it simple to find and manage your named transformations, or to save some of your dynamic transformations as named ones.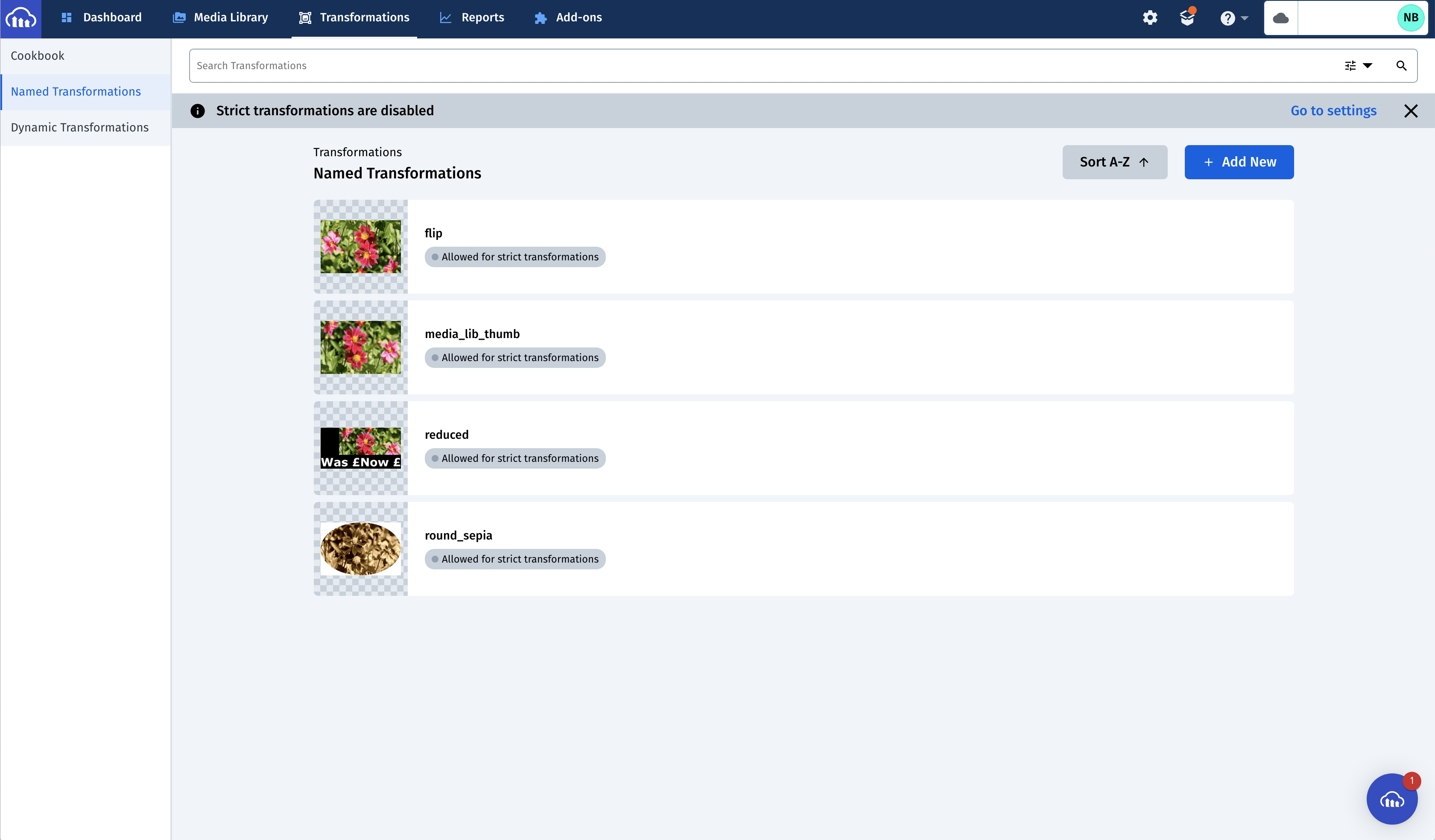 After opening the new dynamic transformations page, you can scroll through all your dynamically generated transformations. From there, you can edit and save one as a named transformation, which will then appear in the list of named transformations, ready for use on your website or application.
Named transformations, a powerful feature of Cloudinary, make it a cakewalk to manage the many transformations you need. Newly available is a UI to match. Head over to the dynamic transformations page to try out the intuitive process of saving your own named transformations.
As you can see, it's now much easier to find and manage your named transformations on Cloudinary, but there's more you can do—equally seamlessly—from there. Strict transformations are an important security feature to prevent unauthorized or increased usage of your account. After enabling strict transformations, you can control which ones are available. On the new UI, simply filter the transformations listed based on whether you allow them for strict transformations.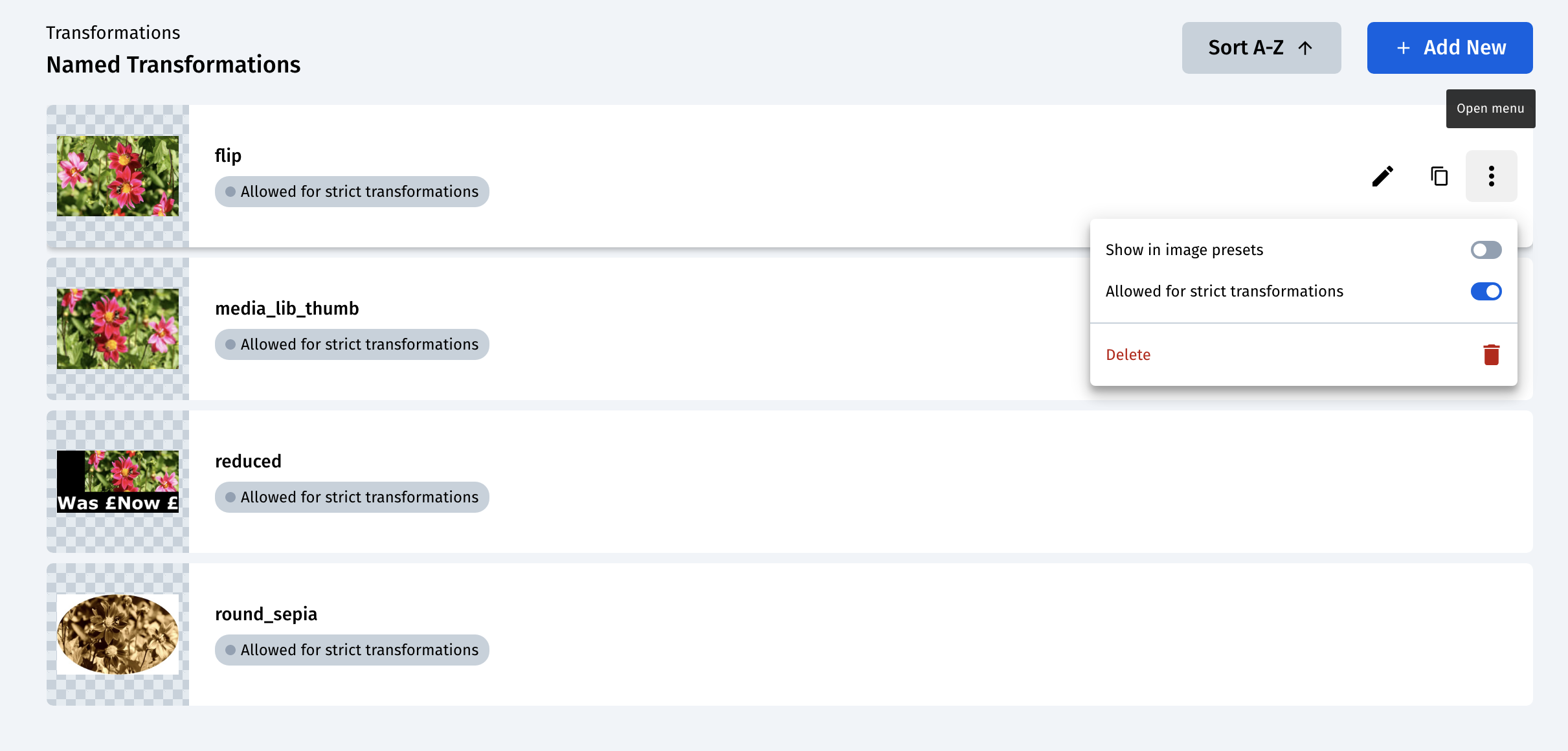 Another feature of the new page for named transformations is the ability to show a named transformation in your presets. Afterwards, you can easily apply that transformation while editing an asset—a perfect way for previewing how assets will look with a particular transformation.
Properly managing the transformations you have created is an important step in the media-management workflow. We hope that you'll find our brand-new UI helpful and simple to use for creating and reusing transformations. Again, do go ahead and visit our new transformations page to get started with the new experience.