The fact that the right tools are a must for success of any undertaking holds especially true for e-commerce. Among them is a Product Information Management (PIM) system for tracking the merchandise that are for sale. As an increasingly popular PIM player, Akeneo comprises many useful features, in particular the ability to integrate with various platforms through the adoption of proficient tools.
This post introduces Cloudinary's new Akeneo connector as a component of our Digital Asset Management (DAM) solution—called the Cloudinary DAM for short—which encompasses numerous capabilities for managing media assets, including being their single source of truth. Also described are the procedures for linking assets, individually and in bulk, from Cloudinary's Media Library to products in Akeneo.
Assuming that Akeneo is your PIM system, you'd want to complement it with the right tools for managing assets organization-wide. A wise choice is the Cloudinary DAM, which features the following:
Efficient and rapid upload
AI-based content analysis and cross-team collaboration
Full control of metadata
Advanced search
Folders and collections for access control and collaboration
Dynamic transformations of imagery and video
Extensible APIs for integrating with existing workflows
With Cloudinary's Akeneo App for DAM, you can manage your products' media assets through the Cloudinary DAM and link them with the relevant products in Akeneo in two simple steps:

Choose the Link to Akeneo item from the context menu of an asset in your Media Library on Cloudinary.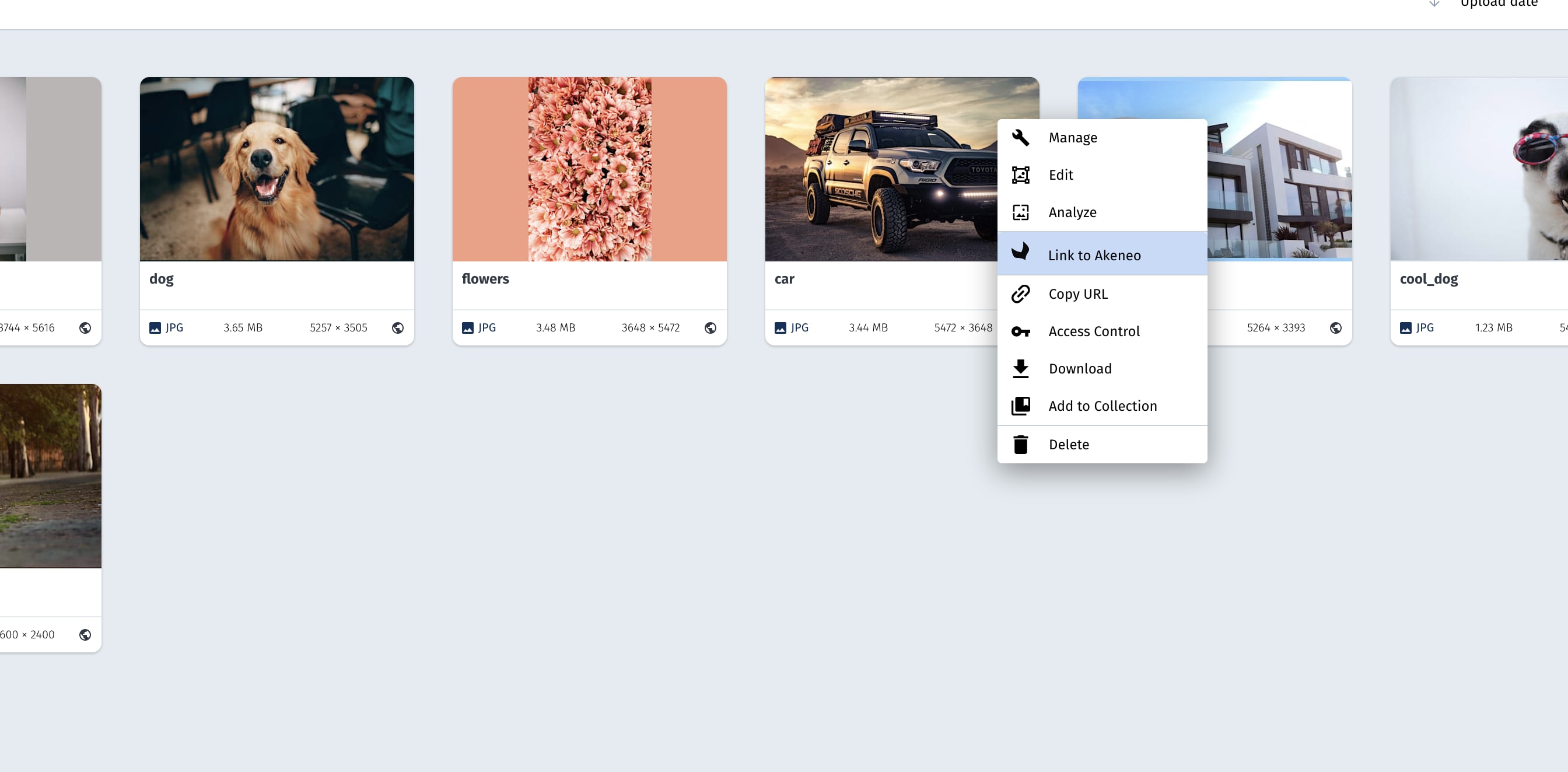 2. Link media assets to the product fields (SKU, attributes, family) in Akeneo.

Synchronization of those links with Akeneo and the related updates occur instantly.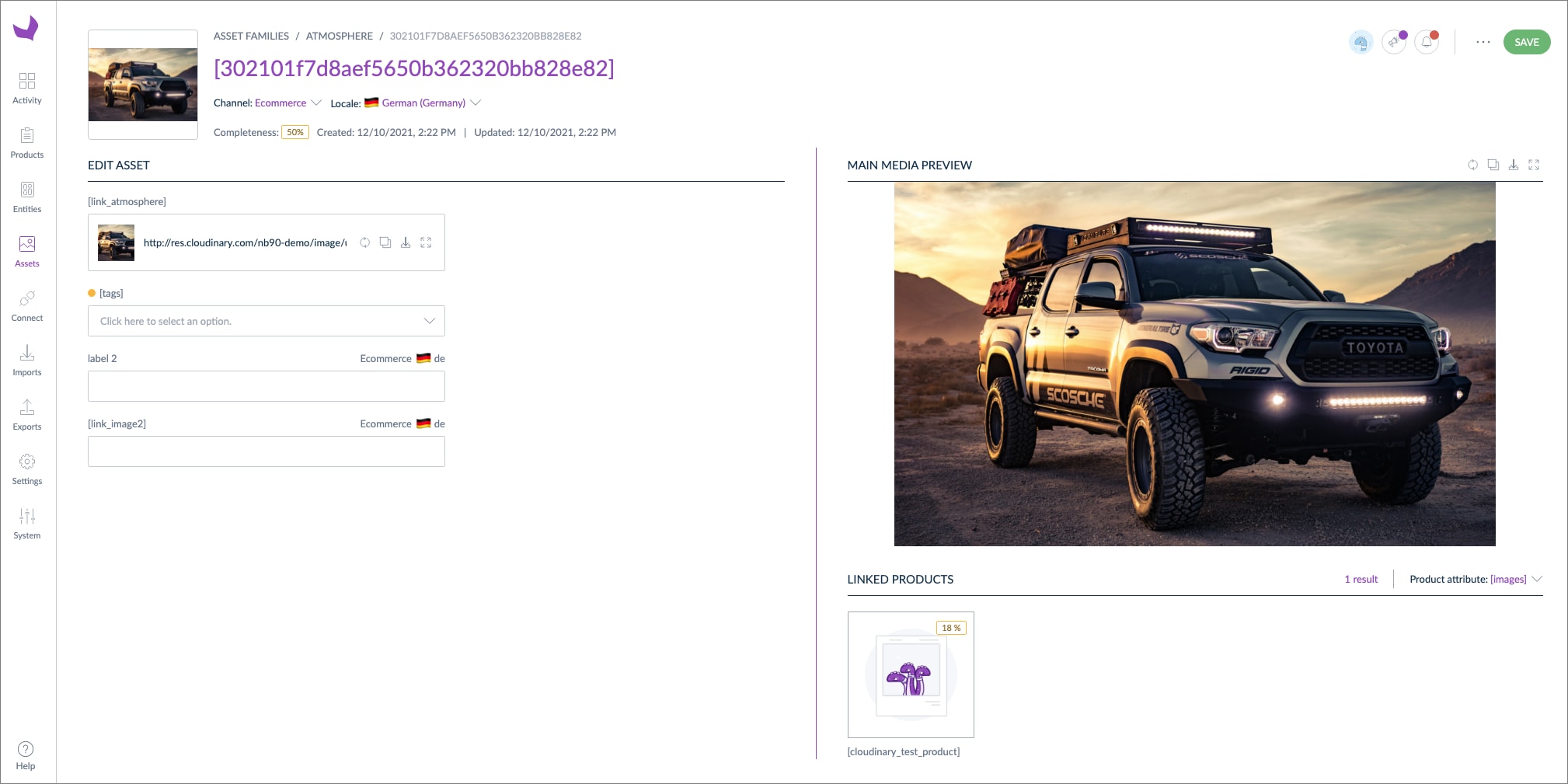 Conveniently, you can link assets in bulk to Akeneo with Cloudinary APIs and tagging.
Behind the scenes, Cloudinary uses tags to process the media connection to Akeneo. When adding a link using the Media Library, all of the information you add is combined into a single tag, which is then added to the media asset. Similarly, you can programmatically link assets in bulk to Akeneo, using the SDK of your choice e.g., by looping over a data file like a CSV and adding that data as a tag to the relevant assets. Talk about simplicity!
For more details, see Cloudinary's documentation on the integration with Akeneo.
With the Chrome extension for Cloudinary's Media Library, you can manage media assets with the Cloudinary DAM and link to them from Akeneo. All you need to do is open the Media Library from a text field in Akeneo, select an asset, and paste in its URL. You can even set up default transformations.
For a description of the Chrome extension's features and the ways in which to leverage them, see this blog post.
Both Cloudinary and Akeneo are outstanding tools for managing media, notably for e-commerce. The availability of our new Akeneo App as an integral part of the Cloudinary DAM makes for sound, efficient division of labor: management of assets with Cloudinary and management of product data with Akeneo.
For details on how to use our Akeneo App for DAM, see the related documentation. To scope the implementation process and check out the nuances that pertain to your business, contact us please.