Increasingly, companies large and small, across all industries are enhancing their customer and brand experiences through video. We've just launched our dynamic video platform and shared our thoughts on the differences between traditional online video platforms (OVPs) and dynamic ones when it comes to creating, managing, and delivering compelling and engaging videos.
For this post we take a look at some of the most common use cases we see when it comes to building video-rich experiences.
We've recently launched Auto-Everything Capabilities for Video.
---
Detailed and accurate product imaging lifts conversion rates and reduces merchandise returns. However, as much as video, through movement, complements imagery in telling product stories, nearly half of all product detail pages (PDPs) contain only images. You need a mix of both, also the ability to test in order to efficiently pinpoint which one is performing better.
Managing digital media on one platform ensures that their stakeholders—the collaborating teams—are on the same page. The examples below show a glimpse of an auto-responsive product gallery, which would normally take a long, labor-intensive process to build. Cloudinary can help you create product galleries lightning fast.
Cloudinary can also free your creative and marketing teams from mundane tasks, such as applying dynamic overlays or badges (e.g., New, Featured, or Sale) to merchandise images or videos. Running agile campaigns with Cloudinary is way more efficient.
57 percent of video traffic today is on mobile devices, with smartphone users holding their phone vertically about 94 percent of the time. Can you say neck injury? Seriously, given those trends, how do you champion your brand and win high engagement on mobile and social?
First, some stats to keep in mind:
Vertical videos see a 90-percent higher completion rate.
Compared to landscape video (16:9), square video (1:1) gains 30-35 percent more views and an increase in engagement of 80-100 percent.
Recall that Cloudinary leverages AI and deep learning to dynamically and intelligently reframe landscape videos. It also capitalizes on content-aware cropping through machine learning to heat map the content segments that tell the story best, dynamically creating engaging vertical crops at any aspect ratio.
Since 85 percent of video is played without sound, being able to automatically produce transcripts, which are also handy for optimal search, and subtitled overlays is a tremendous plus. With Cloudinary, you can automate the generation of subtitles with AI video transcription technology.
On average, it takes a whopping five hours of manual effort to produce just one minute of video, no thanks to the drudgery of cropping, creating effects, concatenating videos, and such. Automation by dynamic OVPs frees up valuable resources for more creative jobs.
Forty percent of Generation Y users, the largest consumer group, is influenced in purchase decisions by user-generated media, videos and images alike, to keep up with their peers. Taking advantage of that content authentically connects your brand with your customers. However, it takes a great deal of effort to moderate it, crop and resize it to standard, and add logos or overlays to it at scale. As the volume multiplies, those manual chores become overwhelming. Adopting AI and automation on a dynamic platform like Cloudinary is the wise thing to do.
"We are thrilled to highlight that videos with Cloudinary are having a positive impact on performance and user engagement." – Hinge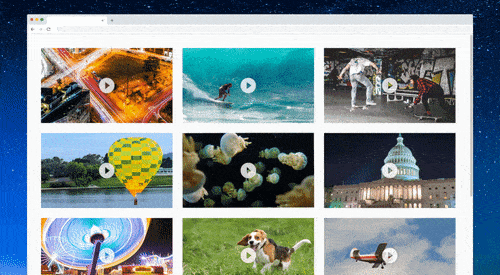 The fact that Netflix auto-plays video previews and that the watch time of YouTube previews jumped by 80 percent over the past year bespeaks the popularity of previews. To deliver them at scale, automate their creation on a dynamic platform like Cloudinary, whose unified SaaS approach constantly incorporates new media trends and standards into its system, ensuring that you stay ahead of the digital curve and even gain time and resources.
Recommendations and playlists have proven to be instrumental in increasing viewing time by up to 35 percent, simultaneously optimizing web search. With a dynamic HTML5 video player, such as Cloudinary's, you create playlists effortlessly by, for example, automatically teeing up all the videos that have a certain tag and the Up Next videos. Furthermore, you can customize Cloudinary's video player with its Video Player Studio. Options abound for building a great brand experience for your customers.
Since global video traffic is expected to grow fourfold by 2022, strategizing well in advance to tackle that volume, especially given the large file size of videos and their multiple variants, is a priority. Cloudinary's capability of offering a single source of truth—no matter the number of derived assets—streamlines management and ensures discoverability. The result? Less storage, enhanced search and classification, version accuracy, and confidence that all your assets are being generated from their high-quality original and staying on brand.
Additionally, Cloudinary automates the onerous task of tagging videos through AI, delivers advanced search capabilities, enables real-time collaboration, enables integrating structured metadata with sources of information like product information management systems, and enables integrations with most popular commerce platforms.
Cloudinary manages videos, and all rich media, in a unified dynamic media platform, trusted by thousands of customers and over 525,000 developers worldwide, for automating and simplifying their media management tasks. Our approach enables engaging visual storytelling, which requires many dynamic media choices (videos, images, 3D, 360) and a unified strategy.
To meet those requirements, our platform leverages three core technologies:
AI and deep learning, which enable the creation of videos that promote engagement on mobile and social. An example is the content-aware cropping (auto-framing) feature for generating vertical videos for mobile, and square videos for social media.

Automation, which eliminates manual and error-prone chores. No more worries about codecs, streaming rates, formats, browsers, viewports, and such.

"With Cloudinary, we're able to automate an otherwise complicated video-management process to create and deliver dynamic video experiences in minutes." — Bleacher Report

As a SaaS service for end-to-end media management, we ensure that our customers are abreast of trends by adopting the most up-to-date standards, e.g., browsers and codecs. With our REST APIs, your can seamlessly integrate new trends and features on your site and mobile apps. As your needs grow, you can leverage multiple additional Cloudinary features, e.g., our html5 video player or our dynamic DAM. Such flexibility of implementation is highly desirable given the continual advancement of video and media technologies.

A dynamic media platform, on which you can manipulate assets at scale. Regardless of their volume, you can count on an efficient process and satisfactory results.
Ultimately, dynamism and intelligent automation are what you can count on with Cloudinary for a fast, hassle-free video management process. That's peace of mind, made easy.