Engaging digital experiences are the foundation of any modern business — and visuals are its cornerstone. But keeping pace with the demand for visual media — anywhere and everywhere, at all times — isn't something marketers and developers can do through manual effort alone.
How can brands deliver visually rich experiences that are fast, high quality, and consistent at ever-multiplying touchpoints? Companies and organizations of all sizes need an intelligent, automated, purpose-built solution that seamlessly integrates with their existing and evolving tech stack and allows them to create and deliver engaging visual experiences at scale.
Media-rich digital, mobile, and e-commerce environments call for a new direction: a powerful media layer delivered through an approach called MACH. MACH stands for:
Microservices-based
Application programming interfaces (API)-first
Cloud-native software-as-a-service (SaaS)
Headless
The modern media layer is a platform for visual engagement powered by intelligence and automation to create, manage, and deliver rich media experiences. It's an essential part of an evolving and composable, MACH-based digital experience tech stack.
The right media layer will support dynamic real-time transformations of images and videos, which are then delivered automatically in the right format, size, and weight for all experience types with intelligent content awareness. The ability to upload, optimize, transform, personalize, and deliver all types of rich media assets helps teams intelligently automate workflows, fosters deeper collaboration between IT and business teams, and allows for asset enrichment through AI and other key features.
The right media layer helps brands create a flexible, scalable strategy for delivering visual experiences everywhere.
As opposed to a traditional martech stack, a MACH-based tech stack that includes a media layer is well positioned to deliver visual experiences at scale. Moving to a modern composable architecture, as shown in the diagram below, allows ease of fit and scale in two ways:
It's easier to connect composable technologies with legacy systems and services. That means companies can quickly and effectively integrate the media layer into their existing workflow.
It streamlines the process of building, delivering, and managing visual experiences, allowing marketers and developers to work together seamlessly to create captivating visual experiences.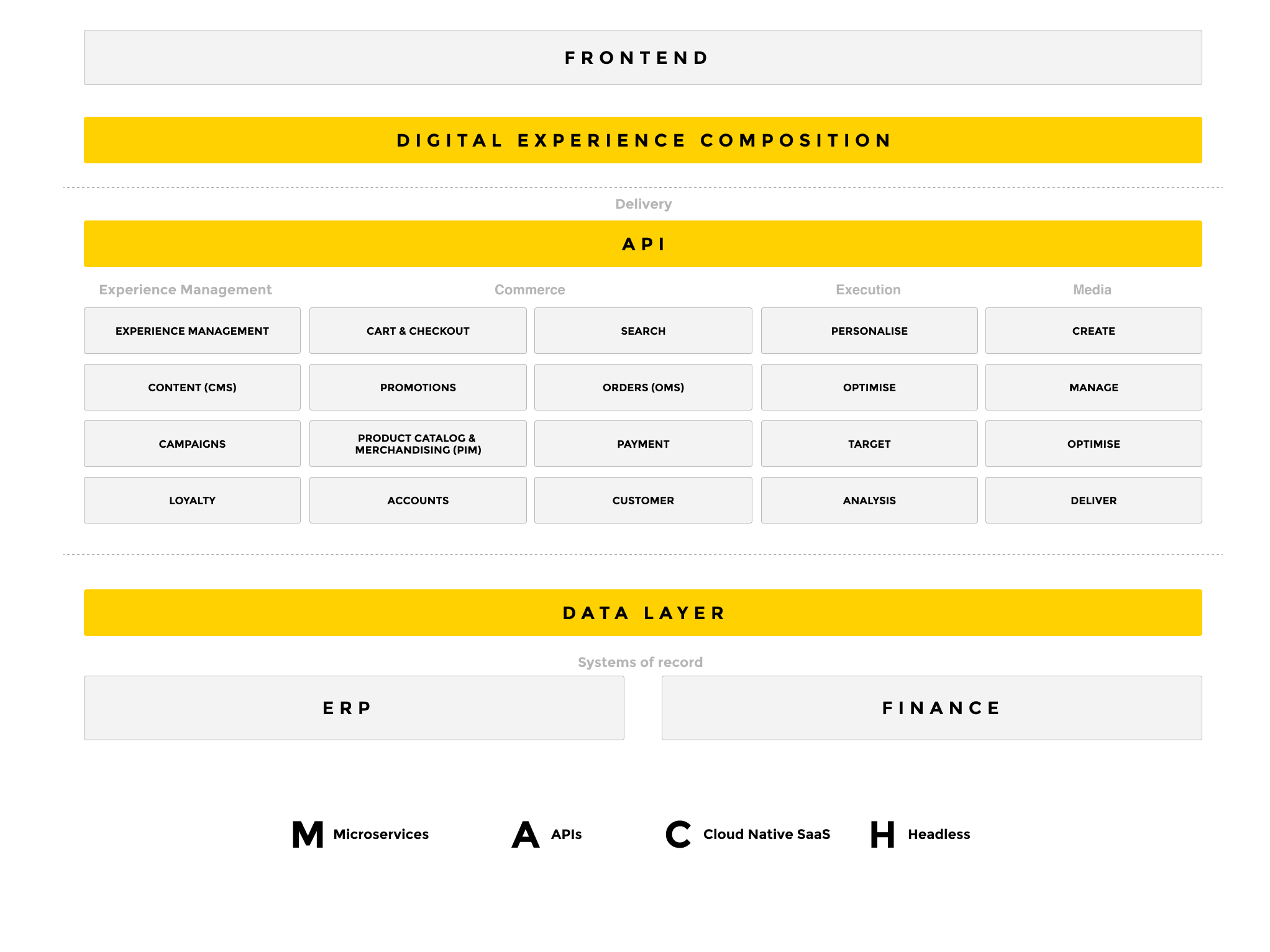 Today's media layer have moved beyond simply being part of the data layer; it's evolved into essential tools that will grow and expand with any composable architecture. As the above diagram shows, it's now easier than ever to have a single source of media that connects to PIM, CMS, e-commerce platforms, search, personalization, and analytics components.
Solutions that use APIs for app and IT development have become indispensable  components of enterprise IT architectures. APIs — software interfaces that allow applications to "talk" to one other — can be built to serve all applications, and can be developed and maintained efficiently for all devices, platforms, and operating systems. 
That's why many organizations are embracing an API-first strategy.
When it comes to web and digital experience performance, media APIs provide functionality around media enrichment and automation of creative tasks with media-centric intelligence. The media layer includes APIs for all stages of the rich media asset lifecycle, which gives users greater creative freedom and helps to accelerate time to market across all channels. It also allows brands to incorporate visual media management into a best-of-breed composable stack.
Because it is media-centric, intelligently automated, and built on flexible architecture, a composable, microservices-based media layer can better equip brands to:
Innovate faster. With support in place to manage all media formats across any technology and every touchpoint, composable media layers empower organizations to embrace cutting-edge and emerging media quickly and easily to keep up with customer demands for highly engaging content.
Pivot when disruption occurs. Thanks to the increased collaborative capabilities provided by a composable media layer, marketers and developers can work together to quickly spin out new and different app and site experiences to keep up with constantly changing demands. Additionally, because brands are not tied into other vendors housing their media, they gain greater flexibility to change parts of their stack as necessary.
Scale when opportunities arise. A composable media layer makes it easier and more efficient for brands to create compelling visual experiences at scale and keep up the relentless pace demanded by today's digital marketplace.
A composable media layer powered by intelligence and automation can be easily added to traditional and MACH tech stacks to ensure companies can deliver visual experiences everywhere.
Talk to Cloudinary to find out how you can get started with a composable, MACH-based, end-to-end media layer for managing and delivering rich visual experiences — quickly, and without a significant lift.