Every brand wants to use video for visual storytelling across their digital properties. The reason is simple. Video drives up to 80% higher engagement and 88% higher conversion for online sales compared to static images.
With results like these, why not use video everywhere?
The main reason brands aren't relying more on video to increase engagement and sales is because video is labor intensive, therefore, expensive. Bottom line is, managing, editing, and delivering video across multiple channels and formats is far more complex and costly compared to static images.
In this article, we'll identify some common pain points encountered while delivering video and how certain brands have overcome these obstacles and gotten more out of their video investment.
Brands are leveraging video everywhere and in new ways including:
Traditional eCommerce landing pages to improve awareness
Product detail pages including 3D video to increase understanding of products
Shoppable product video on social media that link shoppers to relevant product pages
User-generated content (UGC) for brand or product reviews
Video on-demand (VOD) for event highlights, marketing or storytelling purposes
Even IoT devices for helpful how-to video
The creative application of video is great, unfortunately, with every new channel or format comes specific technical and formatting challenges.
Because video files are heavier than images, they must be optimized for the device and bandwidth it's being delivered to. A desktop user that typically has access to a faster internet connection may be able to easily download and watch a large video. However, the same can't be said for mobile users accessing the same video in a low bandwidth environment, like in a car or a train.
Simply compressing the original video isn't the answer because compression can impact the quality. That's why it's important to balance file size compression with maintaining visual quality. Failure to do so can cause video to buffer slowly or have poor resolution. And, a bad video experience is bad for business.. According to Google, even a couple seconds delay in load time can increase bounce rate by 32%, all but killing the video's ability to engage and convert users that you worked hard to acquire.
Certain organizations, like fashion brand Reformation, are addressing performance optimization by automatically transcoding video to the fastest loading format and codecs based on end-users device, browser and bandwidth. Reformation leverages Cloudinary's dynamic URL-based solution to automatically detect the optimal format and quality for images and video at the time of delivery to its ecommerce site. All that merchandising teams need to do is upload the files to their ecommerce platform, which is integrated with Cloudinary, and Cloudinary does the rest to ensure smooth video streaming regardless of the viewing device or bandwidth.
With Cloudinary, Reformation is now able to reduce file sizes by up to 60% while maintaining visual fidelity. The results? A 31% reduction in page load time and 67% reduction in overall bounce rate for their eCommerce site.
Producing an engaging product or brand video is exciting, but production is just the first step in making a video digital-ready. Next it needs to be:
Cropped and reframed to meet the layout and design of your website, mobile app, social media channels, etc..
Enriched with effects and optimized for engagement.
Customized with logos and promo text, especially when using on unowned channels such as partner sites.
Localized with captions or subtitles especially when delivering to a global audience
These many workflows require specialized software as well as extensive creative and development resources that can increase overhead costs of delivering video and slow down time to market. Despite these challenges, not investing in video isn't an option as it can mean a lost opportunity to engage and retain customers, ultimately leading to a decrease in sales.
The good news is that with AI and machine learning, technical teams can automate manual video workflows such as tagging, cropping, customizing and even generating previews to speed time to market while keeping costs low.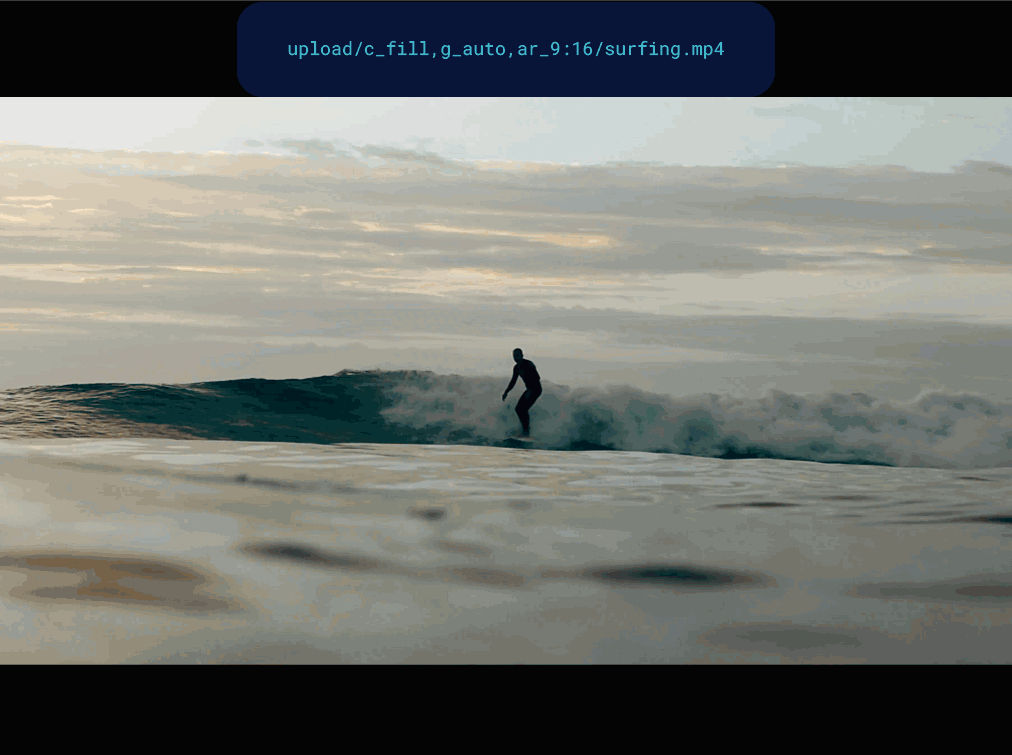 A brand doing this well is sports news site Bleacher Report, which generates hundreds of video highlights every month for various sporting events. With Cloudinary's AI-powered automation, they are able to go from raw to published video on their website and mobile app in minutes. Many of the video highlights are delivered during the game itself when users are hyper-engaged. Interesting moments from the live game footage are automatically extracted and uploaded to Cloudinary via APIs. This raw file is then automatically processed, enhanced and optimally delivered based on the end user's device or channel in real-time.
With AI-powered automation from Cloudinary, Bleacher Report has experienced a 25% increase in total video engagement per month. Moreover, Cloudinary's API-first and developer-friendly solution, allowed Bleacher Report to go from concept to an automated video highlights offering in under five weeks.
User-generated content (UGC) i.e. content that users upload to a brands' site or on social media is a powerful tool to increase conversion. 80% of people say that UGC impacts their purchasing decisions.
It may sound like a no-brainer to tap into a brand's fanbase, but pulling off UGC-based video campaigns comes with a few challenges:
Upload. Offering users the most efficient way to upload video to a server – either from social media or their device is hard
Curation. Tagging uploaded video for ease of discoverability down the line is often resource intensive and error-prone
Moderation. Filtering out offensive content and ensuring the right video get used across digital properties is complex
Normalization. Ensuring video is consistent in terms of size, resolution and design to meet your website or mobile app layout is cumbersome
Optimization. Delivering the video in optimal format and quality to adapt to end-users device or bandwidth requirements is not straightforward
Managing all of these workflows at scale across thousands of user-generated videos daily is extremely complex and can add significant overhead costs. As a result, brands are hesitant to justify the investment in UGC and thereby unable to capitalize on the opportunity.
This is where the right video API along with AI and machine learning can efficiently automate common UGC workflows and enable brands to support user-generated video at scale. Take for example – Atmosfy, a global brand that aggregates user-generated video reviews across 100 countries and 5,000 cities to help its community browse and explore nearby restaurants, cafes, bars, and nightclubs. Behind the scenes, Atmosfy is leveraging Cloudinary's Video API to automate and scale its use of UGC. With Cloudinary's AI technology, UGC videos are automatically tagged upon upload for ease of discoverability. Multiple variations of the original video are generated via simple URL-based transformations for ideal delivery across social media, email, and other platforms. Finally, videos are automatically optimized in the ideal display format for end users' device and bandwidth without compromising resolution quality.
Video is a powerful addition to your ecommerce sites, social media or mobile app marketing strategies. There are several options in the market that can help you implement video at scale across your digital footprint.
To ensure you are getting the best solution, don't forget to look for these capabilities when evaluating your options:
Can it automate video format and quality based on the end-user's device and bandwidth so you can scale use of video without slowing down your digital properties?
Does it help automate mundane video management, editing and delivery workflows so you can speed time to market and free up valuable resources?
Does the vendor offer proven AI and machine learning algorithms to avoid errors or constant human intervention
Can you get pre-built widgets, SDKs to speed time to implement?
Lastly is it an API-first solution so you can easily integrate it within your existing and evolving technology stack?
Learn more about Cloudinary's Video solution and evaluate if it meets your needs