The acceleration of consumers' digital sophistication has put e-commerce brands in the hot seat. Online shoppers demand visual-first experiences or they simply look elsewhere. Nike quickly took advantage of this trend during a pivot to a direct-to-consumer model. That move resulted in 30% of the company's revenue to come from e-commerce by the end of 2020 – a goal they only thought would be possible by 2023.
Today, retailers must focus on providing online customer experiences that rival — or surpass — in-store shopping. However, creating highly visual digital commerce across all channels is humanly impossible. An intelligently automated rich media solution connected seamlessly into a composable commerce platform gives brands the leading edge they need.
Forward-thinking retailers are creating highly visual digital customer experiences that feel like in-store shopping. These rich visual experiences lead to higher engagement and help to give shoppers a deeper understanding of products before they purchase. Accomplishing this across all digital channels customers engage with during the buying journey takes a massive volume of rich media variations adjusted for every possible digital scenario.
Scaling for this is a challenge for brands with monolithic stacks. Many monolithic or best-in-suite technologies have not kept pace with innovations in the specific areas that impact visual commerce. They often struggle with the scale required to manage the exponentially growing amount of visual media as well as with emerging formats. Brands on these traditional platforms may find themselves unable to:
Adopt new engaging and immersive visual formats like 3D, 360, AR or VR.
Scale with the volume of rich media required for visual-first everywhere
Meet the high performance demands of customers or Core Web Vitals
To effectively deliver the rich media assets that drive highly visual commerce, e-commerce brands need a modular Media Experience Cloud (MXC) in a tech stack built with composable MACH architecture (technologies that are microservices, API-first, cloud-native, and headless). This is the ideal tech scenario for supplying fast, high-quality, and consistent visual assets at ever-multiplying touchpoints.
Composable architecture allows brands to choose the best possible solution to meet ambitious goals and quickly create innovative experiences. By choosing the most cutting edge commerce platform and combining it with an AI-powered solution specifically focused on visual media, brands are best enabled to provide visual commerce at scale.
Best-of-breed solutions ensure brands are always supported with the latest innovations for both visual media and commerce – allowing them to stay ahead of competitive pressure.
Combine savvy and demanding consumers to potential sudden and unexpected market shifts and brands must be prepared at all times to respond and pivot. Retailers caught in moments of shifting consumer or market sentiments without the next generation of technology at their disposable will be surpassed by those that future-proofed their tech stack. Composability, automation and intelligence are keys to the ability to innovate and do so quickly.
Transitioning to a composable technology stack with an intelligently automated media layer combined with MACH-based commerce and PIM solutions, provides three key benefits.
The right technology accelerates brands' timelines for delivering visual commerce experiences and adding new products.
Automated workflows and intelligent automation reduces time sinking repetitive tasks. For example, Smart Tagging ensures all media assets are automatically tagged upon upload and ready for personalized delivery. Pre-designed and automated media lifecycle workflows get assets production ready faster. An automated Product Gallery widget makes creating new Product Detail Pages simple.
River Island, a Cloudinary and ContentStack customer, selected Cloudinary solutions to help "future-proof its digital media tech stack, boost the user experience, and shorten time to market."
"We're really excited to apply Cloudinary's advanced, AI driven capabilities, which will speed up our capacity to bring new products online and elevate the customer experience."
– River Island head of architecture
MXC in the stack ensures commerce practitioners can work in tandem with creatives, marketers and developers using the same rich media assets while remaining in their tool of choice. For example, product marketers can enrich product data from within the MXC which updates seamlessly in the Product Information Management (PIM) system commerce practitioners are comfortable with.
The nature of modular architectures lends itself to easily connect new composable solutions when new functionality is required. Prebuilt integrations, APIs, SDKs, widgets, and plugins typically available with these technologies contribute to the ease of adding new innovations to a tech stack. Access to the right tools when needed makes creating commerce experiences quickly feasible.
Highly visual and immersive experiences drive better conversions.
Incorporating engaging, cutting-edge and emerging formats like video, 360 and 3D will captivate audiences and convert shoppers into buyers more often. Support for these formats at scale as well as overall commitment to all future media formats give brands confidence future experience innovations will always be possible.
Cloudinary and Commercetools customer, Minted, a design marketplace for independent artists, puts a very high value on life-like imagery. They were able to remove heavy bottlenecks and replace insufficient home-grown 2D/3D image tools, to reliably launch new art products in hours versus weeks.
While high quality and life-like rich media is greatly important to online shoppers, if it does not load quickly and show up in high definition, buyers will abandon their efforts. The most valuable tech solutions will optimize imagery and video on-the-fly for any device, browser or channel – enabling create once and delivery everywhere capabilities. Brands who add an intelligent media layer to the tech stack can expect up to 58% faster image load times without doing manual work.
Delivering the same highly visual, high quality and high performing experiences on any device, browser and channel is critical as shoppers device hop before purchase. Consumers do not have patience for experiences in a microbrowser that do not perform as well as as their desktop browser. A media optimization solution in a composable commerce stack ensures customers get what they want and brands realize better conversions.
Creating variants of every image, video or other media asset to guarantee it looks right in every digital scenario with the right shape and size while staying focused on the subject matter and loading quickly is not manually possible. Dynamic media solutions solve for scale across channels with intelligent and automated resizing, reframing and cropping of images and video at the moment the asset is requested.
Nieman Marcus implemented interactive product galleries with detailed 360-degree images and videos to showcase the products, making the experience as close to real as possible while effortless scaling to manage seasonal spikes and rapidly deploying all new innovative experiences across channels.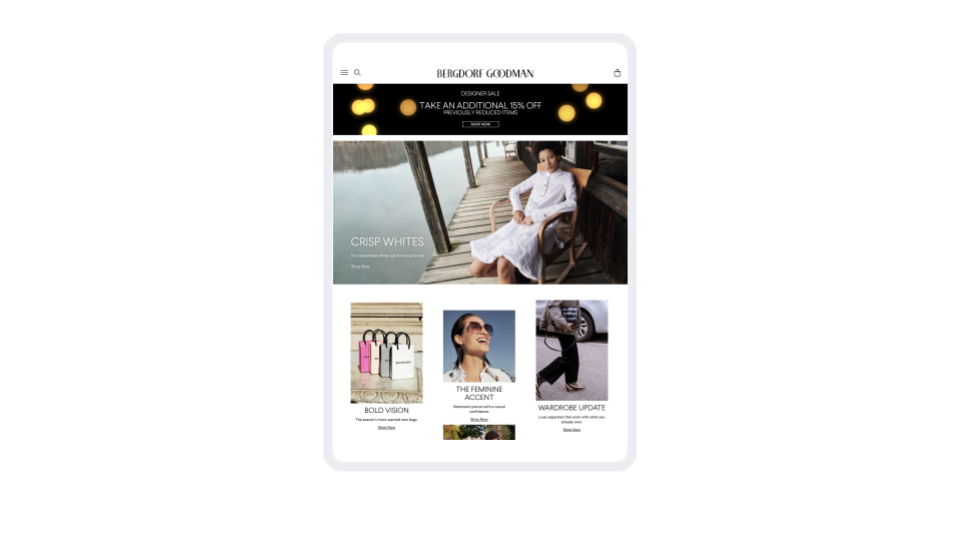 "Cloudinary has been at the core of our Enterprise DAM strategy and has since become a key requirement for us to ensure any related products we pursue have out of the box support for Cloudinary." – Sr. Director, Omni Personalization & Engagement Engineering,  Neiman Marcus Group
So, to bring order to the chaos of rich-media content scattered throughout applications in your technology stack and to accelerate creation and delivery of a compelling visual experience, be sure to adopt a Media Experience Cloud during your composable transformation. It's the only solution that can truly unlock the innovation required to win and keep customers—now and in the future.
Talk to Cloudinary to learn more about the Cloudinary Media Experience Cloud.