Approximately 250 attendees, mostly from the food-and-beverage sector, attended the Digital Food & Beverage 2019 conference in Austin, Texas on July 15-17. Brands abounded among the participating companies, including Kraft Heinz, Brown-Forman, Coca-Cola, Anheuser-Busch InBev, PespiCo, and Nature's Bakery. Besides representing Cloudinary at the booth, my three teammates—Alexa, Dave, and Roseann—and I joined numerous interesting meetings and demos, sharing many enlightening conversations with the sponsors, speakers, and attendees.
Most of the sessions at the conference focused on brands, their portfolios, and the related omnichannel eCommerce strategies, which are primarily executed through digital channels: Amazon, Walmart, Walmart Grocery, Krogers, Target, Instacart. Direct to consumer (DTC) sales through eCommerce are much rarer for food and beverages than other industries, such as apparel.
Because of the importance of digital-channel sales, companies devote a significant amount of resources to promote their products through visuals, a key phrase in their parlance being how to capture a share of the "digital shelf".
Well worth a recap are a few trends and directions I picked up from the conference.
An outstanding talk by OneSpace CEO Stephanie Leffler touched on ways on how to make merchandise on eCommerce product pages eye-catching. "Images are the new bullets," she asserted, adding that—
Visuals must summarize product attributes much faster than text.
Companies must learn and follow their digital channels' layout and imagery requirements.
Cloudinary's robust capabilities in storing, manipulating, optimizing, and delivering digital media can do wonders for the second must-do above.
Beer industry brands such as Anheuser Busch sell beer through bottlers to stores, not directly to consumers through eCommerce. However, wine vendors, such as Mondavi, Gallo, and Constellation Brands, can legally sell to both. Cloudinary would be a tremendous help for the direct-to-consumer (DTC) marketing effort.
Both Bazaar Voice and Infuenster were conference sponsors for social-media platforms with user-generated content (UGC). A top priority for those two companies is to establish an authentic connection and, ultimately, a community with the social-media audience. Toward that end, UGC images and videos are an important medium, optimizing which being a Cloudinary specialty.
The slides below from some of the sessions deftly summarize the benefits of social media-based communities for eCommerce.
Coca-Cola's group director of digital platforms Ellen Duncan talked about the importance of creating coherent physical and digital messages—"phygitals," as she called them. Augmented reality (AR) is now heavily trending at Coca-Cola. Perhaps we could look forward to an AR- enhanced polar-bear commercial this holiday season?
Also, artificial intelligence (AI), a key buzz word in these days, is being leveraged in the most creative ways. A case in point is the creation of an AI-powered "guacamologist" for the Avocados From Mexico site spearheaded by the company's head of digital marketing.
Note, however, that many companies are still using traditional, effective tools for measuring brand awareness, such as survey instruments, commonly called brand trackers. Relatedly, the panel for Buzzfeed, which owns Tasty, emphasized at the conference that top-down recipe videos and lifestyle farm-to- fork and wellness videos are extremely popular. In fact, Tasty recently partnered with McCormick in promoting through videos the latter's spices, which became the #1 bestseller on Amazon's Prime Day on July 15. Impressive!
Altogether, I did over a dozen detailed demos at our booth by uploading to Cloudinary's Media Library images from brand representatives who dropped by and then showcasing how to manipulate those images with upload transformations, AI tagging, and preset transformations for automated delivery to digital channels. Those capabilities impressed the crowd more than the ones that optimize images and that reduce page load-times. Why? Because brands care much more about their eCommerce product catalog reaching their digital channels in ship shape and in compliance with those channels' requirements—Amazon's specs differ from Walmart's, for example—than their own sites.
My demo featured an eight-minute recipe video I'd downloaded from Martha Stewart's site. The awesome effects of applying on-the-fly, deep-learning g_auto to automatically create vertical-optimized videos and various aspect ratios for Instagram and Facebook, or even a circle-thumbnail crop, always elicited a wow, as did content-aware cropping, subject and object, and background removal. Above all, most of the audience loved the magic and usefulness of AI-powered auto-tagging.
Below are snapshots from my demo environment:
For the visitors who already had an existing digital asset management (DAM) system in place, I showed them our dynamic capabilities that automatically create visual media for multiple channels, in particular Cloudinary's APIs and their integrations, also the feature-rich Media Library. All those tools promise to intelligently complement existing DAM, product-information management (PIM), customer-relationship management (CRM), and ecommerce-cloud strategies. The appreciation from the attentive audience was very discernible.
Finally, a few stray thoughts vis-a-vis Austin: The BBQ is good but perhaps too hyped? So many other impressive cuisines and restaurants are there, including farm-to-fork at Swift's Attic, fried chicken and amazing wines at Max's Wine Dive, and new-world tapas at Emmer & Rye. Also—dare I say it?—Armadillo racing is simply weird and, when done indoors in a convention, not all that cool perhaps? Gospel Brunch is a thing in Austin, and definitely something to experience during your stay. And yeah, Sixth Street is dubbed Dirty Sixth for good reason.
Not least: Great job, my dynamite teammates, Alexa, Dave, and Roseann!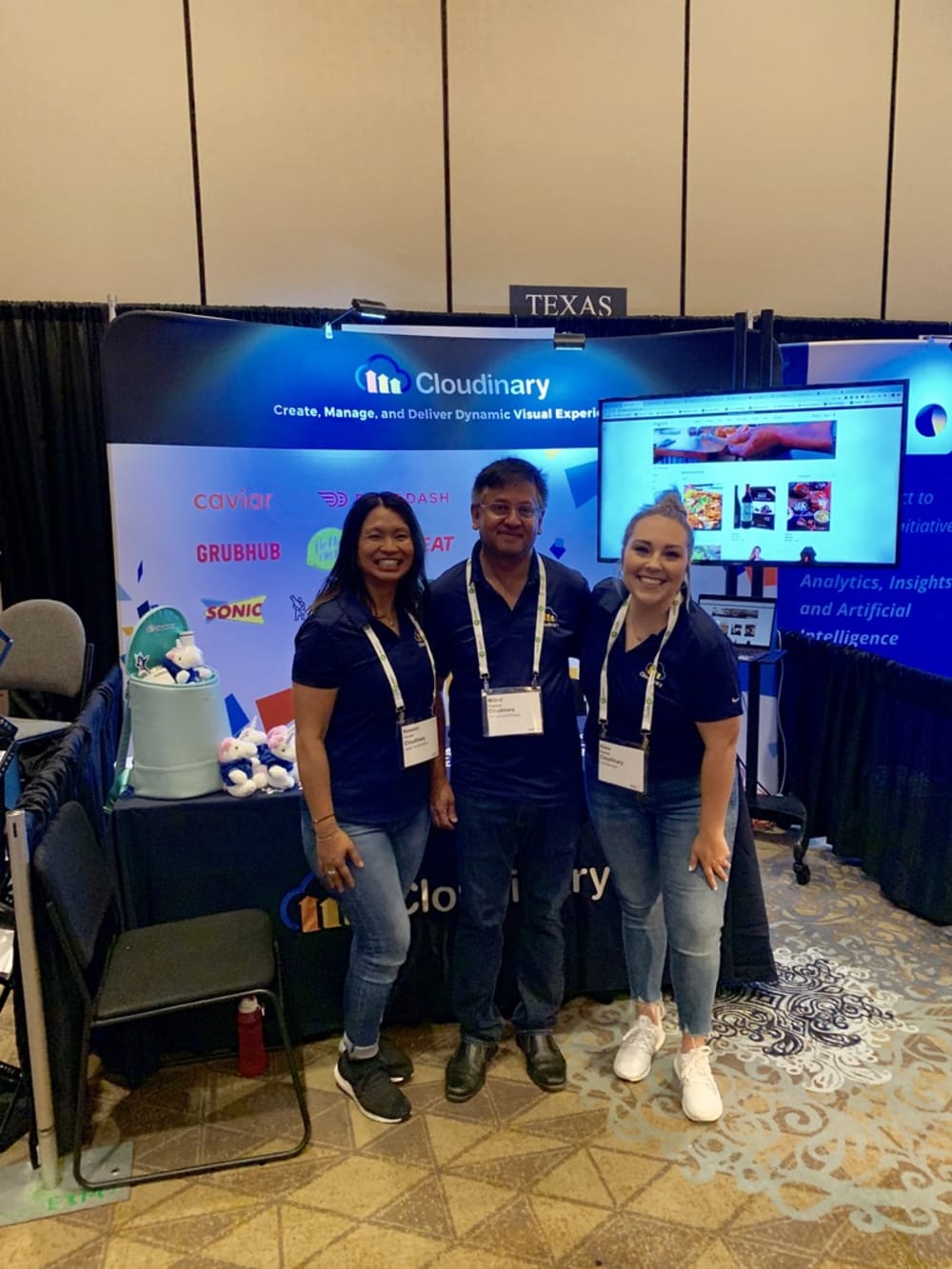 ---