Delivering engaging online shopping experiences is vital to success in today's e-commerce environment; an environment where consumers expect brands to replicate the in-store experience online. To meet consumer expectations, brands need to deliver dynamic, immersive, and appealing experiences that make customers feel confident about their shopping decisions. Those brands that can't bring in-person retail experience to life run the risk of getting left behind.
Creating immersive, interactive online experiences requires specialized technology that, at first glance, may seem costly and time-intensive. The reality is, creating an immersive media experience (on any device, in any format) is not as difficult as you might think.
An immersive experience creates the perception of being in a different, or an actual environment. It can be an environment from our normal day to day, or, it might be fantastic, like we're walking on Mars. The immersive experience is always facilitated with technology. 
An immersive retail experience refers to an online experience capable of enhancing how a user interacts with a product/object via a combination of images, videos, and technology to deliver lifelike and engaging experiences. Research has shown that shoppers have more trust in sellers who provide the ability to interact with products online—an enjoyable experience that's similar to browsing and making purchases in-store.
The financial/sales impact of these media-rich and dynamic experiences cannot be overstated.
Retail returns jumped to an average of 16.6% in 2021 versus 10.6% a year ago, according to a survey by the National Retail Federation and Appriss Retail.
That adds up to more than $761 billion of merchandise that retailers expect will wind up back at stores and warehouses.
Immersive experiences come in various forms. Be it a 360° spin set, to AR/VR capabilities, shoppable videos, and more.
Let's explore some of these technologies and see how some brands are using them.
A 360° spin set simulates a full viewing experience by enabling a shopper to view a product from various angles online. Benefits:
Increase engagement. 360° product imagery allows shoppers to preview the product as if they were holding it and inspecting it. This level of visibility entices shoppers and provides far more visual information than a static product image.
Improve sales. 360° views elevate confidence. That confidence turns browsers into buyers and reduces return costs because shoppers were able to closely inspect the item before purchase.
The right technology, like Cloudinary's URL transformation API, makes it simple to generate 360° spin sets, either in 3D or based on image sets.
One brand that uses Cloudinary for spinset creation is Levi's. As their online store gained in popularity, and profitability, Levi's decided to shift to an immersive retail experience. Cloudinary automated and created 360° spin sets of 25 images for multiple products on the Levi's site.
Cloudinary got Levi's products to market faster, reduced page creation time and greatly enhanced their customers' online shopping experience.
Contrary to popular belief, AR is accessible via almost every mobile or tablet device and does not require a headset. Brands looking to add richness to experience should prioritize AR. While VR is incredible, it remains out of reach for most consumers and most brands don't have the expertise or budget to roll out the sort of immersive experiences VR can deliver.
With the right technical infrastructure, brands can deliver AR experiences. One of the more common in practice today allows shoppers to superimpose an image of a product over another image to simulate how a product will appear in a particular environment. This AR capability is a must-have for higher-priced or larger items that are more frequently purchased in-store, such as furniture, jewelry, and art.
The results speak for themselves. Accenture's Business Futures 2021 report indicates that increasing the use of AR/VR in online retail by a mere 1% could lead to additional sales opportunities worth a whopping USD $66 billion.
One retailer who is enticing customers with try-before-you-buy experiences is Minted.com. Online shoppers can browse custom framed artwork and home decor on the Minted site. After choosing a piece, shoppers can use their smartphone camera to see how their selection looks on a wall of their home before they purchase it. Other brands that have brought AR into their marketing include:
Ikea. The company's Ikea Place app uses AR to help shoppers visualize its furnishings in their environment.
Sephora. The beauty retailer offers an AR experience that lets customers see makeup or hairstyles applied on a digital overlay of their face.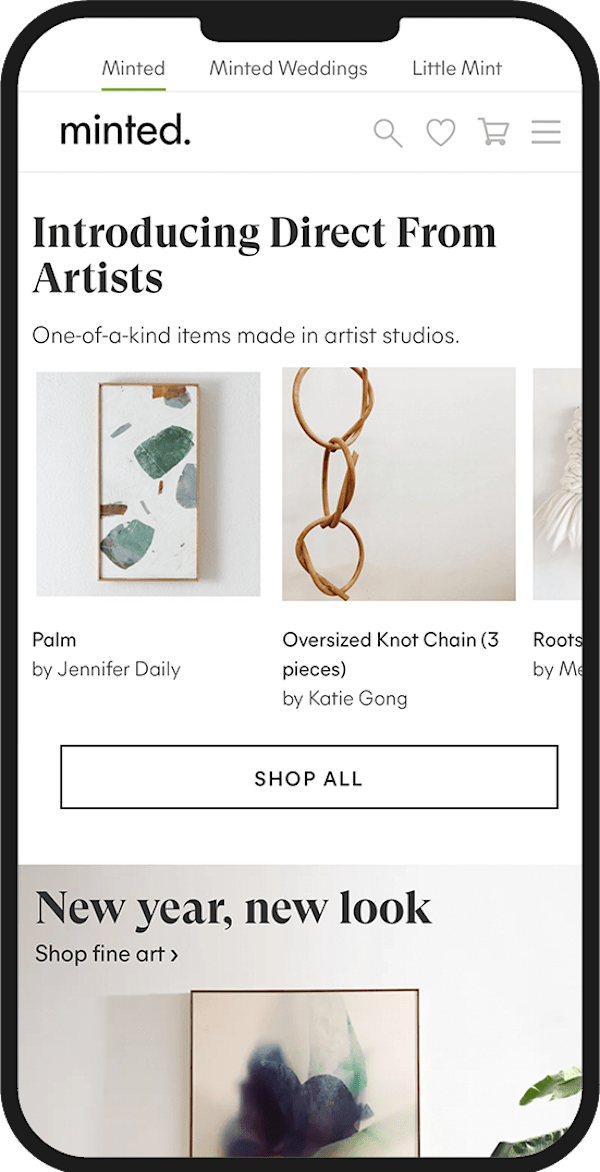 We're not the first to make this observation, but: Video is the future. Retailers that have made video foundational to their immersive experiences have, on average, seen:
25% lower cost per purchase
48% higher ROI
50% improvement in workflow efficiency
The two most common types of videos being used in e-commerce sites are:
Shoppable videos. Shoppers can click in certain areas that lead to product pages. For instance, a fashion brand can use a tool such as Cloudinary Shoppable Video to create areas within a video that display more information about a product when clicked or hovered over. It can also contain a link to the product's display page where users can get more information.
Silent videos. Research suggests that most mobile users watch videos with the sound off. That means that brands must also create product videos capable of captivating users in just a few seconds without using audioSimple URL transformations from Cloudinary overlay the brand's image or logo wherever they'd like in the video.
Readiness to capitalize on new immersive experience technologies is easier with a robust tech stack. Creating a tech stack that supports immersive experiences doesn't have to require an excessive manual or duplicate work. Intelligent automation of visuals is key for bringing consistent immersive experiences to life everywhere.
Cloudinary's product gallery widget comes prebuilt with components for delivering immersive assets that help retailers accelerate time-to-market. With artificial intelligence (AI) and machine learning, Cloudinary can automate workflows and deliver captivating visuals that stand out online, starting with efficient uploads of 3D assets—including those in 360°, AR, and VR formats.
Contact us today to get started creating immersive experiences with Cloudinary.