Approximately 62 percent of today's online content is made up of images, optimizing which is a must to speed up loading of media-rich websites. A fast-loading site makes your visitors happy, which as a rule leads to higher conversion rates.
This article shows you how to optimize images in the Python programming language.
Three major reasons account for why optimizing images for websites is important:
You can optimize images in Python in one of the following ways:
With Cloudinary, you can efficiently optimize media assets—regardless of programming language. One reason is that, by default, Cloudinary automatically performs certain optimization steps on all transformed images. Plus, its integrated, fast delivery capability through CDNs ensures that your images are seamlessly displayed on viewers' devices.
Cloudinary offers the following optimization capabilities:
Here, Cloudinary maintains the aspect ratio but resizes the image to the height and width you specified.
Loading code examples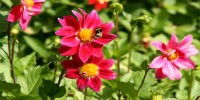 Cloudinary supports many image-cropping modes: scale, fit, mfit, fill, lfill, limit, pad, lpad, mpad, crop, thumb, imagga_crop, and imagga_scale.
Properly optimizing and caching images is a crucial step toward enhancing website performance. The tips this post offers are just a start. See the Cloudinary documentation for more ideas on optimization of JPEG images without compromising quality and on image transformations.
---