Cloudinary helps Baby's Firsts App deliver images quickly and preserve consistency from app to print. Baby's Firsts is a free iPhone app that helps parents collect photos, instantly share photos via Facebook, Twitter and Flickr, and produce photo albums of their baby's first year. Using more than 300 creative, developmentally timed reminders to capture key moments and milestones, the easy-to-navigate app enables parents to store photos in the cloud and create customized photo pages that are then transformed into heirloom-quality, printed baby books.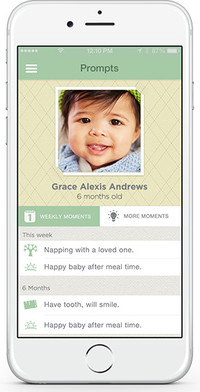 While Baby's Firsts is an app for new parents, what goes on behind the scenes is far more complex. As developers were creating the Baby's Firsts app, they needed a storage solution that included enough space to store all the high-resolution photos that parents were taking and the customized pages they were creating, as well as a way to accurately move those photos and pages from the cloud to the printer.
"We used Amazon S3 for storage in the past, and we assumed we'd do that again with this app," said Kevin Bridges, innovation leader for the Baby's Firsts app team.  "But the problem we ran up against was that our users were moving their photos around in our design frames, zooming in and cropping the images, and it was difficult to maintain those exact changes when the pages were transferred to the printer. I've done a lot of personalized print applications, and it's always tough to re-render documents at various stages in the process and ensure continuity of the image."
Initially the team thought that they would have to spend time developing a specialized app internally that would enable them to manage the different image transformations and reapply them correctly in the book creation process. But one of the developers had experience with Cloudinary, a comprehensive cloud-based image management solution, which solved Baby's Firsts storage and image transformation challenges in a single solution.
Since its launch in October 2014, there have been 105,000 downloads of the Baby's Firsts app. More than 80,000 profiles have been created, and on a weekly basis, there are approximately 8,000 unique users, who are highly active, averaging about eight photo uploads per week.
"Our users are thrilled with the app's ease of use, the seamlessness of the process, and relieved to have a solution that saves time and reduces 'baby book guilt'" Bridges said.  And at the heart of this success is Cloudinary.
Cloudinary enables Baby's Firsts to upload any image type from just a few images, to millions a day, through a variety of means – API, interactive manual uploads and customizable widgets that can be embedded into websites and apps – to its highly available, redundant, cloud-based persistent storage, with revision tracking and automatic back up. Cloudinary also supports processing of image transformations and transformations on every device and at every resolution, without requiring local software installation or ongoing maintenance.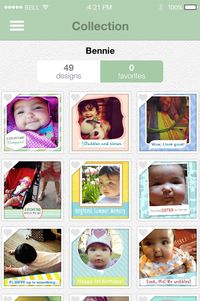 For Baby's First's, once the app is downloaded and a profile is created, users upload photos of their child to the app, which pushes the high-resolution images to Cloudinary for storage. Baby's Firsts then shows users a "moment tile", a low-resolution version of the photo, which they can transform through Cloudinary's cloud-based service, within a customized designed frame, which is then mapped to a book page.  By serving up screen-sized images to the app, Baby's Firsts minimizes the bandwidth it requires, making it quicker to access photos and create the baby book pages.
Cloudinary enables users to rotate, scale and crop photos within the frames  and then saves transformed images as a unique URL for each page of the baby book.  Every time that page is rendered, the image will appear just as the user saved it.
Less than one year from its launch, app users have already captured more than 2.7 million moments! "The most important thing is that Cloudinary delivers a quick experience for our customers," Bridges noted. "Every time a parent captures a baby photo, it is uploaded to the cloud and can be automatically incorporated into a design by the corresponding milestone. We couldn't do that without Cloudinary – it's something that keeps all of our users' photos organized for them and allows us to produce a quality product that looks exactly like how our customers expect it to."
Are you using Cloudinary and would like to share your story?
Let us know
! We would be happy to tell our readers about it.