Watch this tutorial to explore the main elements of the console Dashboard. See where to find your account credentials and usage information.
This video is brought to you by Cloudinary's video player - embed your own!
This tutorial presents the following topics. Click a timestamp to jump to that part of the video.
| | |
| --- | --- |
| 0:10 | You can view your account credentials on the Dashboard of the Cloudinary console. Your account details are used in your configuration for interacting with our APIs, and include your Cloud name, API key, API secret and Environment variable. |
0:27

You can view summary details and trend graphs of your account usage by transformations, images and videos, storage, and bandwidth within a selected time frame.

Transformations, or derived assets, are any newly created assets, including uploaded resources and newly generated media. See How are transformations counted? to learn more.
Images and videos are the total number of assets maintained by Cloudinary.
Storage is the total weight of your assets.
Bandwidth is the content delivered from your account.
---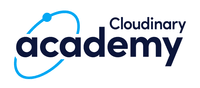 Check out Cloudinary Academy for free self-paced Cloudinary courses on a variety of developer or DAM topics, or register for formal instructor-led courses, either virtual or on-site.