Last updated: Nov-20-2023
Cloudinary's Digital Asset Management (DAM) products are designed to guide you through every step of the asset management process, from the moment of upload to the point of being ready for deployment. By leveraging these tools, creative and marketing teams can work together to amplify asset impact, simplify operations, and fine-tune the end-user journey.
This section provides a high-level overview of Cloudinary's DAM products, Nexus and Assets, and their features. Learn more in the Digital Asset Management guide.
We also invite you to check out our video tutorials to learn more about getting started with Cloudinary and the features it offers.
Nexus and Assets are designed to cater to different user needs:
Nexus serves small and medium-sized businesses, fostering smooth teamwork among creative and marketing teams. It simplifies the path from creating assets to user experience, enhancing visuals for diverse channels, such as marketing campaigns and social media platforms. You can organize assets effortlessly with tools and automation, and refine them according to your standards and branding using versatile editing and transformation features.
Assets caters to large organizations, offering offering efficient, scalable media asset management. It incorporates AI-powered workflows and collaborative tools to streamline cross-departmental teamwork and manage extensive libraries, including bulk editing and metadata management. Assets seamlessly connects content management and delivery, benefiting both creative and technical teams.

You share your asset repository with the powerful Programmable Media platform that enables developers to programmatically upload, store, transform, and deliver optimized media content. This allows Assets' intuitive visual interface to serve both teams. Developer-friendly tools ensure content optimization, making Assets an ideal choice for enterprise-grade DAM solutions, enhancing workflows and user experiences.
The Nexus and Assets products share common core Digital Asset Management (DAM) functionality, and the information on this page and throughout all of the Digital Asset Management guides apply to both Nexus and Assets. Differences in features and availability are noted where relevant.
This section highlights some of the primary features of the Cloudinary DAM products with links to more details on each feature. These features include:
Drag-and-drop your media assets to upload them in bulk to the Media Library, or upload assets from various external sources including Image Search, Google Drive, Dropbox, Shutterstock, iStock or any other external URL (Web Address). The assets you upload to the Media Library are the same ones that your developers reference when they deliver assets in your website or application. There's no need to upload the assets to another system.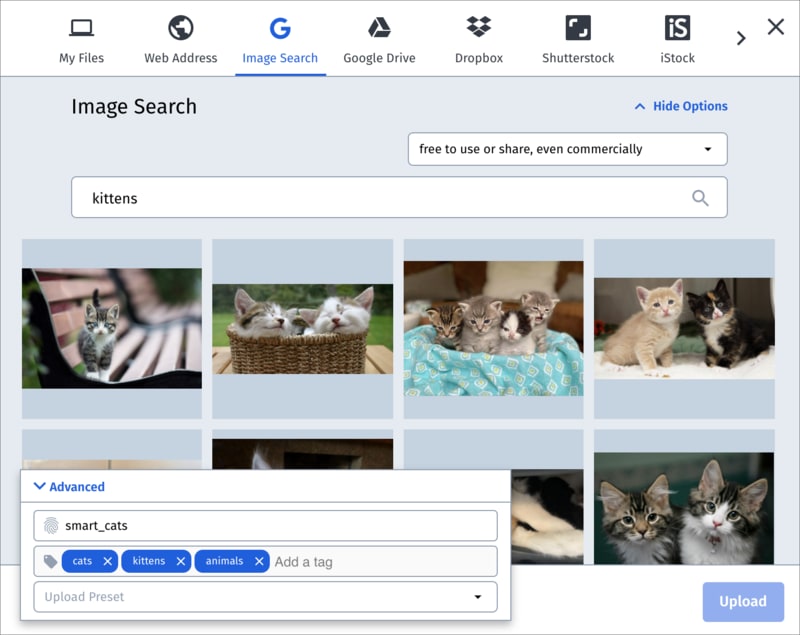 Learn more: Upload and store assets
Leverage AI-based content analysis for automatic tagging of images and videos, making your asset library easy to search and browse. Add comments to collaborate on media assets across your organization.

Learn more: Asset analysis
Extract and store existing metadata from your media assets and add or modify custom metadata.

Learn more: Managing individual assets
Search for assets using any combination of attributes and filters. For example, you can search by asset type, size, tags, metadata, video duration, or even analysis data such as predominant colors, the number of faces in the image, or the location where a photo was taken, and more.

Learn more: Advanced Search
Control the areas of the Cloudinary Console that account users can access.
Learn more: User and Group Management
Organize assets into folders (fixed containers) and collections (virtual groupings), define user groups, and then share your folders with user groups or individual users, and invite teammates to your collections, at different access permission levels. You can also publish collections by sending external stakeholders a URL to a dedicated collection webpage, which is available to those with a link during an optionally specified date range.
Note
Sharing folders and collections internally is relevant only to users with the Media Library user role. All other roles that have access to the Media Library page of the Cloudinary Console have full management permission for all assets and folders.
Learn more: Folders and collections
Dynamically transform images and videos using simple controls to resize and crop, apply enhancements, and add filters and effects.
Learn more: Using the transformation editor
Cloudinary's APIs and integrations allow your developers to easily integrate Cloudinary's DAM functionality into your existing technology stack. For example, developers can embed the entire Media Library as an inline or modal dialog box in your CMS, PIM system, or other project management tools to better streamline the creation to delivery process. They can also embed a customized version of the upload widget into your user-facing applications, making it simple for user-generated-content to be uploaded directly to your Media Library.
Learn more: API References
Administrators can select the default language for the Media Library, publicly shared collection web pages, and the media portal associated with a specific product environment. DAM users and viewers of public collections or media portals have the option to switch to another language from their My profile page in the Console Settings.
Learn more: Localization
Enable apps of your choice to extend the Media Library's core functionality:

Learn about the apps that are available for your product environment and watch the short demos to find out what each app has to offer. Then, enable the apps that are useful to you and your team.
Once the apps are enabled, you can access them from the relevant menus in the Media Library.
Learn more: Apps for DAM
The Media Library is the repository of all your digital assets and the main touchpoint into Cloudinary's DAM products.
From this view you can easily perform an advanced search or navigate through folders or collections to find the assets you need, upload new images, videos, audio, or other files in virtually any format, and select multiple assets to perform bulk operations such as delete, add tags or metadata, move, download, or set the status of moderated assets.

The Media Library widget enables a developer from your organization to embed Cloudinary's Media Library into your organization's CMS, PIM system, or other project management tools with just a few lines of JavaScript code. The integration provides all the benefits of Cloudinary's responsive Media Library UI with its rich search capabilities and optimized media asset delivery. This means that people in your organization can easily upload new content or search for and insert existing media assets into other application editors directly from your Cloudinary product environment in a way that fits seamlessly with your team's existing digital asset management workflow.
Note
For Enterprise customers, you must have an Assets plan to use the Media Library widget. For any questions, contact your Customer Success Manager or Cloudinary's
support
team.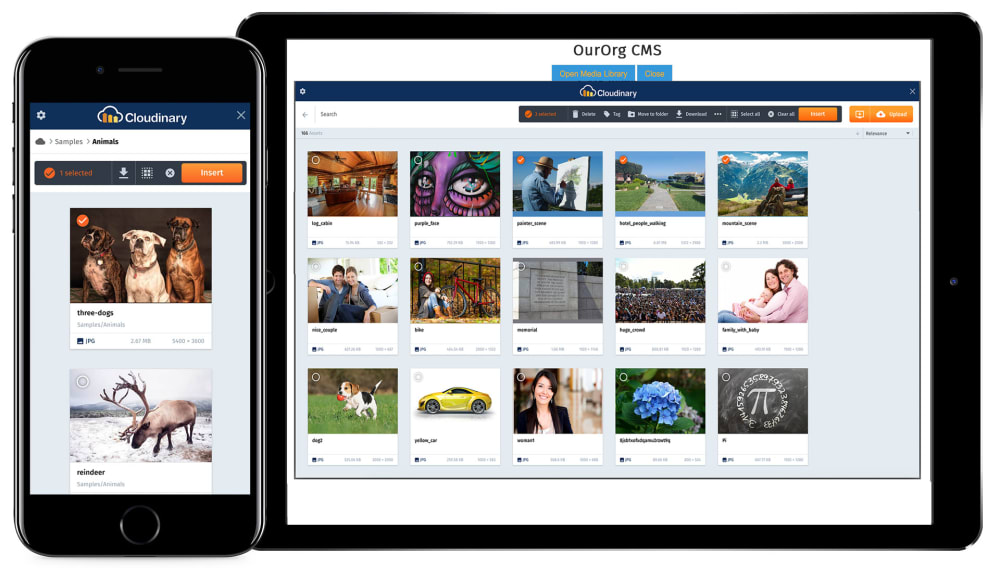 For implementation details, see Media Library widget.
In addition to the detailed documentation in the DAM user guide, the following references may help you get started with your Digital Asset Management: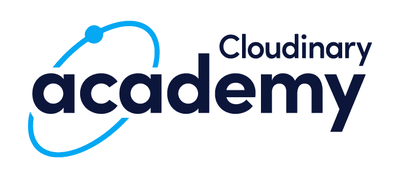 Check out the
Cloudinary Academy
, where you can take free self-paced courses or register for instructor-led virtual or on-site courses.
You may want to start with the Introduction for DAM Users & Content Editors online course.
(You must be signed in to Cloudinary to register for the course.)
Bookmark the
Cloudinary Community Forum
, so you can regularly visit to post your questions and get answers from fellow DAM users and the Cloudinary team, find or share cool tips, learn about new features, and help others solve their asset management challenges.
Choose from a variety of podcasts where media experts discuss all things related to media experience (MX) and the trends shaping today's visual economy, including Cloudinary product launches, conversations with customers, partners, MX thought leaders, and more.
Find all the MX Matters podcasts on our
Cloudinary Podcasts page
or subscribe to the
Cloudinary MX Matters YouTube channel
so you'll never miss one.
Cloudinary's
Ultimate Digital Asset Management Guide
takes you through the entire journey of implementing DAM. It includes 6 chapters that cover the basics of what digital asset management is, the evolution of such systems, digital asset management roles, a DAM buyer's guide, and DAM best practices.