Last updated: Sep-26-2023
Watch this tutorial to learn about Cloudinary's Salesforce Marketing Cloud app, which allows you to embed images from Cloudinary into web and email campaigns.
This video is brought to you by Cloudinary's video player - embed your own!
This tutorial presents the following topics. Click a timestamp to jump to that part of the video.
| | |
| --- | --- |
|   0:00 | The Salesforce Marketing Cloud app lets you embed images from Cloudinary into web and email campaigns. You can edit images within SFMC to meet the performance and design needs of your digital marketing campaigns. |
  0:37

Install and configure the app using the <cloud_name> and <api_key> from the Product Environment Credentials section of your Cloudinary console.

In the Salesforce Marketing Cloud dashboard, navigate to Platform Tools > Apps > Installed Packages to add a new package and Custom Content Block component for Cloudinary images. You can then provide access to the content block to different users.
| | |
| --- | --- |
|   3:24 | Use the new content block within your email or website to add an image from Cloudinary into your marketing campaigns. |
| | |
| --- | --- |
|   4:10 | Click Edit Image to crop, flip and rotate your image in the embedded Image Editor. You can also scale your image using the tools in the content block. |
| | |
| --- | --- |
|   5:14 | In the Advanced tab, you can select an image to overlay on your base image, and then position it by dragging it on the canvas. Similarly, you can apply text layers, styled and colored to suit your marketing campaigns. You can even align layers to each other for the perfect finish. |
---
SFMC App - Video to GIF Block
Learn how to embed videos as GIFs into email campaigns
SFCC B2C Commerce Cartridge
Introduction to the SFCC B2C Commerce Cartridge
SFCC Page Designer Cartridge
Integrate the SFCC Page Designer cartridge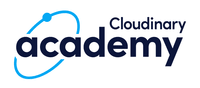 Check out the Cloudinary Academy for free self-paced Cloudinary courses on a variety of developer or DAM topics, or register for formal instructor-led courses, either virtual or on-site.