Last updated: Sep-26-2023
Watch this tutorial to learn how to install and configure Cloudinary's B2C Commerce Cartridge for Salesforce Commerce Cloud.
This video is brought to you by Cloudinary's video player - embed your own!
This tutorial presents the following topics. Click a timestamp to jump to that part of the video.
| | |
| --- | --- |
|   0:50 | There are a number of cartridges that are packaged together for SFRA and Site Genesis, some of which are required and some are optional. At the very minimum you need to install int_cloudinary together with either int_cloudinary_sfra or int_cloudinary_sg. There is also a metadata component that allows you to set up customer preferences and other configuration options. |
| | |
| --- | --- |
|   3:25 | You can view various configuration options under Merchant Tools after you have uploaded the cartridge and imported the metadata into your sandbox. Under Administration, there are jobs that enable you to migrate and sync your assets to Cloudinary. In Services, you'll find connectivity related items that are imported with the metadata. |
| | |
| --- | --- |
|   5:48 | On the Cloudinary Core Configurations page you can configure the cartridge to talk to Cloudinary. In your Cloudinary, go to the Dashboard in the Cloudinary Console to find the product environment details that you need to set in the cartridge. Another key configuration is the Cloudinary Image Page Type setting that defines how Cloudinary handles transformations and responsiveness for various page types. |
| | |
| --- | --- |
|   8:41 | On the Cloudinary Asset Management Configurations page you can define how assets are mapped and how media is delivered on various pages. You may use the Cloudinary Product Gallery Studio to design your Product Gallery and customize it for your brand. |
| | |
| --- | --- |
|   15:40 | On the Cloudinary Transformation Configurations page you can manage global image and video transformations, format and quality settings for your site. |
| | |
| --- | --- |
|   16:50 | On the Cloudinary Jobs Configurations page you can configure and manage various settings for the jobs used to upload and sync your assets. |
---
SFCC B2C Commerce Cartridge
Introduction to the SFCC B2C Commerce Cartridge
SFCC B2C Commerce Cartridge
SFCC B2C Commerce Cartridge modes of operation
SFCC B2C Commerce Cartridge
Use videos in the SFCC B2C Commerce Cartridge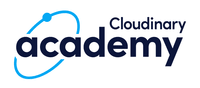 Check out the Cloudinary Academy for free self-paced Cloudinary courses on a variety of developer or DAM topics, or register for formal instructor-led courses, either virtual or on-site.