Last updated: Aug-22-2023
Watch this tutorial to learn about two modes of operation of Cloudinary's B2C Commerce Cartridge for Salesforce Commerce Cloud.
This video is brought to you by Cloudinary's video player - embed your own!
This tutorial presents the following topics. Click a timestamp to jump to that part of the video.
  0:00

In Cloudinary Asset Management Configurations, choose your operation mode to determine how products are associated with their media assets. This tutorial describes the two main modes:

Option 1 - Map assets to their products using tags and metadata.
Option 2 - Map assets to their products from data in the Salesforce Commerce Cloud catalog.
| | |
| --- | --- |
|   0:41 | It is important that all assets have the correct product tags and metadata when stored in Cloudinary. You can create the metadata fields required by the B2C Commerce Cartridge by logging into Cloudinary and navigating to Settings > Manage Structured Metadata. The tags and metadata that are applied to the assets associate the assets with the relevant products and determine where they are shown on your storefront. |
| | |
| --- | --- |
|   4:22 | In this option, when the job is run to sync assets from the Salesforce Commerce Cloud into Cloudinary, assets are stored in Cloudinary at a location that is determined by the folder path of the view type in SFCC. The cartridge builds the media URLs based on the view type folder path and transformations configured in the custom preferences. It is generally only required to store the image with the highest resolution in Cloudinary (e.g., view type = "large"), and create all the other sizes using transformations. |
---
SFCC B2C Commerce Cartridge
Introduction to the SFCC B2C Commerce Cartridge
SFCC B2C Commerce Cartridge
Install and configure the SFCC B2C Commerce Cartridge
SFCC B2C Commerce Cartridge
Use videos in the SFCC B2C Commerce Cartridge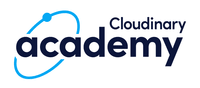 Check out the Cloudinary Academy for free self-paced Cloudinary courses on a variety of developer or DAM topics, or register for formal instructor-led courses, either virtual or on-site.