Last updated: Sep-26-2023
With Cloudinary's Adobe Creative Cloud (Adobe CC) Connector, you can easily integrate your Media Library with some of your favorite Adobe CC design software - Photoshop, Illustrator, and InDesign.
In this tutorial, you'll learn how to set up the Connector and insert files from Cloudinary for editing.
This video is brought to you by Cloudinary's video player - embed your own!
This tutorial presents the following topics. Click a timestamp to jump to that part of the video.
| | |
| --- | --- |
|   0:32 | Step 2: Authenticate the connection between Cloudinary and your Adobe program, then select your cloud name to see all of the files in your Cloudinary product environment. |
| | |
| --- | --- |
|   1:14 | Step 3: Select the Upload Preferences option before proceeding, so you can determine which folder you want to upload your files to. In this space, you can also specify any tags you want to apply to your files, as well as designate a signed upload preset to be applied when uploading files from your Adobe application back into your Cloudinary product environment. |
| | |
| --- | --- |
|   2:53 | Step 2: Now you can start using the selected asset within your active document in Photoshop, Illustrator or InDesign. |
| | |
| --- | --- |
|   3:15 | Step 3: When you're done working, double-check the Cloudinary folder location in the Connector's Upload Preferences section to make sure you'll be uploading to the correct place. Then, upload the file to your Cloudinary Media Library for any other designers who need to work on it. |
---
Advanced Search
Use advanced search to find assets by date range
Collection management
Group assets from various folders into a single location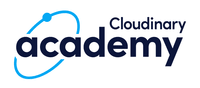 Check out the Cloudinary Academy for free self-paced Cloudinary courses on a variety of developer or DAM topics, or register for formal instructor-led courses, either virtual or on-site.