Last updated: Sep-26-2023
Watch this tutorial to explore the main features of Cloudinary's B2C Commerce Cartridge for Salesforce Commerce Cloud.
This video is brought to you by Cloudinary's video player - embed your own!
This tutorial presents the following topics. Click a timestamp to jump to that part of the video.
| | |
| --- | --- |
|   0:01 | You can showcase images and videos of your products by integrating the Cloudinary Product Gallery into your product detail pages. This is easy to integrate and optimizes all of your images and videos. |
| | |
| --- | --- |
|   1:08 | All the catalog images on the product listing pages are delivered from Cloudinary. |
| | |
| --- | --- |
|   1:30 | Viewing all the details of an asset shown on the product listing page, you can see that Cloudinary is listed as the server and the asset is being delivered in the correct format and has been optimized. |
| | |
| --- | --- |
|   2:20 | The Cloudinary cartridge provides templates that you can easily adapt to your site, and modify, if necessary. All standard page types that show images are supported by the Cloudinary cartridge. |
| | |
| --- | --- |
|   4:33 | The Cloudinary cartridge also delivers a shortcut to your Media Library to access the Cloudinary DAM so that you can upload and manage assets from within the SFCC environment. |
| | |
| --- | --- |
|   5:18 | The Cloudinary integration includes jobs to perform specific processes. For example, one job allows you to migrate your assets from an existing site and its catalogs to Cloudinary. Another job allows you to sync to Cloudinary from the repository of your assets in SFCC. You can use jobs both to migrate or to sync your assets into Cloudinary on a regular basis. |
| | |
| --- | --- |
|   6:10 | You can view the results of running one of these jobs in the Cloudinary DAM. The product, content, and site catalogs are synced into the DAM, with tags and metadata applied to the assets, which helps when searching for and managing your assets. |
---
SFCC B2C Commerce Cartridge
Install and configure the SFCC B2C Commerce Cartridge
SFCC B2C Commerce Cartridge
SFCC B2C Commerce Cartridge modes of operation
SFCC B2C Commerce Cartridge
Use videos in the SFCC B2C Commerce Cartridge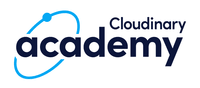 Check out the Cloudinary Academy for free self-paced Cloudinary courses on a variety of developer or DAM topics, or register for formal instructor-led courses, either virtual or on-site.