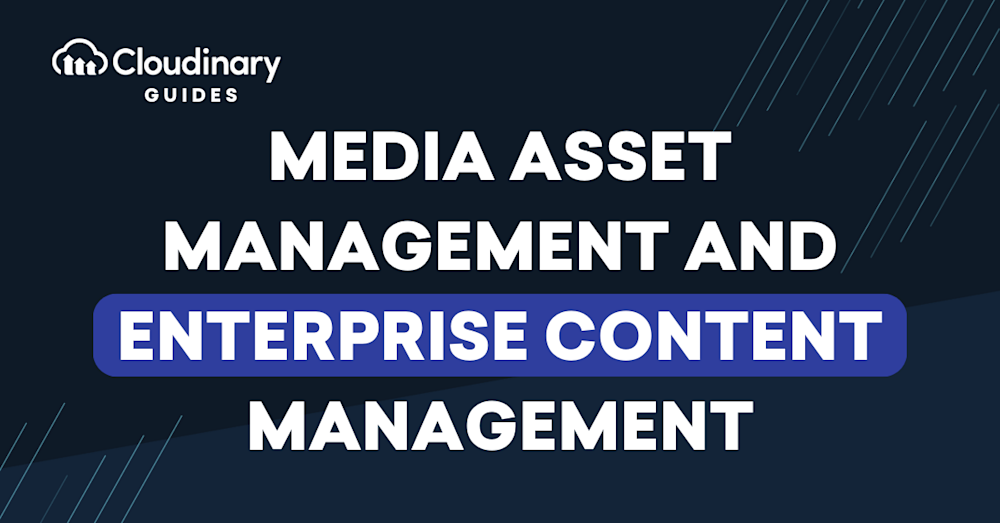 Today, individuals and organizations alike generate and consume content at an unparalleled pace. With many companies undergoing complete digitalization, visual content—videos and images—has become ubiquitous. This isn't surprising since visual content is easier to engage with than blog posts, white papers, or podcasts. However, as companies continually create content, they must properly manage it to ensure business continuity.
Meeting that need are procedures and tools for Enterprise Content Management (ECM) and Media Asset Management (MAM), a specialized type of Digital Asset Management, two complementary systems for managing different types of content. This chapter defines those systems and chronicles their key features, advantages, and differences.
Enterprise Content Management
ECM systems perform two key tasks for enterprises:
Managing, organizing, and sharing unstructured content, including documents, images, health records, surveys, product information, emails, and webpages.
Serving as a platform for secure content storage, information sharing, workflow management, and team collaboration. This is done through integration with other enterprise platforms, such as those for Enterprise Resource Planning (ERP), Customer Relationship Management (CRM), Hierarchical Storage Management (HCM), and Content Management Systems (CMS).
Key Features of ECM Systems
Digital capture of documents
With ECM systems, you can digitize your operations and create an efficient process for record retention.
ECM tools enable you to manage content in the file format of your choice. Content includes invoices, receipts, supplier and customer profiles, research results, and contracts. Formats include PDF, Microsoft Office documents, and rich-media files.
Digital storage of documents
ECM systems spur simple and intuitive operational workflow. With ECM, you can design your own information structure, efficiently control the data flow, and edit any type of native files. You can also restrict data permissions via access-control capabilities.
Automation of document-driven processes
You can configure your ECM system to notify employees of the different stages of a process, such as reviews and approvals, and prompt for actions. At the end of a process, you can use ECM to automatically archive all related files. In addition, ECM systems are scalable, handling large volumes of documents with ease. These systems can handle high throughput rates, up to tens of thousands per minute.
Advantages of ECM Systems
Time savings
The more content you have, the more time-consuming management becomes. ECM systems efficiently organize files, keeping files accessible and boosting team productivity.
Version control
Version control enables safe collaboration. You can restore timestamped records of documents at any time. Team members can transparently and simultaneously work on documents, adding margin notes and comments as desired.
Compliance
ECM systems can automatically apply restriction policies and governance-compliance requirements to documents.
Media Asset Management and
Digital Asset Management (DAM)
Unlike ECM systems, which manage mainly operational information, MAM systems enable you to store, back up, edit, share, and collaborate on media files. However, in today's digitized landscape, ad-hoc tools like MAM systems are outdated. Many are choosing to replace MAM tools with DAM solutions, which manage all digital assets, not just media files.
Features of MAM and DAM solutions
Centralized and customizable organization of digital assets
A DAM system is a centralized platform for managing digital assets, such as images, video, audio, web documents, PSD files, and InDesign files. You can create your own organizational system there, place assets in collections, and create a simple and intuitive media library.
Support for metadata
Most DAM solutions create media catalogs by describing the assets' characteristics. Characteristics are the relationships among the stored images. This is accomplished through structured metadata, which helps you find, filter, and sort assets.
Other DAM solutions generate unstructured metadata for this purpose, such as AI-based auto-tagging.
Different editions or versions of the original asset
Large media files are problematic for distribution and sharing. Large images can slow website loading, and large media files can be difficult to share with customers on email.
DAM solutions include features for creating media renditions to address those concerns.
Asset downloads and access and team collaboration
DAM solutions start with a simple process for downloading assets, followed by easy access and editing collaboration by authorized team members.
Sharing of digital assets through URLs
Dynamic DAM solutions eliminate the need for asset downloads or uploads. Instead, you share media through URLs and APIs, with DAM acting as the single source of truth.
Advantages of DAM solutions
Advanced search
Managing sizable media libraries calls for more advanced search capabilities than simply locating files by name and date. DAM solutions offer specialized searches through keywords, addition of categories and subcategories, file collections, native filters, AI image recognition, and auto-tagging.
Metadata
In its basic form, metadata contains key information about a file, such as its name, date, and size. With DAM solutions, you can add other metadata like license types, resolutions, and keywords. You can also use preconfigured metadata or create your own fields.
In addition, you can add custom metadata based on metadata sets like boolean, enumeration, and text data. Afterwards, you can filter your search accordingly for public-domain images.
Consistent brand image
Centralized DAM solutions result in brand and messaging uniformity. By placing your assets in the same place, you ensure universal access of the same branded and preapproved visual and textual elements.
DAM enables you to provide your teams with branded templates and standard elements for quotes, brochures, company videos, and web content.
Content backups
DAM solutions ensure speedy recovery by automatically saving files along with version histories. You can also integrate your DAM system with another storage or big-data setup for archival and analysis.
Key Differences Between DAM and ECM
DAM and ECM systems offer different ways for managing content. With DAM solutions, you create and collaborate on digital assets across outbound channels. With ECM systems, you control your organization's business flow. See the table below for details.
| | | |
| --- | --- | --- |
| | DAM | ECM |
| Type of Content | Digital assets—mainly rich-media elements for creating interactive and appealing content | Business information—mainly operational content, such as invoices and reports |
| Type of Files | Images (JPEG, PNG), videos (AVI, MOV), audio (MP4, FLAC), web documents (HTML5), PDFs, MS Office documents, text files, etc. | Any type of digital file including Office documents, PDFs, and rich-media files |
| Main Use | Management of digital assets through outbound media channels | Control of business-information flow across the organization and digital- rights management of assets |
| Media Capabilities | Built-in features for editing, collaboration, and distribution of all media | Dynamic editing capabilities for all native files |
| Metadata | Custom metadata for all assets | Custom metadata for all native files |
The Choice Between ECM and DAM
ECM and DAM solutions can work well together, affording you ultimate control over your digital content.
Specifically:
You can use an ECM system to administer the operational data generated by your business practices and personnel.
You can use a DAM system to manage the flow of your digital assets across channels, simultaneously raising your ROI. DAM solutions are often 10 times cheaper than ECM systems.
Choose a configuration that best meets your needs. A prudent thing to do is ask for a recommendation from people who've adopted an ECM or a DAM system before. Additionally, try out the services before committing to them. To get started, check out Cloudinary's DAM Powered by Intelligent Automation, which includes a free tier.
DAM With Cloudinary: Create, Manage, and Deliver Dynamic Visual Experiences
Cloudinary automates rich-media workflows in the cloud. It can handle upload, management, dynamic manipulation and optimization, and responsive delivery across different devices. With Cloudinary, you can go beyond store, search, and share. You can manage rich-media assets, boost team productivity, and enhance customer experiences with flexibility and ease.
Using Cloudinary, you gain a streamlined lifecycle for your digital assets. You can access AI-based management, organization-wide collaboration, and dynamic manipulation and distribution across campaigns, devices, and channels. Cloudinary can help you accelerate your time to market and increase your conversions with highly performant, visual experiences.