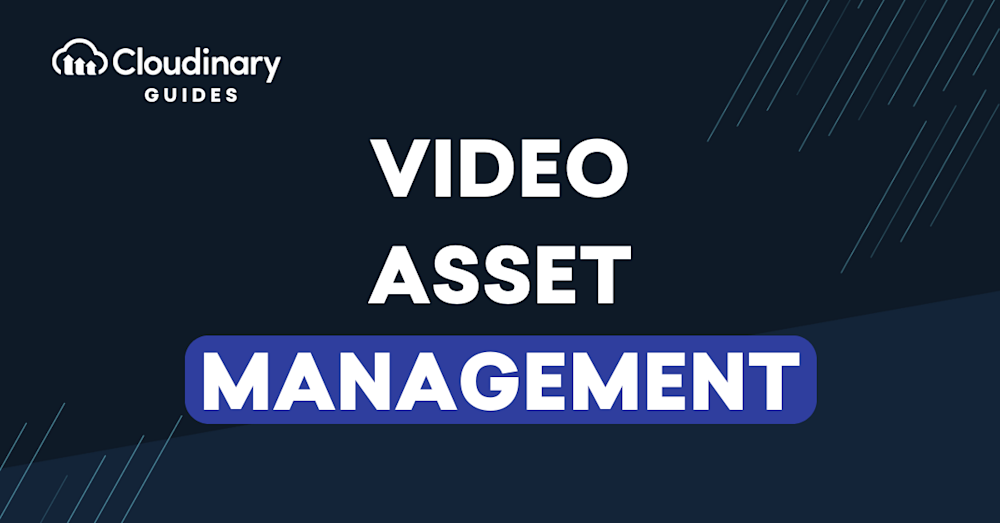 As a business owner, you are probably very pleased with the idea of using video for marketing purposes. You might have already started using video for your business. But if this is the case, you might struggle with managing all your content and data effectively. This is a common problem many companies face when they start using video as part of their marketing strategy: they end up with thousands upon thousands of videos on their website and in their YouTube channel that needs to be managed across platforms like Facebook and Instagram.
Managing Your Video Assets
Video Asset Management (VAM) is a powerful tool to help you efficiently organize, store, and access valuable video content. VAMs streamline your workflow and make it easy to find and utilize videos across various projects.
VAM systems organize your videos in a centralized repository, using metadata and tags to categorize and index each file. Metadata includes details like the video's title, description, and file format. The tagging process allows you to attach custom keywords or phrases to each video, making it easier to locate specific content later on.
Once your videos are uploaded and categorized, VAM platforms provide a user-friendly interface for browsing, searching, and previewing your content. Additionally, they often offer powerful collaboration and sharing features, enabling you to work seamlessly with team members and distribute finished videos to clients or viewers.
Why Have a Video Asset Management Platform?
A VAM system, while primarily helping you manage your digital assets, also adds significant value in many innovative ways. These systems offer a myriad of benefits that can significantly enhance your team's efficiency, organization, and overall workflow. So, let's dive in and discover what video asset management software can do for you!
Improved Efficiency
By using a VAM system, organizations can significantly increase efficiency by streamlining the production timeline and reducing the time spent searching for video files. A robust video asset management software solution will provide customized metadata and file organization capabilities that make it easy to locate specific videos.
Enhanced Collaboration
With VAMs, cross-team collaboration on video projects becomes much more seamless. No longer will video files need to be emailed as attachments or shared via links. Instead, coworkers can all work within the same interface. With VAM, everyone can access the same content library, making collaboration more fluid and efficient.
Increased Security
Video asset management software provides advanced security features that enhance data protection and regulation compliance, including securely storing and managing videos. This ensures critical company data remains safe and secure from unwanted access or tampering.
Cost Savings
Implementing a VAM system can help to reduce costs significantly by reducing the time spent on laborious manual tasks such as sorting and searching. VAM software also makes it easier to repurpose existing assets, reducing the need to create new content.
How Video Asset Management Tools Work: A Deeper Dive
Navigating the world of video content production can be daunting, but Video Asset Management tools can alleviate some of that pressure. Crafted to be user-friendly and informative, these tools aim to streamline your workflow, allowing your creativity to flourish, with features like:
Centralized Repository. VAM tools store all your video assets in a secure, central location. This makes it easy to access your videos from anywhere and ensures that your content stays organized and protected, minimizing the chances of data loss or misplaced files.
Metadata and Tags. Metadata and tags act as labels that help keep your video library organized. Metadata includes descriptive information such as file format, title, and description, while tags let you attach custom keywords related to your video content. This categorization allows for easy navigation and helps you locate specific videos with minimal fuss.
Search and Preview. With potentially hundreds or even thousands of videos in your library, searching for the right one can seem overwhelming. VAM tools simplify this process by providing robust search capabilities that leverage metadata and tags. The preview feature allows you to quickly verify that you've found the correct video before you invest time in downloading or sharing it.
Sharing and Collaboration. VAM tools enable a collaborative environment, making it easy to share files with team members or clients. This streamlines your workflow and reduces the time spent on repetitive tasks like emailing files back and forth. Version control ensures everyone stays on the same page, reducing confusion and helping your team work cohesively.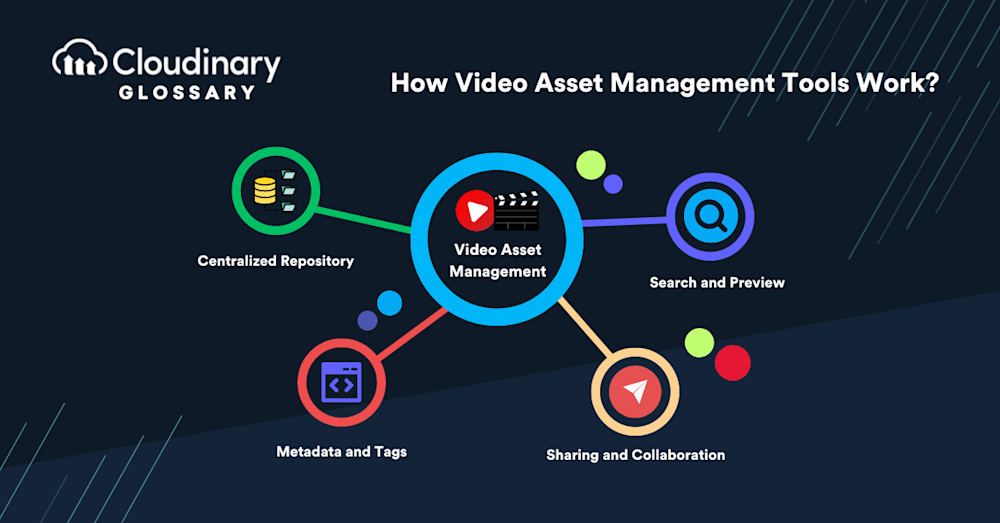 How to Choose the Best Video Asset Management Software
Selecting the right Video Asset Management software is essential for effectively managing and organizing your video library. Here, we'll provide you with important factors to consider when making your decision, ensuring that the software caters to your specific needs. Keep in mind that the best choice for you will depend on factors such as your budget, the size of your video library, and your desired level of customization. When evaluating VAM software, consider the following points:
Ease of use: An intuitive interface and straightforward navigation are crucial for efficient daily use.
Scalability: Choose a solution that can grow with your needs, allowing for seamless expansion of your video library.
Metadata management: Robust metadata support helps you locate and organize your assets more effectively.
Integration: Ensure the software integrates well with your existing tools and workflows.
Security & Permissions: Strong access control and data protection features increase the security of your video content.
Customer support: Opt for a provider that offers reliable customer service and ongoing technical support.
Remember to assess your organization's unique requirements, weigh your options, and select software to make video asset management a breeze for you and your team.
Getting The Most From Your VAM with Cloudinary
Video is a powerful medium for delivering content but it can also be tricky to manage. Cloudinary is a cloud-based video management solution that allows you to easily upload, store and deliver videos from anywhere on your website or mobile app. It provides an API for managing your media library and an image editor for creating new videos from existing ones.
Cloudinary is committed to delivering an exceptional Video Asset Management platform designed to empower content creators and provide a smooth workflow for your team. It offers a comprehensive range of features catering to beginners and experts, making it a reliable and robust VAM solution. Here are some of the standout attributes that showcase Cloudinary's prowess in the world of VAM:
Automatic transcoding. Cloudinary seamlessly converts videos into multiple formats and resolutions, ensuring optimal playback on various devices.
AI-powered tagging. Harness the power of artificial intelligence to generate descriptive tags and boost asset searchability.
Real-time collaboration. Work simultaneously with team members, track changes, and keep everyone in sync, regardless of location or time zone.
Efficient CDN integration. Deliver your content to viewers quickly and efficiently with Cloudinary's pre-configured content delivery network.
Customizable video player. Personalize your video player to match your brand and ensure a consistent user experience.
With Cloudinary, you'll unlock true growth potential and gain an edge in the competitive digital landscape while enjoying a tailored and efficient asset management experience.
The Last Word: Elevate Your VAM Practices with Cloudinary
As an essential tool for creative professionals, these systems streamline workflows, enhance collaboration, and improve asset organization. With a wide range of features catered to suit various levels of expertise, a VAM system will quickly become a fundamental part of your arsenal, allowing you to focus on creating stunning content while the management aspects are efficiently taken care of.
Cloudinary provides a robust and intuitive VAM system that delivers a seamless, secure, and highly collaborative environment, empowering your team to focus on what matters most: producing exceptional video content. It has been designed with the needs of developers and technical professionals in mind, delivering an easy-to-use, fully scalable platform that integrates perfectly with your existing tools.
Try Cloudinary today and experience firsthand the transformative impact it can have on your video management and creative workflow.