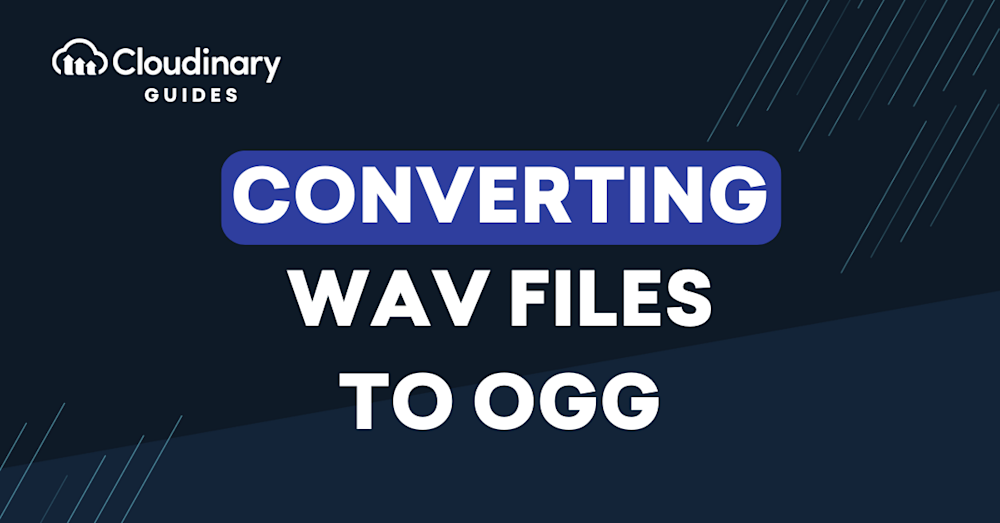 While WAV files offer unmatched sound quality, trade-offs in terms of efficiency often make it necessary to look for alternatives. OGG, a compressed audio format, manages to maintain a balance with its compact size without sacrificing the quality of sound.
Offering better web performance, OGG proves to be an effective substitute to WAV for better site speed and optimal user experience. Transitioning from WAV to OGG, thus, becomes a critical process towards media optimization.
In this article, we aim to elucidate the differences between WAV and OGG, and give a clear understanding of why conversion to OGG can prove beneficial for your site optimization needs.
What is a WAV File?
A WAV file is a raw, uncompressed audio format known for preserving sound detail in its purest form. While this high-fidelity quality makes WAV the go-to option for professional sound editing and music production, it can often be a burden for the web. It's like the high-definition version of audio – perfect for when quality is paramount, yet potentially problematic when dealing with storage and loading times.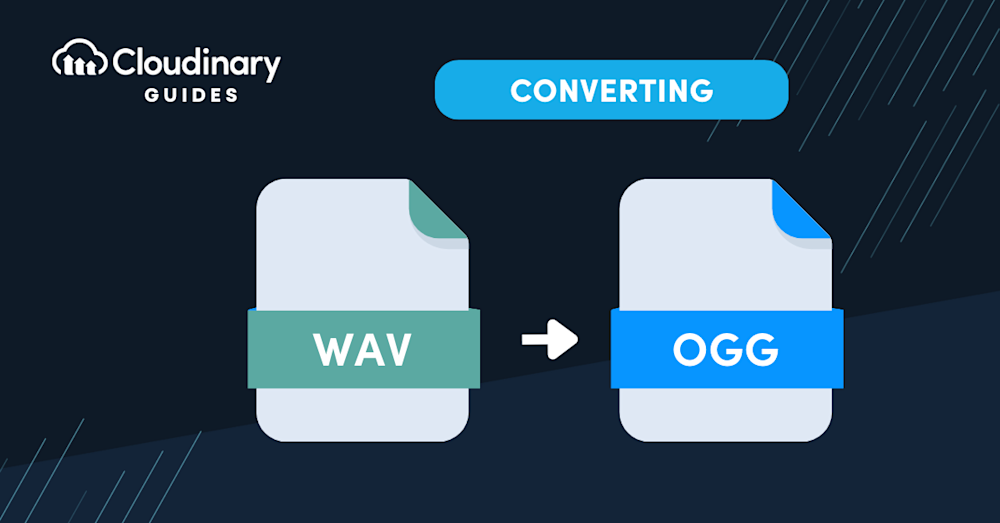 What is an OGG File?
An OGG file is a compressed audio format favored for its balance of size and sound quality. Think of OGG as the savvy sibling of WAV; it maintains a high sound fidelity, much like its uncompressed counterpart, but with a significantly reduced file size. This makes OGG an ideal choice for the web, as it offers smoother loading experiences without sacrificing audio quality. For web developers aiming to optimize site performance while retaining pleasing auditory experiences for users, OGG files bring an astute mix of efficiency and quality to the table.
What Are the Benefits of Converting WAV to OGG?
When considering the transition from WAV to OGG, weighing the advantages is important. OGG, with its efficient compression and wide support, offers several benefits that cater to the demands of digital audio in the modern world.
File Size Reduction. OGG files employ efficient compression, resulting in smaller file sizes than WAV. This is particularly advantageous for online distribution, where smaller files translate to faster downloads and smoother streaming experiences.
High-Quality Compression. OGG files strike a remarkable balance between file size and audio quality. While offering compression, the audio quality remains impressive, making OGG a preferred format for online audio content.
Compatibility. OGG files enjoy broad support across various devices and platforms, including web browsers, media players, and mobile devices. This ensures your audio content remains accessible to a wide audience without compatibility concerns.
Open Source. OGG is an open-source format, eliminating licensing fees and making it a cost-effective choice for content creators and distributors.
So, the decision to convert WAV files to OGG is a strategic one, influenced by the need for efficient online audio distribution, reduced file sizes, and broad compatibility
Ways to Convert WAV to OGG
Converting WAV files to OGG format is a breeze, all thanks to the wide array of tools and software available. Let's take a look at the various methods that make this conversion process super easy.
Switch Audio Converter
Switch is one of the fastest, most stable, easy-to-use, and comprehensive multi-format audio file converters available. Switch Audio File Converter's power features include extracting audio from DVD, converting music from MIDI to WAV, normalizing audio levels, and batch converting thousands of files. It has many benefits, allows for lightning-fast conversion speeds offline, and supports all popular formats.
Start by downloading and installing the switch audio converter from NCH software.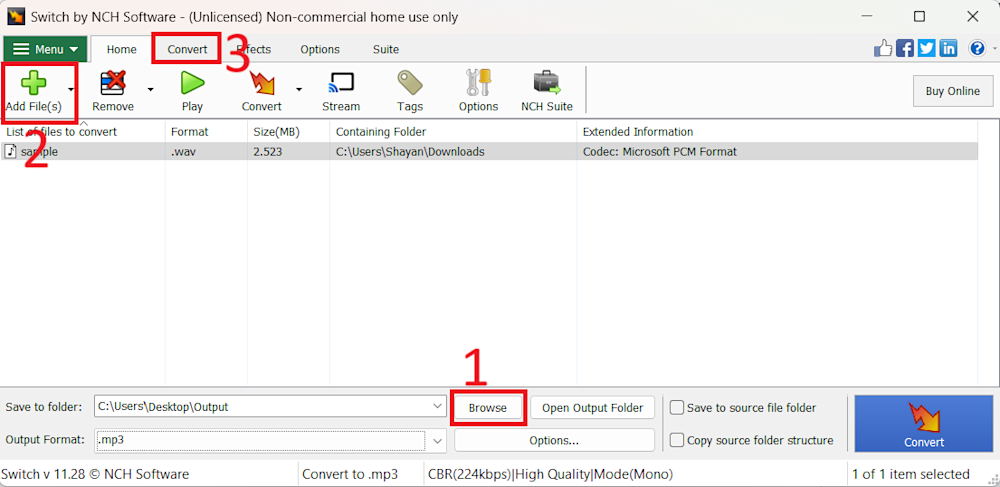 Next, open up the app and start by defining the output directory. Now click on the Add File(s) button and start adding your WAV files into the app.
Then go to the Convert tab, but before we convert our WAV files, we need to define an output format. Expand the Output Format combo box in your screen's bottom-left corner. Finally, click on the Convert button to start the conversion process.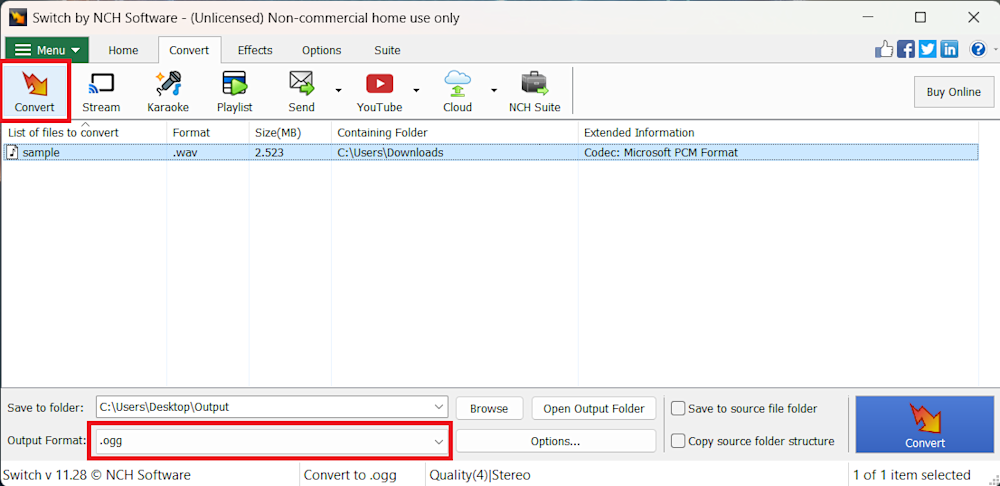 Once the conversion process is done, you can view your file in your output file directory.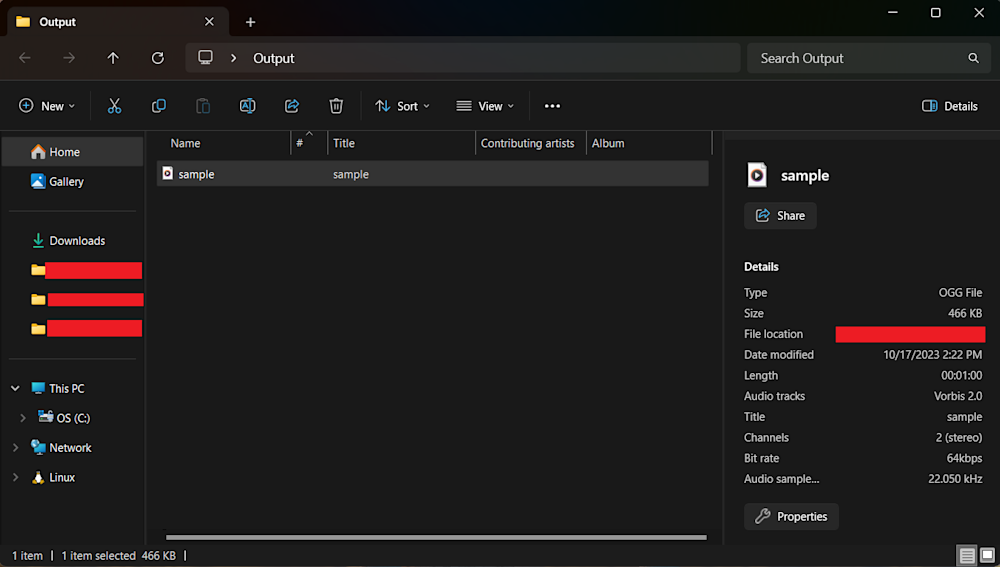 Tool Slick
Tool Slick is a powerful online platform designed to bring free online productivity tools for developers, DBAs, and data scientists. With the addition of their new WAV to OGG converter, Tool Slick aims to be a single stop for quick and simple productivity tools for the masses.
If you want to convert your .wav files to .ogg, head to the official Tool Slick website and navigate to Tools > Conversion > Audio Converters > WAV to OGG Converter.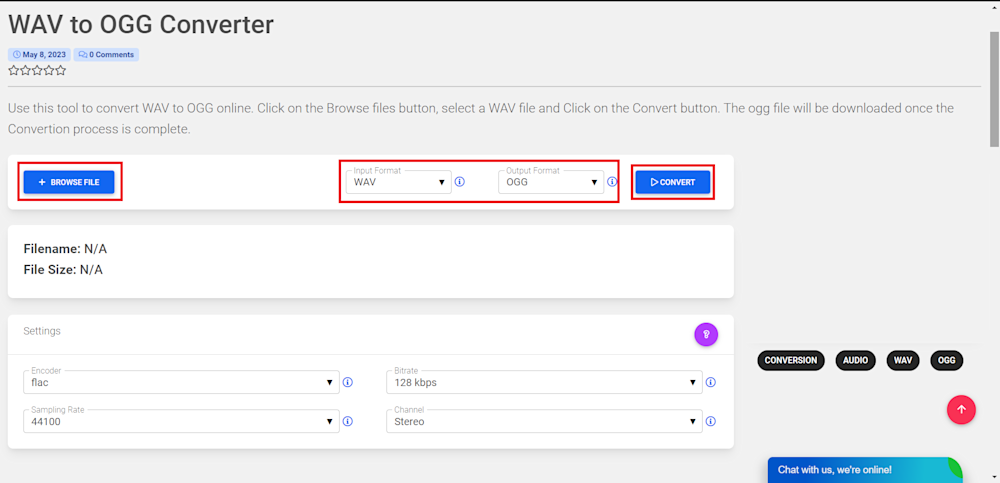 Now, simply select the input and output format (WAV to OGG, respectively), upload your WAV file using the Browse File button, and click on Convert. Your OGG file will start downloading once it has finished.
FreeConvert
FreeConvert is another free online tool that supports over 2000 conversion formats. Because it's an online tool, it can be used on any device anywhere and everywhere; they aim to make it simple and fast for users to convert one file format to another.
To convert your WAV files to OGG, head to the official FreeConvert website.
Next, click on the Choose Files button and upload the files you want to convert. Here, you can upload a file via Dropbox, URL, Google Drive, or simply from your device. In addition, FreeConvert automatically detects your uploaded file and selects the right converter for the task.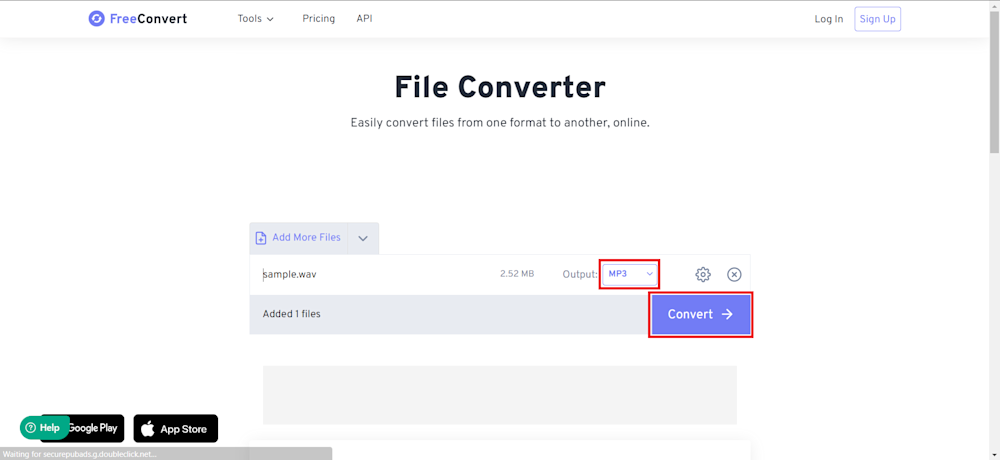 Finally, select the appropriate output format and click on Convert. This will redirect you to a new page where FreeConvert will upload and convert your audio file.
Once finished, click on the Download button to download your new file.
Audacity
Audacity, a popular and user-friendly audio tool, offers a seamless solution for converting WAV files to OGG format. Supporting a variety of formats, including WAV, AIFF, AU, and FLAC, Audacity provides extensive flexibility for audio enthusiasts. To convert your files, download and install Audacity from the official Audacity website.
Now, import your WAV files into Audacity. You can do this by clicking on File and then selecting Open. Browse through your device storage and choose the WAV files you want to convert.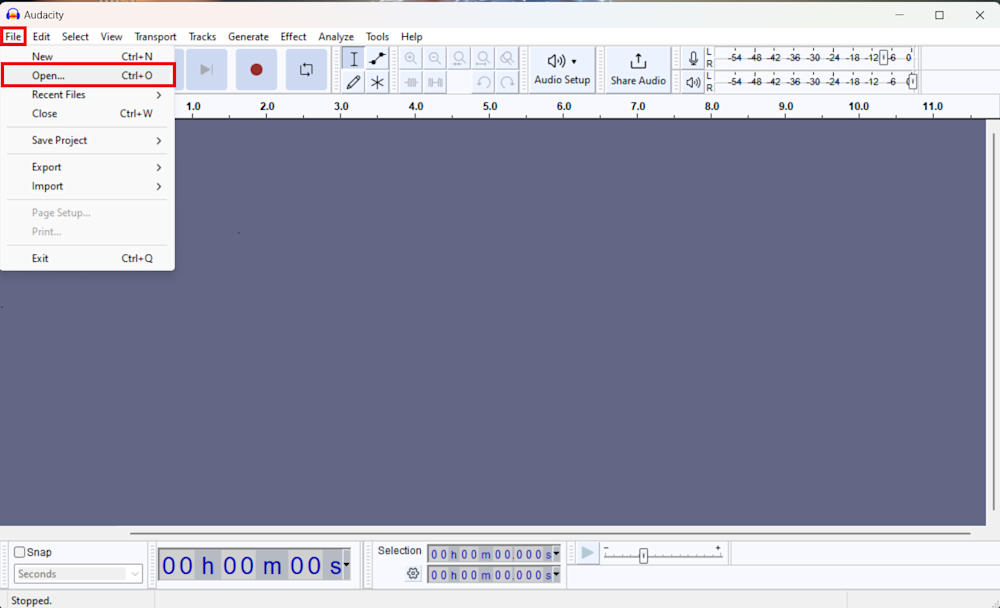 With your WAV files imported, navigate to the File menu again and, this time, select Export.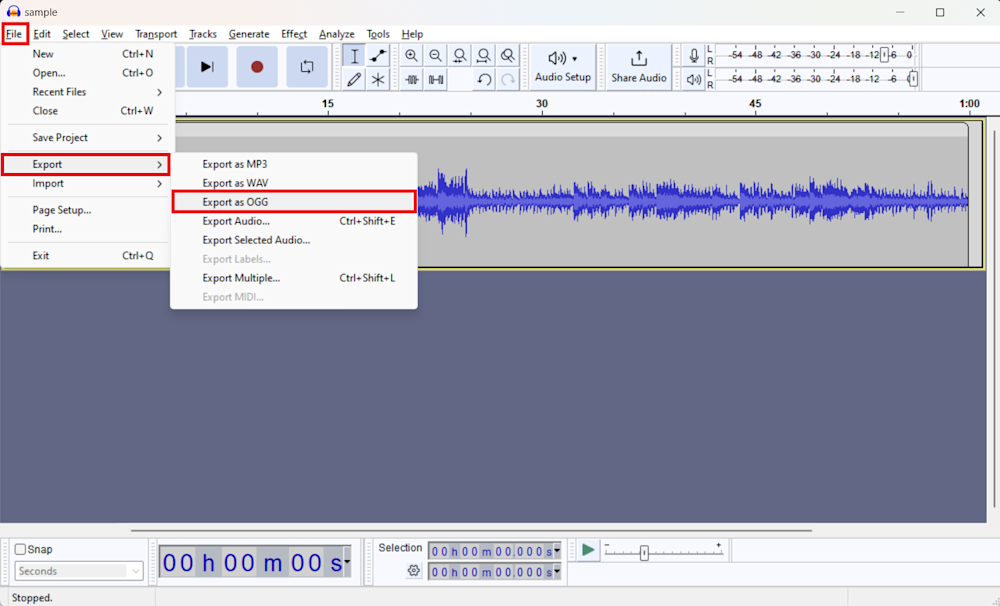 From the options, choose OGG as the desired output format. Select the output folder where you want your converted OGG files to be saved. Audacity allows you to customize the file name and metadata according to your preferences.
After setting your output preferences, click Save to initiate the conversion process. Audacity will efficiently process your files, converting them from WAV to OGG format.
Online-Convert
Online-Convert is another versatile online tool designed to simplify the process of converting WAV files to OGG format. Offering a user-friendly interface and a range of customization options, this platform ensures a seamless conversion experience.
To convert your WAV files to OGG, start by navigating to online-convert.com. Online-Convert supports a variety of files and formats that you can convert. Here, select the Audio Converter tool.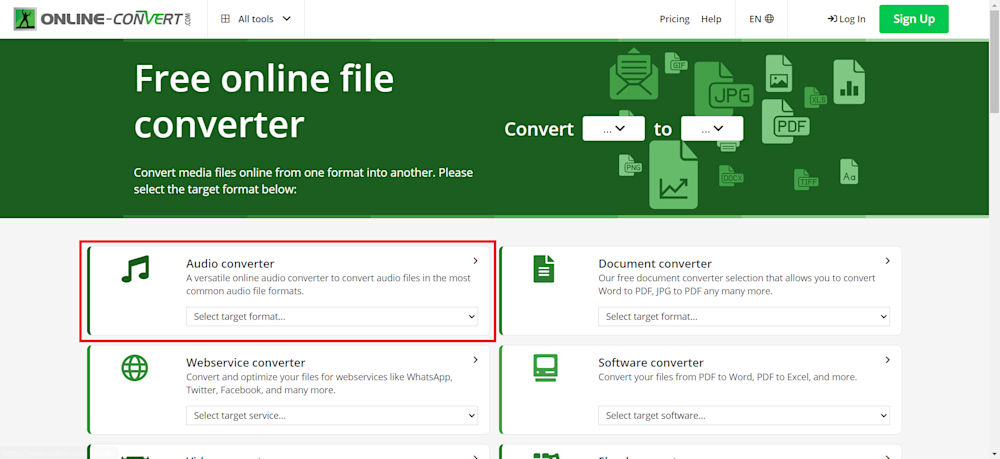 Now select OGG. Here, we will select Convert to OGG: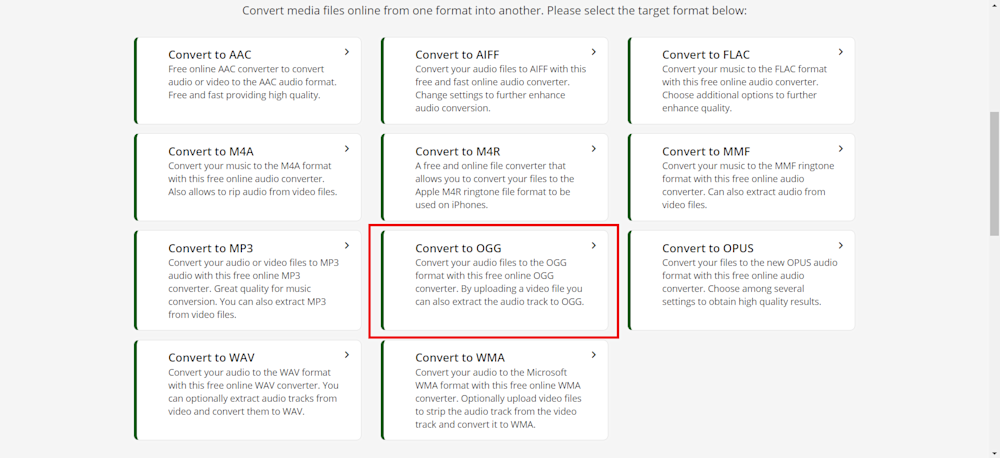 Finally, upload your WAV file using the Choose File button and click on Start.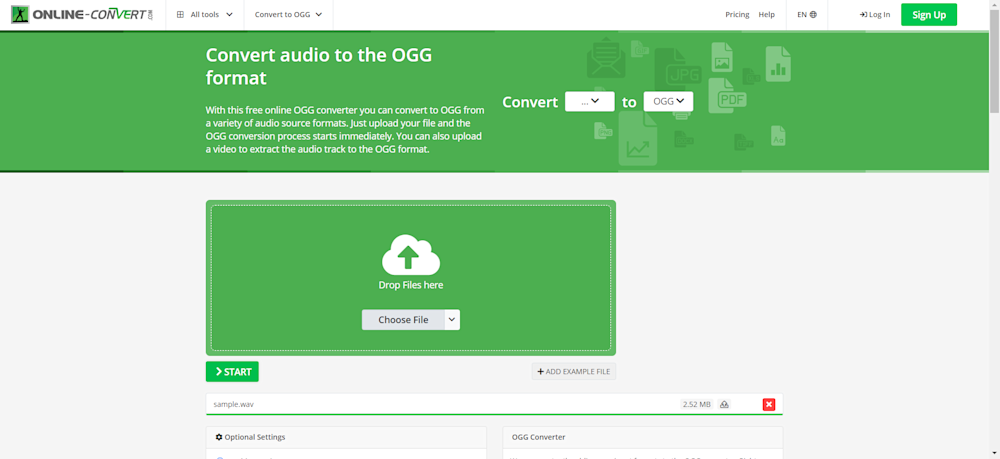 Once finished, you will be redirected to a result page. Now click on the Download button to download your newly converted OGG file.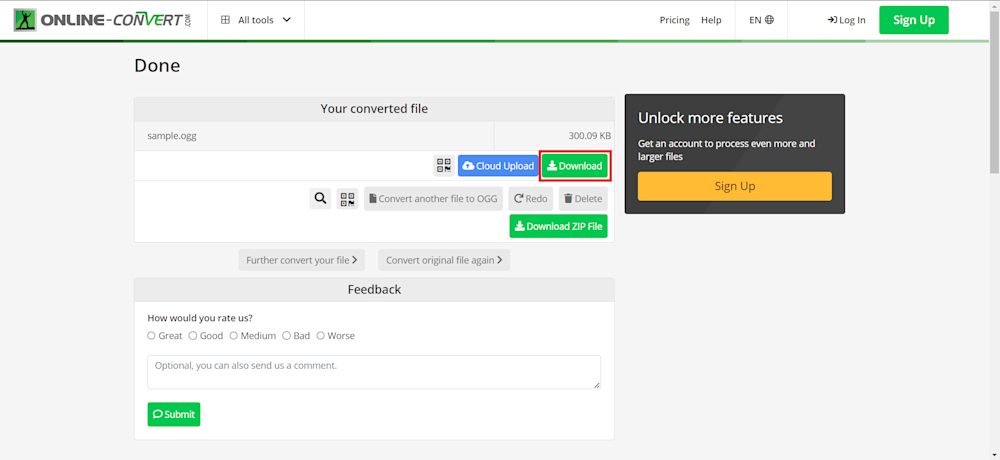 Convertio
Convertio is another online platform that offers a user-friendly and secure online platform that simplifies the entire process. It offers a simple, intuitive interface, making converting your audio files very easy. This makes it perfect for both beginners and experts.
To convert your audio files, start by heading to the Convertio website and uploading your WAV files: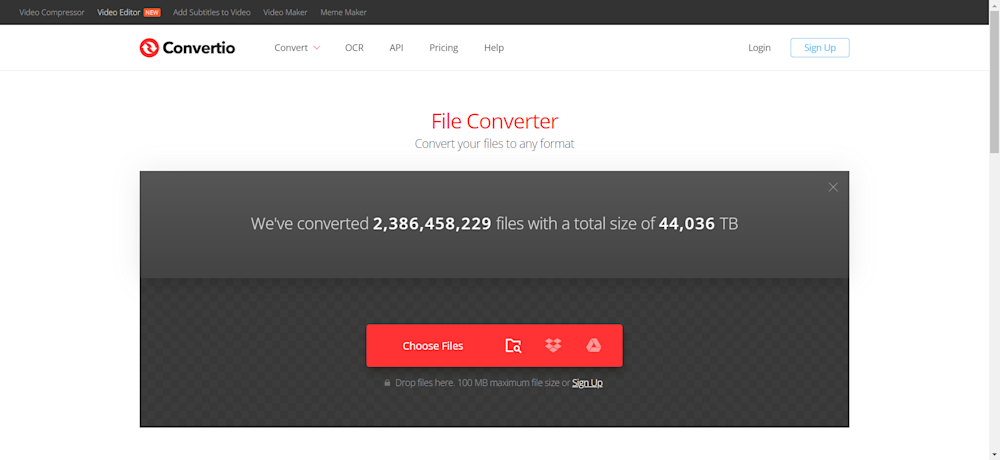 Next, select the target format and then simply click on Convert.

Once Convertio is finished converting your file, a Download button will appear next to your file. Click on the button to download your newly converted OGG file.
Converting Audio Files to OGG Using Cloudinary
Cloudinary is another robust platform that allows you to convert your audio files into other formats, including OGG. Cloudinary is not just a conversion tool; it's a comprehensive media management platform that allows you to transform content on the fly. With its powerful API and user interface, users can easily utilize its capabilities to convert their audio files.
To use Cloudinary, start by logging into your account. If you don't have an account, sign up for a free account on the Cloudinary website.
Once logged in, head to the Media Library tab and click on Upload. Now select the audio file (in this case, the WAV file) you want to convert to OGG. Cloudinary allows you to upload files from your device, remote URLs, or even popular cloud storage platforms.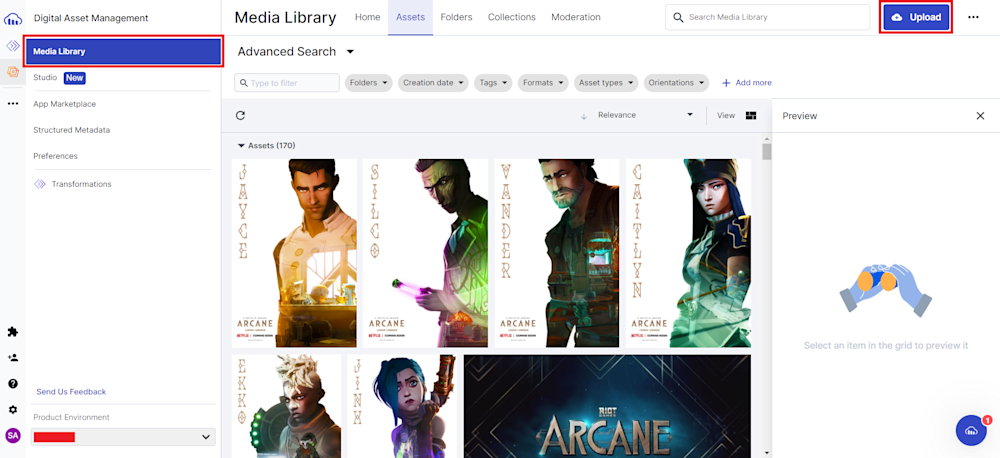 After the upload is complete, copy the file url using the <> button. Now open up a new tab and replace the .wav in the url with .ogg. This triggers Cloudinary to perform an automatic format transformation, delivering you with an OGG audio file. Now, simply click on the three vertical ellipsis button and download your file.
Converting WAV to OGG Via Code
Alternatively, you can use Cloudinary APIs to programmatically upload and transform your assets. For this tutorial, we will be using Cloudinary's Python SDK.
Let's start by configuring your Python environment with Cloudinary. Go to the Cloudinary Dashboard and copy your Product Environment Credentials.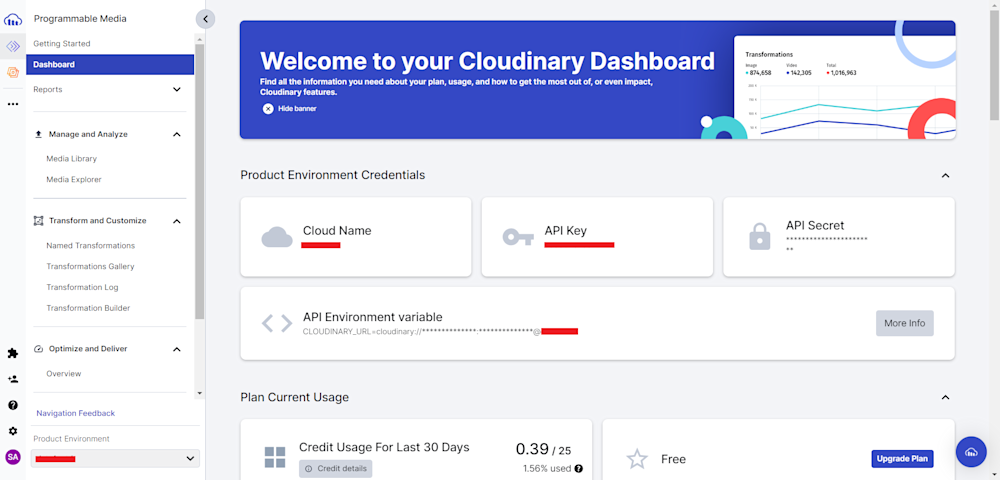 Next, install the Cloudinary Python SDK using pip:
pip install cloudinary
Now, open your Python project and define the Cloudinary API with your account credentials:
import cloudinary
import requests

from cloudinary.uploader import upload
# Configure Cloudinary with your account credentials
cloudinary.config(
    cloud_name="your_cloud_name",
    api_key="your_api_key",
    api_secret="your_api_secret"
)
Replace your_cloud_name, your_api_key, and your_api_secret with your actual Cloudinary credentials.
Next, start by uploading your resource. Here, you will define the resource_type as video. Once uploaded, you will use the result to retrieve the generated public ID of our asset. Now, use the url property of CloudinaryVideo to retrieve the url of your new OGG file.
# Uploading resource
upload_result = upload("sample.wav", resource_type="video")

# Retrieving the public ID of the asset
public_id = upload_result['public_id']

# Desired Format
desired_format = "ogg"

# Generate the URL for the image in the desired format
url = cloudinary.CloudinaryVideo(public_id, format=desired_format).url
print(url)
Finally, use requests to retrieve the OGG file and save it in your project directory. You can change the local_file_path parameter to change the save directory.
response = requests.get(url)

if response.status_code == 200:
    # Specify the local file path where you want to save the image
    local_file_path = 'sample.ogg'

    with open(local_file_path, 'wb') as f:
        f.write(response.content)
    print("Image downloaded successfully to:", local_file_path)
else:
    print("Failed to download the image. Status code:", response.status_code)
All you need to do now is to simply run the code and watch your new file get generated and stored in your project directory.
Final Thoughts
For audio format conversion, there are multiple paths to choose from, each with its own merits and applications. Throughout this guide, we've explored various approaches for converting WAV files to OGG, all of which have their strengths.
However, when it comes to selecting a conversion solution, one stands out as a comprehensive and versatile choice. Cloudinary not only simplifies the conversion process but also offers a suite of tools for efficient audio management. It's the preferred choice, particularly if you value the capability to integrate console and code in your audio transformation workflow seamlessly.
Learn more:
FLIF, the new lossless image format that outperforms PNG, WebP and BPG