End-to-End Digital Asset Management
Create, manage, and deliver engaging visual experiences, optimized for performance and user preferences. Perfect for Creative, Marketing, and Development Teams
Eliminate functional silos and bridge the gap between asset management and optimal delivery to avoid inconsistencies and inefficiencies.
Maximize the Value of Your Digital Assets
Maintain a central hub in which teams can search and browse the media library, tag and organize files, and easily manipulate and distribute assets.
Leverage AI for automatic tagging
Consistently tag assets to make them searchable based on visual content: colors, objects, faces.
Put asset metadata to work
Automatically extract and store embedded metadata and add custom metadata to make your library search friendly.
Manipulate assets in real time
Easily transcode, resize, crop and edit assets on the fly to create variants for marketing campaigns.
Control access to assets
Define role-based access for users and collaborate with internal or external stakeholders.
Less time searching, more time doing
Find relevant assets through AI-powered search with tags and attributes, including content, type, size, and format.
Browse the instant results, displayed as visual thumbnails, and also narrow your search with filters.
Get performance and usage analytics
Track how your assets are performing by analyzing the engagement metrics (views, downloads, shares), and monitor errors.
Publish Content Faster
Streamline workflows and move assets, from creation to delivery, across multiple channels without delays or dependencies.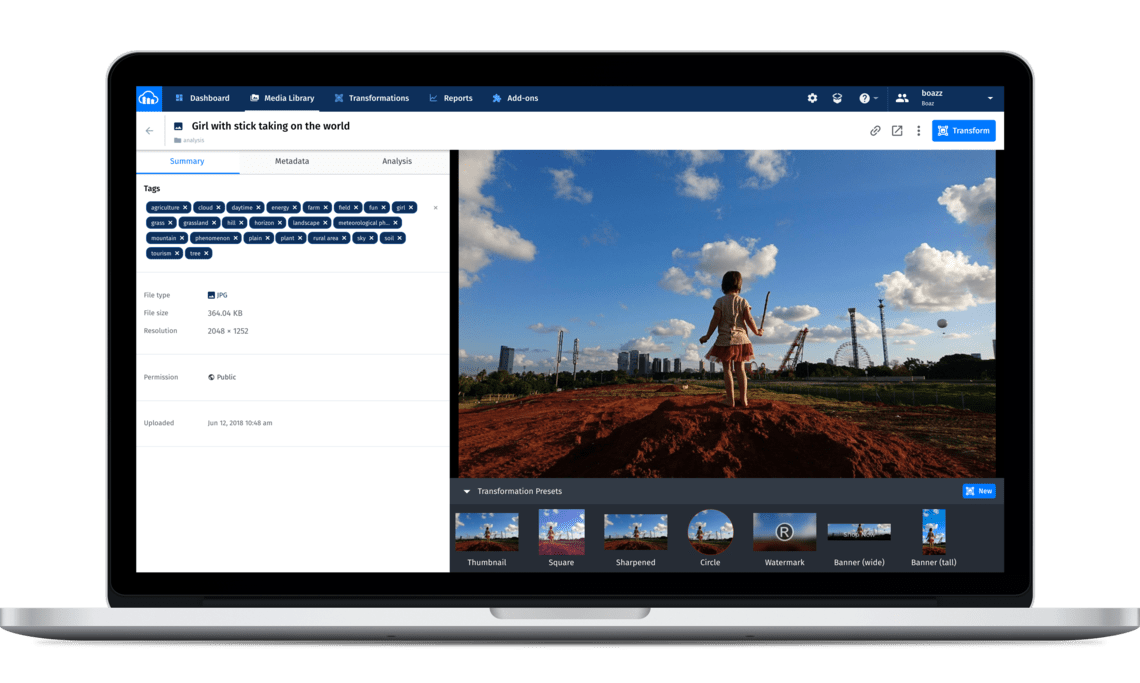 Upload Once, Deliver Anywhere
Create variants of images and videos from a single master asset for marketing campaigns across multiple devices and channels.
Cloudinary derives assets in real time; you don't have to wait on anyone.
Easily Embed Content
Access your media library from your content management system (CMS) and, with a simple URL, embed assets into your website or other channels.
Search Engine Optimization
Make your assets relevant to search engines by adding descriptive terms to their delivery URLs, without duplicating files.
Optimize End-User Experiences Across All Touchpoints
The success of visual engagement hinges not only on efficient management but also on optimized and personalized delivery.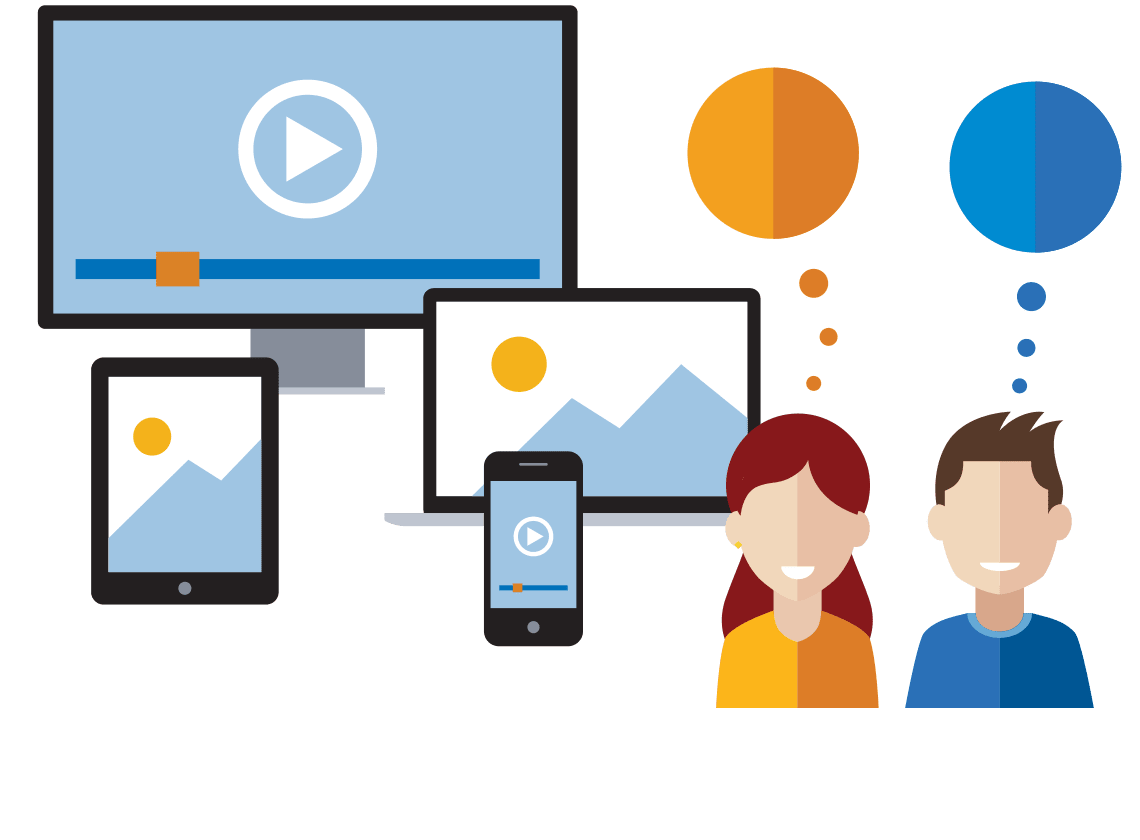 Improve Conversions With High-Performance Assets
Enhance your images and videos and load them fast by automatically delivering them in the most efficient format, quality, and resolution—with no manual intervention whatsoever.
Engage Consumers With Personalized Assets
Dynamically manipulate images and videos with custom content according to user behavior for personalized delivery.
Seamless Integration With Your Technology Stack
Built to Fit Any Workflow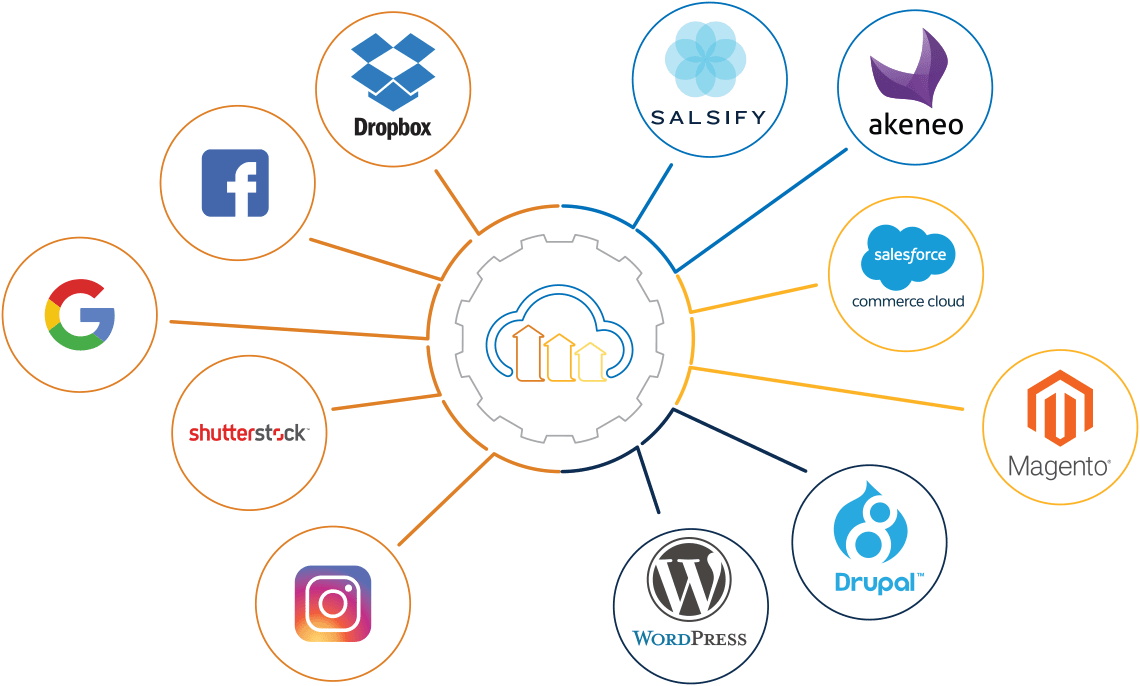 Extensible APIs and webhooks make it easy to integrate with applications, such as CMS, product information management (PIM) systems, and project management tools, enabling a connected journey: from asset creation and organization to manipulation to delivery.
Also leverage built-in integrations with popular platforms, including Magento and Salesforce Commerce Cloud and Heroku, enabling a simple path to a connected workflow.
Easily migrate your entire library at once or move assets on demand using the upload API.
End-to-End DAM
Your asset creation, management, and delivery workflows, all seamlessly connected.

As the largest independent bookstore in the world, with nearly 8.5 million assets and 60,000 new titles added each month, our ability to easily and efficiently manage our media assets while delivering optimal end-user experiences from browser to device is critically important to our business's success. We chose Cloudinary because its core platform combined with its new digital asset management capabilities will allow our diverse teams to collaborate and more easily scale the business as our needs evolve — and the services team was committed to going above and beyond. We couldn't be happier."
Andrew Lemert, Director of Information Technology, Powell's Books
Simple Plans With Intuitive Pricing
Start using for free, and upgrade as your usage grows.