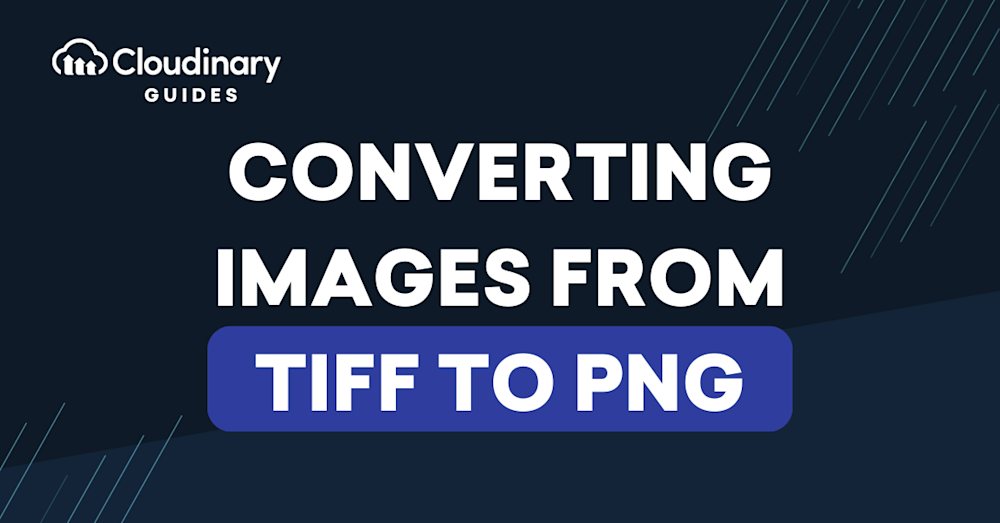 In the world of digital imagery, the ability to seamlessly convert file formats can be a game-changer. One such transformation that often proves to be incredibly useful is converting TIFF (Tagged Image File Format) files into PNG (Portable Network Graphics) format. This article will explore the what, why, and how of this conversion process. So, let's dive right in!
What is the TIFF format?
The TIFF (Tagged Image File Format) is a versatile, high-quality image file format used for storing raster graphics. Known for its lossless compression and adaptability, TIFF is the go-to choice when crystal-clear image fidelity is key. However, its larger file size can slow web page loads, impacting user experience and SEO. Web developers often convert TIFF to other formats, like PNG, to optimize website media, striking a balance between image quality and web performance. So, whether you're preserving detailed graphics or optimizing for web speed, TIFF has a role—understanding when to use it is essential.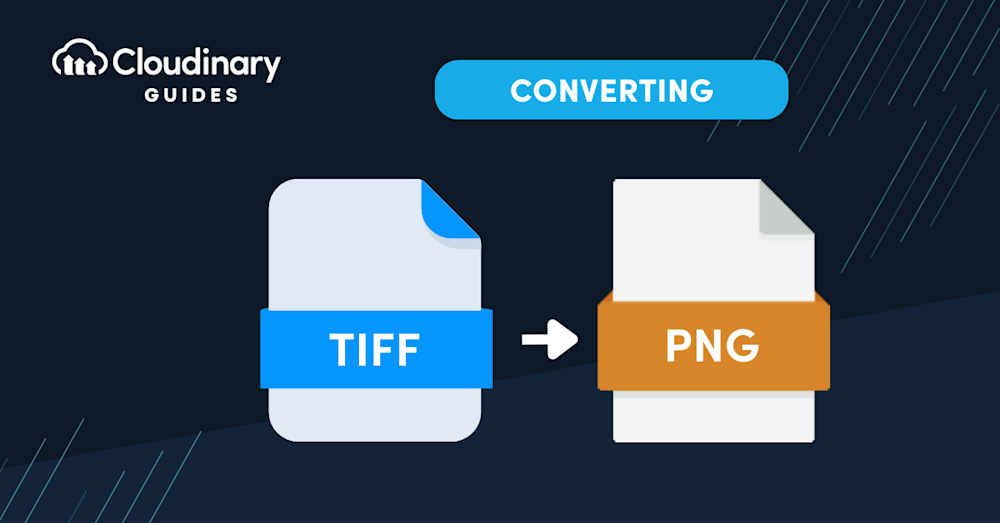 Why Convert TIFF to PNG?
After understanding the TIFF format, you might wonder, "Why convert it to PNG?" The reasons are more significant than they seem at first glance. By converting TIFF images to PNG, web developers can balance between maintaining image quality and optimizing website performance. Let's explore some primary reasons that make this conversion worthwhile:
File Size Optimization. PNG uses lossless compression technology, providing a good compromise between quality and file size – ideal for speeding up web loading times.
Transparency Support. Unlike TIFF, PNG supports transparency, a critical feature for modern web design.
Browser Compatibility. PNG is more widely supported across different browsers compared to TIFF.
Mobile Responsiveness. A smaller file size means faster loading on mobile devices, improving user experience and SEO ranking.
Remember, choosing the right image format serves different needs and contexts. Converting TIFF to PNG typically offers advantages for web delivery, making your websites visually appealing yet speed-optimized.
Ways to Convert TIFF to PNG
So, you've identified the reasons to convert your TIFF images to PNG. But how do you go about this process? There isn't just one right way to do this. The method can vary based on your specific needs and context. Let's dive into a list of methods for this image transformation, tailored to fit different scenarios and degrees of technical expertise. Each comes with its own pros and cons, but all are effective to convert TIFF to PNG.
Adobe Photoshop
Adobe simplifies the process, ensuring high-quality conversions with a familiar interface. It seamlessly integrates TIFF to PNG, perfect for professionals, preserving image integrity. Easy to navigate, Adobe's method guarantees precision without the fuss. The only downside to Adobe is that it requires you to have an active subscription to Adobe Photoshop.
Converting your TIFF files to PNG with Adobe is quite simple. Start by launching Photoshop and opening up your file. Next, click on the File tab in the menu bar and navigate to Export > Export As.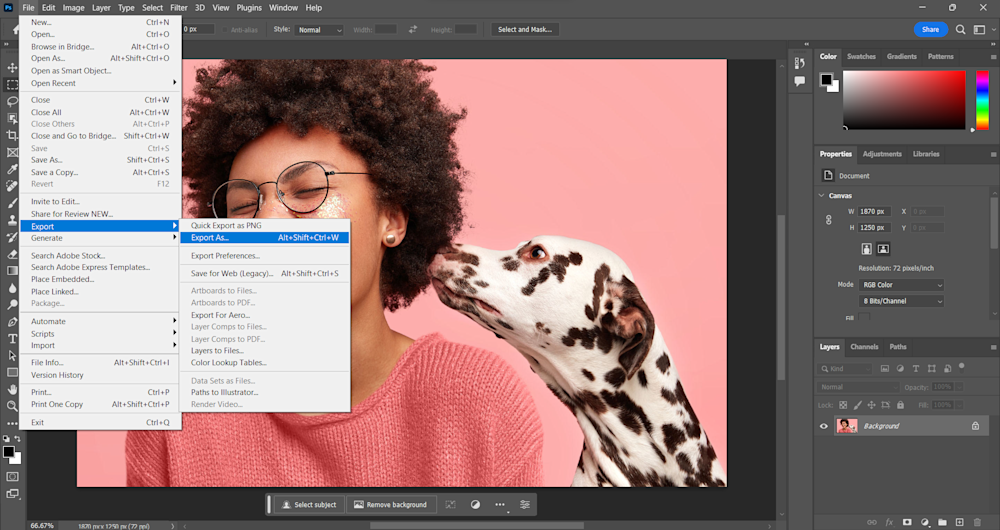 Finally, in the Export menu, change the Format to PNG and simply click on the Export button.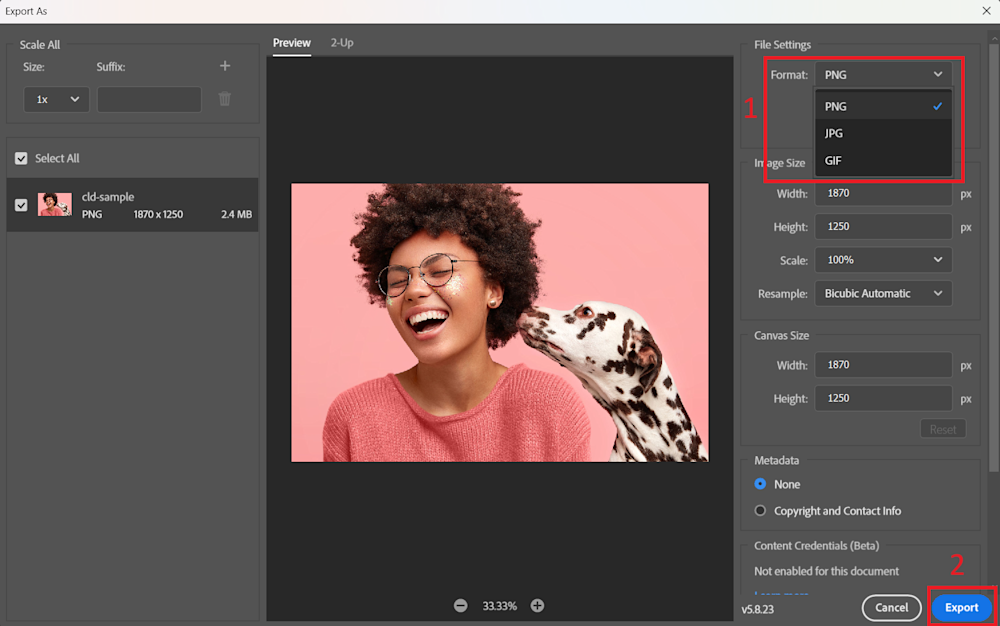 Pixelied
Pixelied offers simplicity without sacrificing quality. Uploading TIFF files and converting them to PNG is easy. It's intuitive, maintaining high image quality effortlessly. Ideal for those who value ease, Pixelied ensures your images shine without the hassle.
To convert your TIFF file into a PNG, head over to the Pixelied website. Hover over the Features tab and select the Image Converter.
Now click on the Choose Files… button to upload your TIFF image.
To convert your image to the highest quality, first choose your conversion format.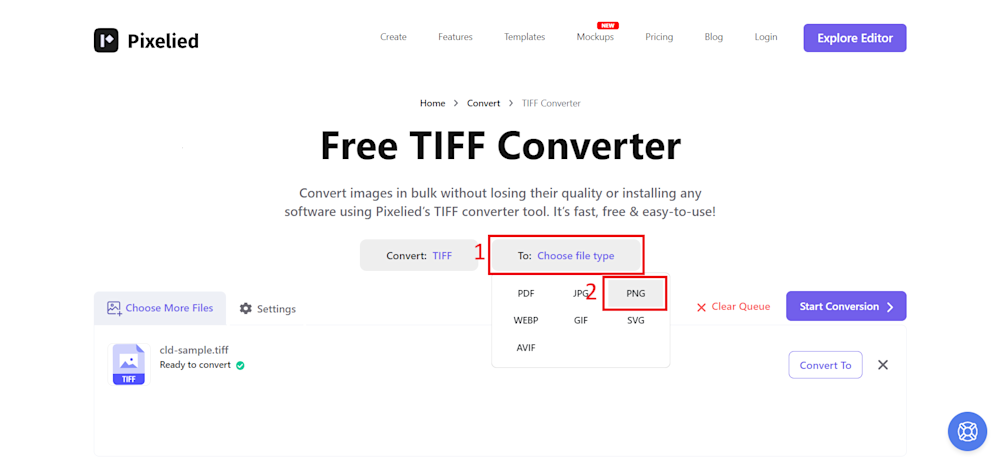 Next, head to the Settings tab and drag the Quality slider to 100. Finally, click on the Start Conversion button to start the conversion process.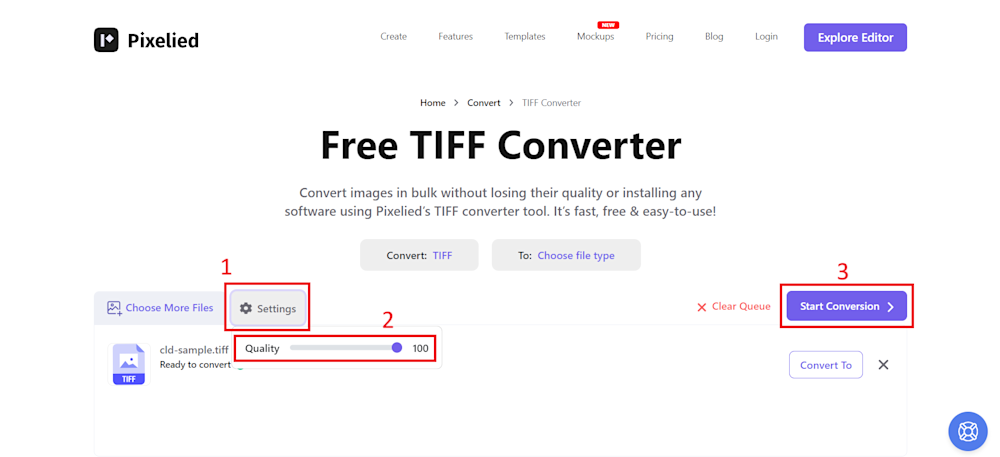 After a few minutes, your new PNG file will be ready for downloading.
XConvert
XConvert is an online file converter that supports many file formats, including TIFF and PNG. Its platform offers various efficient online converters, eliminating the necessity for downloading or installing any software.
To convert your TIFF files into PNG, head to the XConvert website and scroll down until you find the TIFF to PNG converter.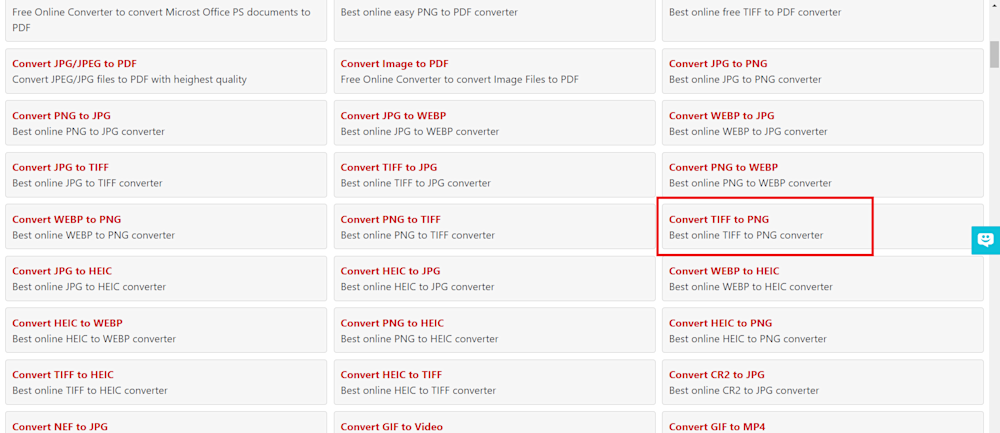 Next, click on the Add Files button to upload your TIFF file/files. Finally, click on Convert to convert your file into a PNG.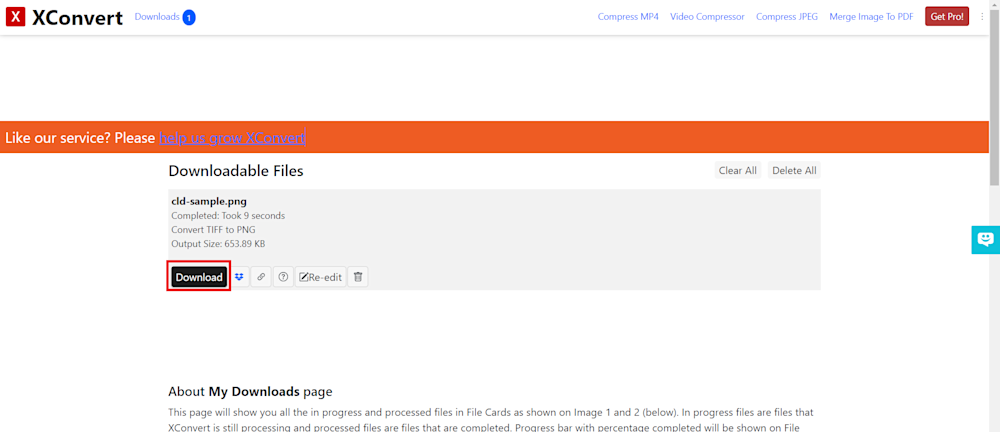 After a few seconds, click on the Download button to download your new PNG image.
FreeConvert
FreeConvert is a free online file conversion tool that allows users to convert files from one format to another. It supports many file formats, including images, documents, audio, and video files. The website is user-friendly and easy to navigate, with a simple drag-and-drop interface that makes it easy to upload files. Users can also convert multiple files at once and download them in a single ZIP file.
FreeConvert makes it very easy to convert your TIFF files to PNG. Go to the FreeConvert website and click on Choose Files to upload your TIFF files. You can upload your files via Dropbox, URL, Google Drive, or simply from your device.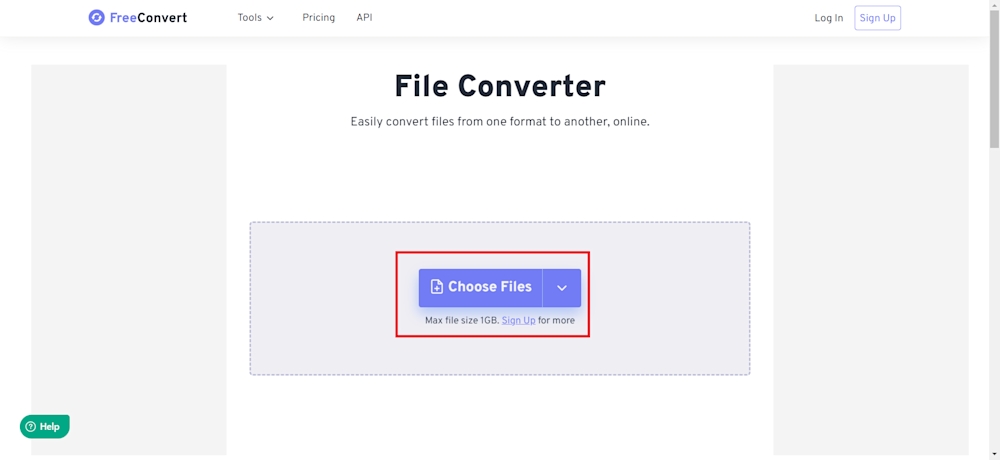 Next, select the appropriate conversion format and click on Convert.
Once completed, click on the Download button to download your new PNG file.
CloudConvert
CloudConvert stands out as a free online conversion tool, allowing you to transform your files from one format to another seamlessly. Its range of advanced features sets CloudConvert apart from similar tools. You have the ability to adjust audio quality meticulously and fine-tune various parameters, ensuring your files align perfectly with your unique specifications.
To convert your TIFF files to PNG, head to the official CloudConvert website and select your conversion toll using the drop-down menu.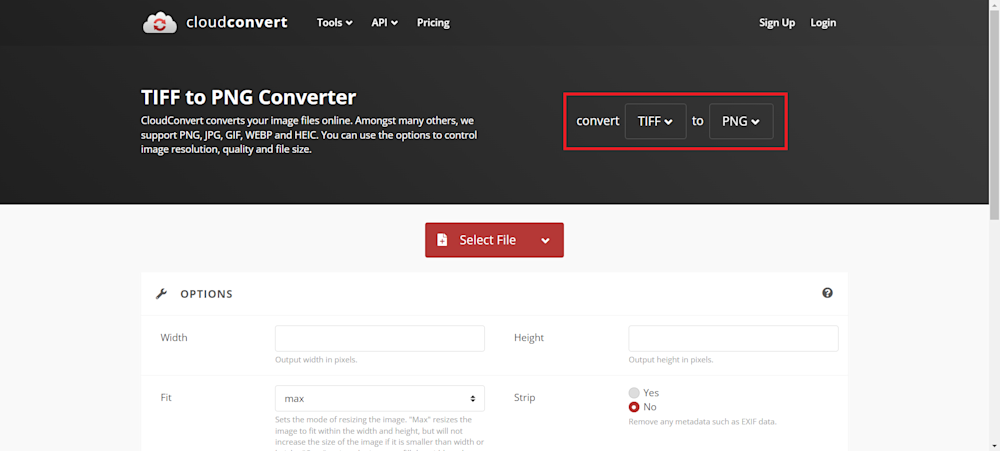 Next, upload your TIFF file by clicking on the Select File button. Optionally, you can adjust the quality parameters to suit your specific needs. Finally, click on the Convert button to start converting your file.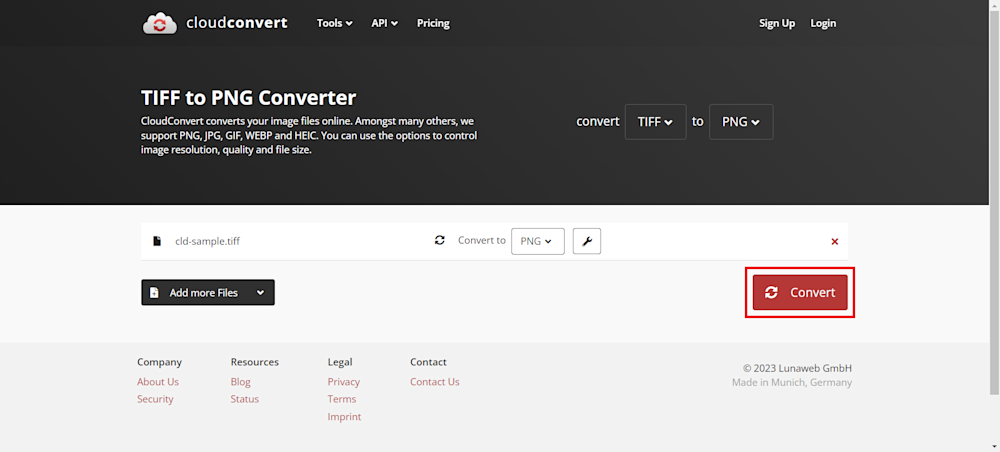 Once your file has been converted, you will be redirected to a new webpage where you can download your new PNG file using the Download button.
Convertio
Convertio is another free, easy-to-use online file converter that supports over 300 file formats and more than 25,600 conversions, making it one of the most versatile tools available. The conversion process takes place in the cloud so that it won't consume any capacity from your computer.
To get started, simply drag and drop your file on the web page.
Next, choose an output format, in this case, PNG, and Click the Convert button. Wait a few seconds for the process to complete. That's it! You can download your PNG file by clicking on the Download button next to your file.
experience.
Convert TIFF to PNG With Cloudinary Via Console
Cloudinary is more than just your average cloud-based media management solution—it's a game-changer for digital asset management. Whether you're handling images, videos, or any other media files, Cloudinary empowers you with robust capabilities to store, manage, optimize, and deliver your content seamlessly. What sets Cloudinary apart is its ability to automate complex workflows, making it a go-to choice for developers, marketers, and businesses seeking efficient solutions for their media needs.
With so many capabilities, converting TIFF to PNG becomes a breeze with Cloudinary's automation. To convert your images automatically, start by logging into your Cloudinary account. If you don't have an account, you can sign up for free.
Next, head over to the Assets tab in the Media Library. Now click on the Upload button to upload your TIFF file or files to the Cloudinary cloud.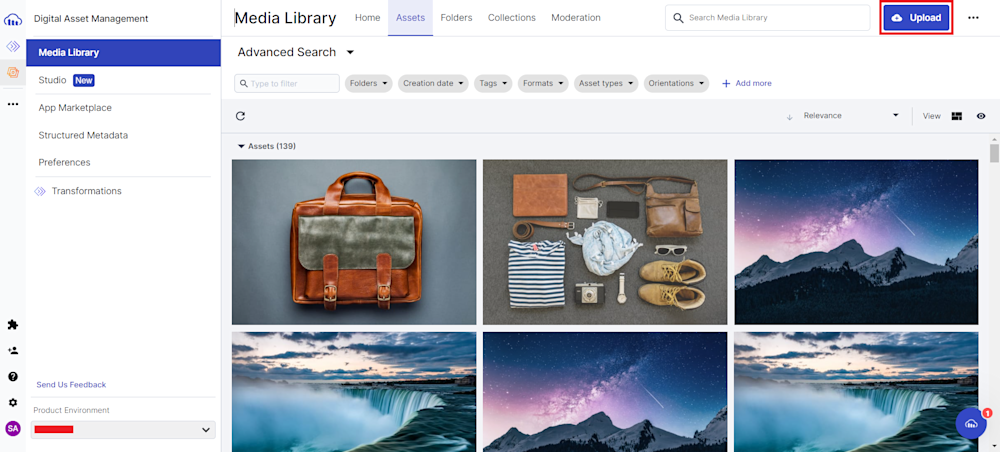 Once you've uploaded your file, click on the <> button located on the top-right corner of your asset. This will copy the image url to your clipboard. Finally, in a new window, paste the image url and replace the .tiff in the url with .png. This will initiate an automatic image transformation, delivering you with a new PNG file. Optionally, you can add transformations to your image for your specific needs. You can learn more about transformations in the Coudinary's Image Transformation documentation.
Finally, download the image by using right-click and selecting the Save image as… option.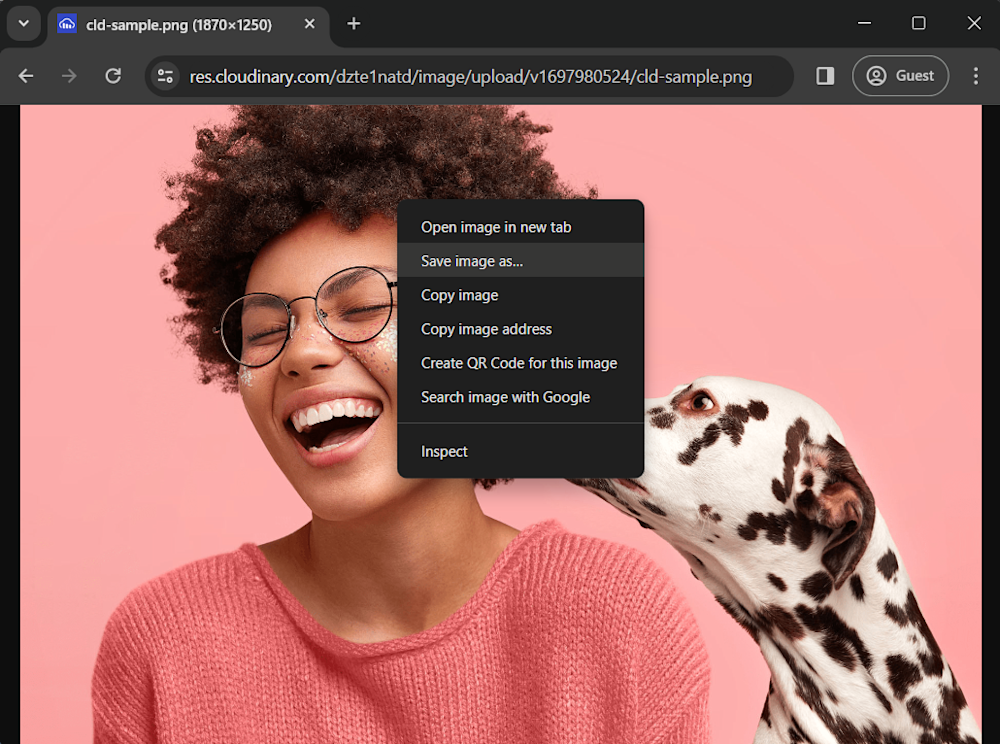 Programmatically Convert TIFF to PNG With Cloudinary
While manually converting images can be a straightforward process, especially for a single image, imagine the time and effort it takes to convert a multitude of TIFF images to PNG, one by one. For such scenarios, Cloudinary comes to the rescue with its programmatic capabilities, allowing you to automate and streamline the process with just a few lines of code.
Let's see how to programmatically convert your TIFF files to PNG using Cloudinary's Python SDK. Once you have the Python SDK for Cloudinary set up, you can run the code below with your relevant Cloudinary account credentials and file paths:

import cloudinary
import cloudinary.uploader
import requests

# Configure Cloudinary with your account details
cloudinary.config(
    cloud_name="your_cloud_name",
    api_key="your_api_key",
    api_secret="your_api_secret"
)

# Path to the TIFF image
image_path = './Assets/sample_tiff.tiff'

def convert_tiff_to_png():
    try:
        # Upload the TIFF image and get its public ID
        upload_result = cloudinary.uploader.upload(image_path, resource_type="image")
        public_id = upload_result['public_id']

        # Convert the TIFF to PNG and retrieve the image URL
        image_url = cloudinary.utils.cloudinary_url(public_id, format="png")

        # Print out the PNG Image URL
        print("PNG Image URL:", image_url[0])

        # Download the PNG image
        response = requests.get(image_url[0])
        if response.status_code == 200:
            with open('image.png', 'wb') as f:
                f.write(response.content)
            print("Image download successful")
        else:
            print("Failed to download the image.")
    except Exception as e:
        print(e)

convert_tiff_to_png()
With this Python script, you can automate the conversion of multiple TIFF images to PNG, making it an efficient and time-saving process. Here is the result:
Final Thoughts
We've thoroughly explored the universes of TIFF and PNG in the name of media optimization. While TIFF's high-quality make it ideal for detailed graphics, its larger size can slow down web pages. PNG, with its lossless compression, broad browser support, and mobile responsiveness, extends a compelling alternative.
At this juncture, enter a game-changer – Cloudinary. This tool simplifies TIFF to PNG transformations, streamlining image conversions to enhance your website's performance. With user experience and SEO foremost, the next time your website image needs swing between TIFF to PNG, you know that your precise solution is at your fingertips with Cloudinary.
Learn more:
The Best Image Format for Mobile App
Automatic WebP format CDN delivery based on visitors browsers