WordPress powers nearly 43% of the internet, making it an extremely popular option for most businesses. And with it being such a popular option, keeping your website optimized is critical. While WordPress offers some optimization options, you can still do some things to improve your performance.
One of the best ways to do this is by resizing your images. High-quality images undoubtedly enhance the visual appeal of a website, but large image files can negatively impact page load times and user experience. In fact, a one-second delay in page load time can lead to a 7% reduction in conversions. In this article, we'll show you how impactful resizing images can be and how easy it can be.
Why Should I Resize Images in WordPress?
Resizing images has far more benefits than simply speeding up your website. While it may be a simple solution, it can have a ripple effect across your entire website, with changes such as:
Faster page load times. Large image files can slow down your website's loading speed, negatively impacting user experience and search engine rankings.
Improved SEO. Search engines, like Google, consider page load times a ranking factor, so optimizing images can boost your website's visibility in search results.
Enhanced user experience. Resizing images ensures your site's content is displayed correctly and efficiently across various devices and screen resolutions.
Reduced server storage and bandwidth usage. Smaller image files consume less server space and bandwidth, helping you save on hosting costs and prevent server overloads.
How Can You Edit Images in WordPress?
WordPress provides several built-in tools and features that allow you to edit images directly within the platform. Whether you want to resize, crop, rotate, or flip images, WordPress offers user-friendly options to help you achieve the desired results. Let's explore how it's done!
Resizing Images in WordPress
Resizing images in WordPress is a simple process that can be accomplished using the built-in media library. Start by logging into your WordPress website and heading to the Media Library section. Next, click Library to access your existing media files or upload a new image. Now select the image you want to edit.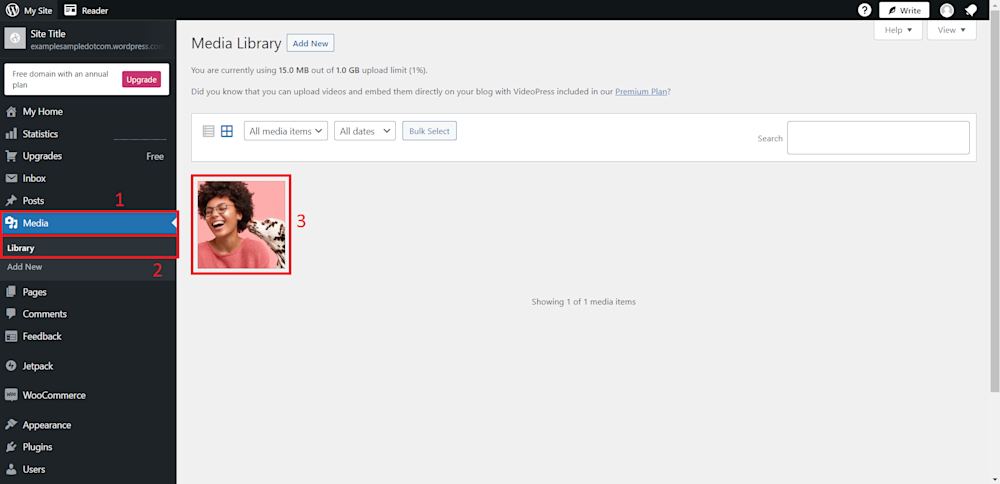 Now simply click on the Edit Image button.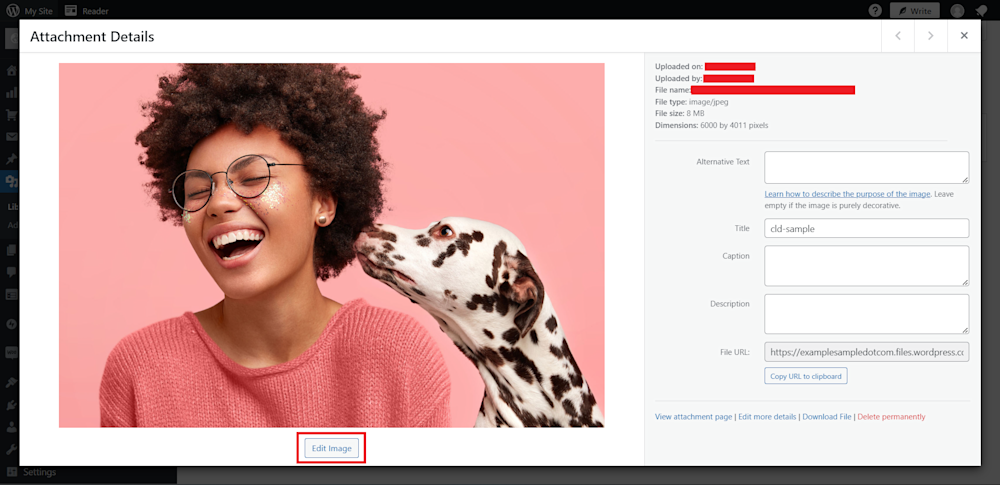 Within Scale Image, you can input custom dimensions for your image. If you specify only the width, the height will be automatically adjusted according to the image's aspect ratio and vice versa.
Simply enter the desired width of your content area in the designated box. In this instance, we used 900 pixels. Once you have made the necessary adjustments, click the "Scale" button to start.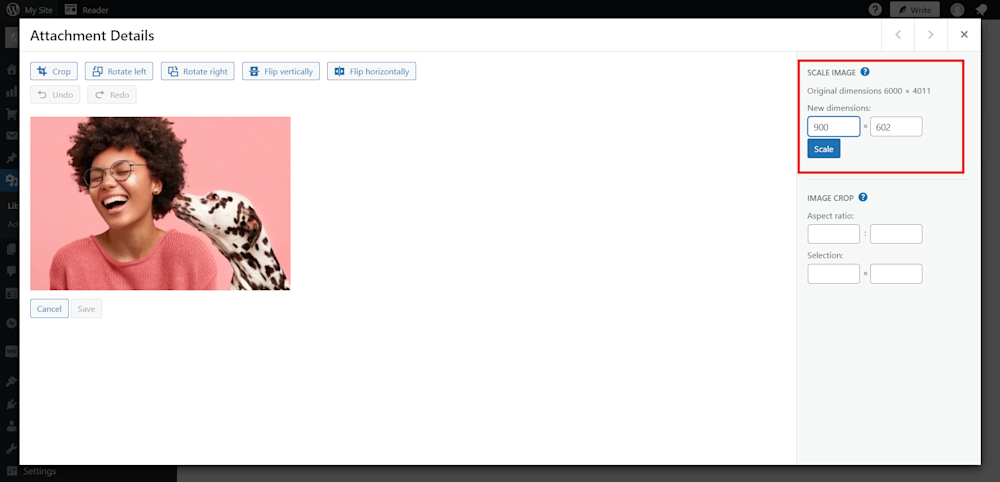 You can check out your resized image by returning to the details page and checking the image dimensions. You can also use the new image by copying the image URL, as shown below.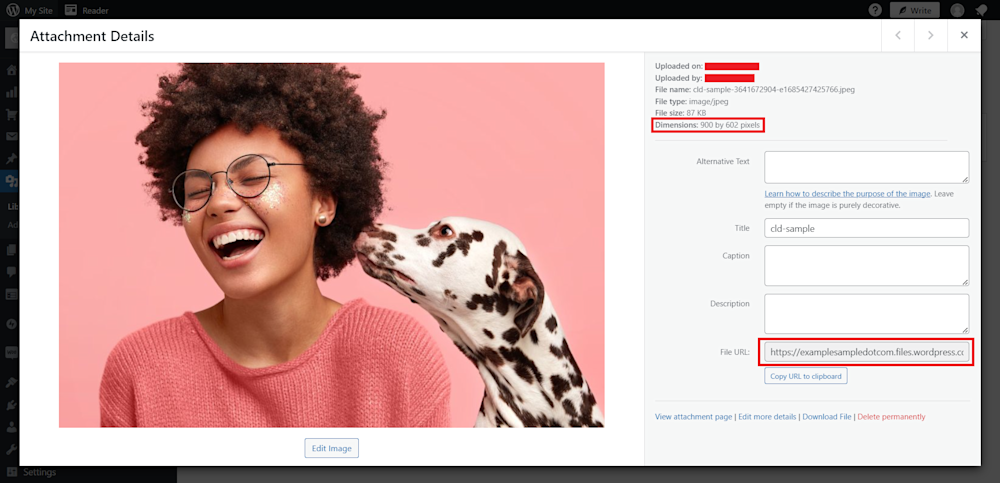 And that's it! WordPress has made it a fairly simple process, although entirely manual.
Cropping Images in WordPress
Cropping an image involves the same process as resizing. Start by heading over to Media Library > Library and click on the image you want to edit. Next, click on Edit.
Now drag your cursor on the image to start the cropping process.
To refine or reposition the cropped area within the image, you can simply click and drag the boxes to set your crop. Move the area around the image until you are satisfied with the composition. Once you have achieved the desired area, click Crop, which will also enable the save button. Finally, click Save.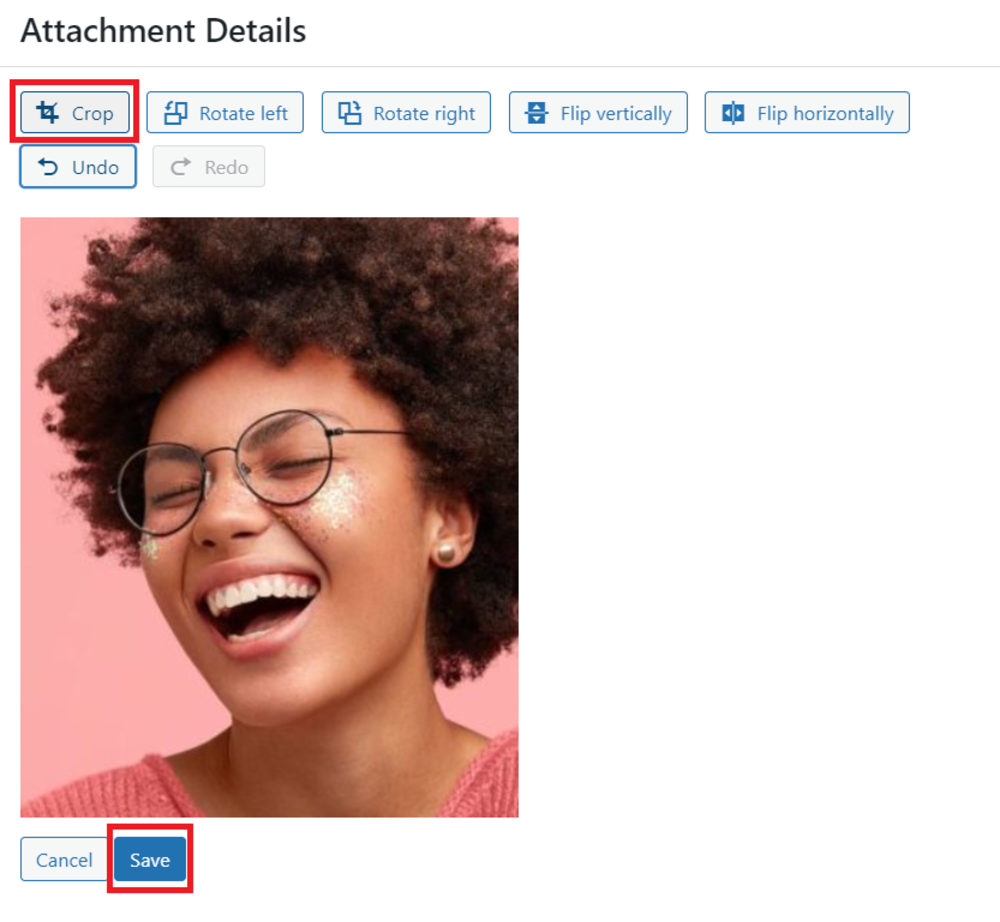 Rotating Images in WordPress
WordPress enables you to rotate images to the desired orientation without needing external software. To get started, head over to Media Library > Library, click on the image you want to edit, and then click Edit. Next, click on the "Rotate Left" or "Rotate Right" button to rotate it.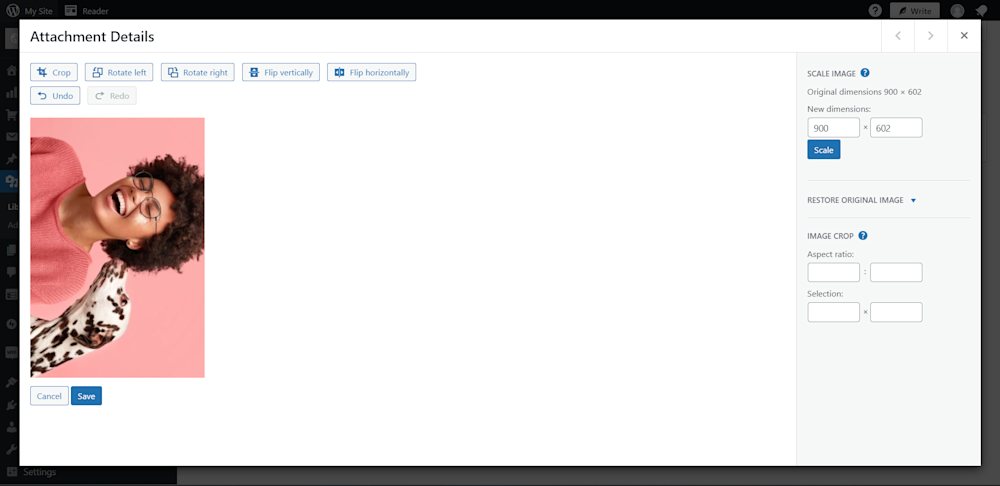 Once you're satisfied, you can click Save and you're all set.
Flipping Images in WordPress
Flipping images, both horizontally and vertically, can create interesting visual effects or correct image inconsistencies. WordPress offers a simple method for flipping images.
First, head over to Media Library > Library from your WordPress Dashboard, select your image, and then click the "Edit Image" button. Next, flip your images vertically or horizontally using the buttons above your preview.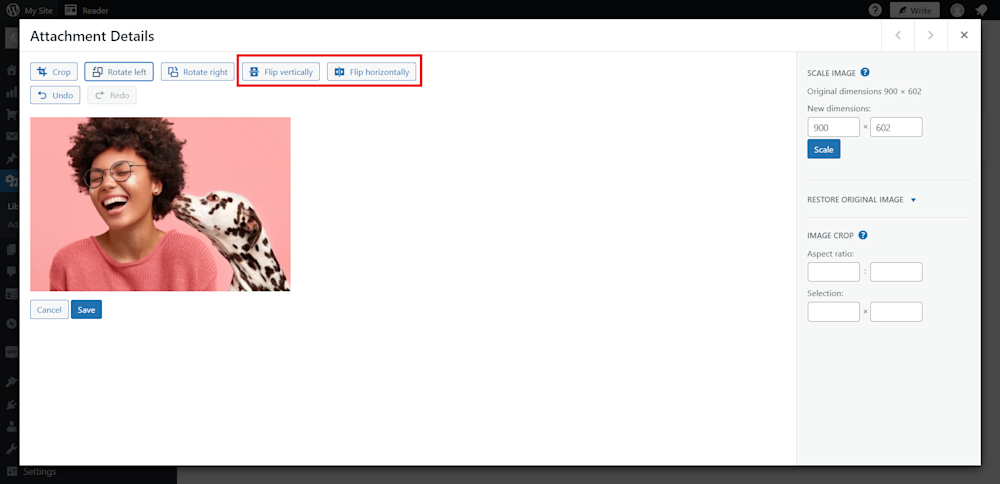 Finally, click on save when you're done.
Speeding Up Image Resizing with Cloudinary
Cloudinary offers an indispensable tool for optimizing and managing your website's media assets with its WordPress Plugin. Plus, it gets rid of all these manual steps when it comes to resizing images within WordPress. Here's what Cloudinary can do for you:
Enhanced Site Performance. By optimizing your site's performance and improving page load times, it can improve your user experience and helps boost your Google page rankings, Core Web Vitals, and Lighthouse scores.
Automated Features: Cloudinary's plugin offers a range of automated features, such as advanced auto-responsive delivery, customizable lazy loading, and fast CDN delivery of assets. You can deliver engaging visual experiences while optimizing image and video quality, resizing and cropping using AI, and applying transformations and effects.
Seamless Integration. With Cloudinary, you can enjoy seamless integration within your WordPress environment. It offers compatibility with popular page builders and provides end-to-end support for WooCommerce, making it suitable for various use cases, whether personal or business-related.
Plug-and-Play Solution. Getting started with the Cloudinary plugin is a breeze. Its intuitive onboarding wizard lets you quickly set up and automate your image, video, and visual media workflows. The true plug-and-play nature of the solution ensures that you can start delivering optimized and responsive media immediately.
Insights and Metrics. Cloudinary's dashboard provides valuable insights into optimization metrics and data usage, empowering you with the information you need to make informed decisions. Say goodbye to surprises and have full visibility into your media optimization efforts.
Closing the Book
Mastering the art of resizing images in WordPress opens up possibilities for enhancing your website's visual appeal and performance. With the seamless integration of Cloudinary's plugin, you can effortlessly resize, crop, rotate, flip, and optimize your images, ensuring they look stunning on every device and load lightning-fast. Don't settle for subpar visuals or slow-loading pages.
Sign up for Cloudinary today and witness the transformative impact of perfectly resized images in WordPress.
Learn more: